User experience.
It's among the many things that are often overlooked by busy business owners but it is critical for your food and beverage wholesale/supply business. Just imagine losing a huge number of orders and potential retailers simply because people don't know how to use your ordering system or are unsure how to interact with your online shop.
The reality is, it doesn't matter how beautiful your app or your website is. If it doesn't deliver a great visitor experience, you're missing out on opportunities to earn more sales. Take note that in the eyes of retailers, you only have one chance to get it right and impress them. When people shop, or order, online, they have a short attention span and if they don't find your ordering platform worth their time or your ordering process isn't simple or convenient enough, it will be easy for them to leave you and switch to a different supplier that can provide them the unmatched experience they're looking for.
This is especially true for the cafes, bars and restaurants ordering from you - a huge part of the selection criteria when choosing suppliers are that they can get high quality goods (be it bread, coffee or milk) that are delivered on time, and without any extra hassle or a difficult process to order. So, how does a great user experience actually help you boost your sales?
Simple.
By providing an excellent experience for your retailers, you're making them want to order more products and do more business with you.
Making it easier for your customers to get their orders in at the time and place that suits them can give you a dramatic uplift in sales as they will choose you over other suppliers that are difficult or cumbersome to deal with. A recent Econsultancy User Experience Survey Report showed that around 74% of businesses believe that good user experience is critical for improving both sales and conversions.
In addition to that, being able to give a superb experience can help you earn your customers' trust and loyalty. They will be encouraged to order more of their supplies from you over competitors with clunkier processes, and reluctant to change if you have a seamless ordering process that helps make their busy lives much easier.
NOW THE QUESTION IS, HOW CAN YOUR CUSTOMERS HAVE A GREAT USER EXPERIENCE WHILE ORDERING FROM YOUR PLATFORM?
Well, you just have to make everything easy and simple for them. And it starts with the way you take orders from your customers. Though we've mentioned earlier that user experience is more important than the look and feel of your site, you still have to pay close attention to your platform's design. It's your very first chance to lure someone in to order from you so better give your best shot.
Put yourself in your customers' shoes. Would you choose to order your cafe supplies from a website that's cluttered, with too much content, buttons everywhere and has no clear process for what you should do next? Or would you rather order from a site that is clean, organised, and mobile-friendly? We're quite sure you'd choose the latter. Your ordering platform's design - whether that's an online shop or a mobile app - says a lot about who you are as a supplier. It can influence customers to stay at your site and make an order.
What's more, is that your website or ordering app needs to really showcase your products - beautiful, appealing, delicious looking images of food and drink products go a long mile toward increasing your sales. In fact, we've found that just by adding photos to your digital product catalogue you can increase sales by 3-5%. So make sure in your design you have beauitful photos of your products, and they are front and center in your website/digital catalogue, with no clutter distracting from them.
Beyond the looks, how people login to your platform and how they discover your products are also essential in providing a great user experience. According to the user experience honeycomb, your application/website should be easy to navigate so visitors can find what they need without any hassle. In other words, make sure that it is easy to see your product lines and prices.
There are three ways to make this possible:
Ensure you have a simple and straightforward design so your customers don't have to click too many buttons just to find a particular product.
Have an awesome search function
Allow your customers to sort your products by brand or by category
Let's take Ordermentum as an example. This ordering app features a user-friendly dashboard that makes it easier for retailers to view all the products that they can order from their suppliers. They can click a category to choose an item or access a "favourites" section to quickly see the products that they usually order.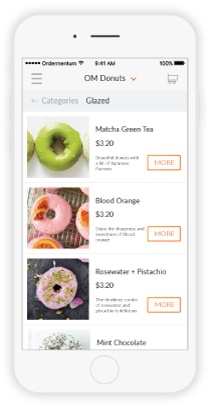 The Ordermentum app also makes use of product images in its interface, which provides a good experience to users. Take note that apart from helping the platform look awesome and extremely desirable, images are powerful because they give customers an accurate view of the items they are about to buy. As most studies show, the majority of the people are said to respond better to visual information than text.
Then we go to the most important part: placing orders.
Needless to say, the placement of orders should be as simple as possible to give your customers the superb experience they're looking for.
If you have an online order management system, you need to guarantee that retailers can get their orders in, with just a few clicks. Limit the steps that they have to take before they can check out to save their time and to refrain them from abandoning their carts in the midst of the ordering process.
New South Wales-headquartered Campos Coffee, for example, has a dedicated online shop on its website that lets retailers order coffee beans and cafe equipment directly from it. Retailers will just have to pick a product from the shop, add it to the cart, then proceed to the checkout. They will also need to enter their billing details for the order/s to be placed successfully.
Photo: Campos Coffee shopping cart
The Ordermentum app almost follows the same seamless process. The clean, straightforward interface that also acts as a digital catalogue allows retailers to click a product from their selected category, add the quantity, then proceed to checkout. Apart from choosing their preferred delivery date, there's nothing else for them to do since they will already be charged automatically according to the payment terms they have agreed with their supplier. Yes - no need to enter their billing details every time they want to place an order.
Providing a better user experience also means knowing what your customers want.
You need to give them somewhat personalised content so they feel that you understand what their interests and preferences are. By this, we mean showing recommendations in your platform. Take a look at e-commerce sites like Amazon.com. Amazon is known for always showing related items or product recommendations based on an online shopper's previous searches and purchases. This "experience-enhancing feature" has helped them increase their sales by 29% or roughly $12.83 billion!
Now this is a solid proof that good user experience really does boost your overall sales.
Of course, having an unrivaled experience doesn't just end there.
Alongside being able to order with ease, your customers also want their products to be shipped to them at the date and time they have selected. According to the Retailer Insights Survey we conducted a few months ago, being able to deliver the orders on time was one of the most important things your customers are demanding from their suppliers. No matter how easy it is to place orders, if customers don't receive the items on time, they will still be disappointed and unsatisfied. And remember, most customers are less likely to use the same service again after a bad experience.
To sum it all up, the user experience of your ordering platform or website has an impact on your entire business. It can either make or break you and in this competitive industry, it is key to acquiring new customers and keeping them loyal. Hence, it's essential that you pay close attention to your design, to how people discover your product range, and to the number of steps customers have to take to be able to successfully place an order. Above all, make sure you deliver all the ordered products on time. The trick here is to make everything as seamless and hassle-free as possible because that's what satisfies customers. Remember, high satisfaction results in repeat business, and of course, more sales.
Want to read more business advice like this? Check out our blog.