Industry Data and Insights with the Ordermentum Coffee Index
Ordermentum's Live Coffee Index will empower coffee businesses and roasters with game-changing data and unique insights into Australia's global, market-leading coffee industry.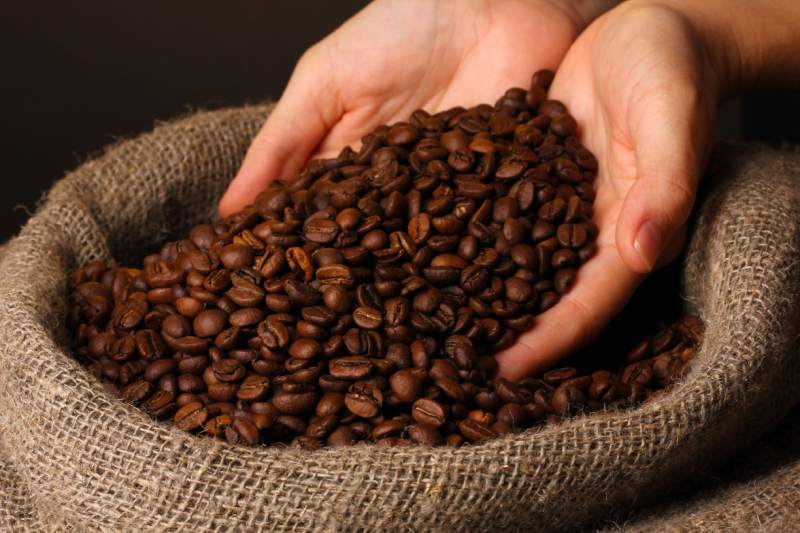 Coffee is serious business here in Australia and there is no one more serious about helping cafes, roasters and suppliers thrive, than us here at Ordermentum. That's why we have created an industry first that is set to transform the food and beverage sector. Our Live Coffee Index will empower coffee businesses and roasters with game-changing data and unique insights into our global, market-leading coffee industry.
We are passionate about developing useful data, that up until now, has only been reserved for multinational manufacturers. We are also serious about making our hospitality industry sustainable. With this global first coffee index, we are expecting to revolutionize the way our roasters and cafes forecast their orders and improve their processes so that they can compete with the bigger players in the industry.
The index is a LIVE indicator of the volume and price of wholesale specialty coffee sold across the country. It analyses blends, single origin, and decaf coffee beans, and provides useful insights (through the very latest in Artificial Intelligence), with practical applications that will have a positive impact on the quality, customer service, and commercial viability of any coffee business.
"We're in a unique position where we are able to take the 55,000 orders that go through our platform each month and turn that into insights that can really help a lot of businesses. Smaller coffee roasters will almost never have that much data, so being able to provide these insights will have a big impact on the industry," says Andrew Low, the co-founder of Ordermentum.
Right now, 20% of all specialty coffee roasters and over 10,000 cafe venues across Australia are using the Ordermentum platform, which equates to more than 12% of coffee traded in Australia. By analysing the 55, 236 orders we have live data that generates useful insights and reports that can help roasters and cafes grow their businesses.
"The thriving Specialty coffee industry in Australia is built on people who are in it for the love of it, so we're thrilled to be able to support our passionate roasters in their business growth," Low adds.
The news of the Coffee Index has been well received by local roasters such as ONA, Proud Mary, Double Roasters, Marionette, and Gabriel who are excited to discover what the index has in store for them.
"Ordermentum has allowed us to grow without compromising customer service, to better communicate our coffees through the digital catalogue and most of all, to get paid," says ONA Coffee founder and 2015 World Barista Champion, Sasa Sestic.

"I am excited to now use the coffee index and better plan around holidays & bad weather so our coffee is always drunk at the perfect time."
Already, the Ordermentum Coffee Index has uncovered a lot of useful data and incredible insights. Take a look at what we've discovered about our local coffee trade:
SEASONALITY
1. Contrary to what many believe, the largest down trend in volume traded is actually July school holidays and not Christmas.
2. The volume drop at Christmas runs for the whole month of December. January and February are also low trading months due to consumers still recovering from credit card debts.
3. The largest volume trading day of the week is Monday.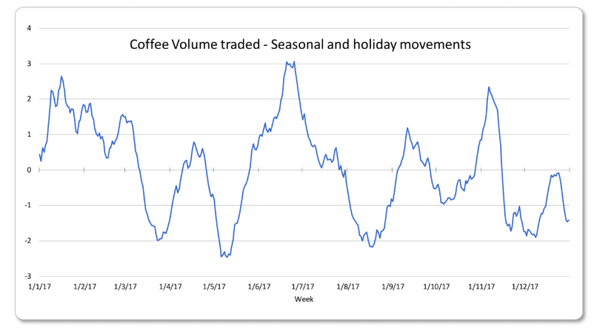 PRODUCTS
1. The total coffee volume has increased 3.5% over the last 12 months.
2. The sales of coffee blends dropped 5% across January and February 2018.
3. Single origin coffees trade at a 35% price premium to blends. The price of these coffees is also elastic. An 8% increase in price correlates with an 8% decrease in volume.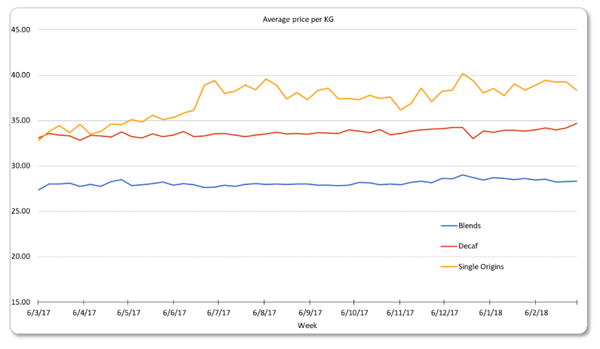 This is just some of the data and insights that local coffee roasters and wholesalers will have access to with the Ordermentum Coffee Index. Stay tuned for more.
---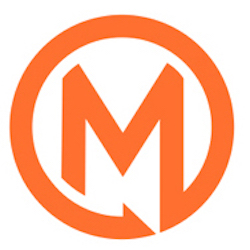 Written by
Ordermentum Insights
Our insights team is made up of passionate writers, researchers, chefs, baristas, web developers, tech gurus, our Founders, and even an accountant. We keep a pulse on the Food & Beverage industry to bring you insights and research to help our industry trade smarter.
---