Based on our recent survey, 62% of retailers believe that being able to provide an exceptional customer experience is one of the most important things they look for in a supplier. So making it simple to order, pay for and receive your goods is going to be one of the biggest drivers for repeat business.
Online food ordering apps are everywhere lately and it's pretty obvious why - they make life simple. However, most apps you've heard of are consumer based - helping consumers order takeaway food from local restaurants, skip the coffee queue or get things delivered. But did you know that there is a specialised food & beverage wholesaler app out there where B2B customers can order from their suppliers? And using ordering software doesn't just help get your orders in, there are a whole host of flow on benefits that can transform your business once you start using the technology.
Here are the top 10 reasons why you should consider setting one up today.
BENEFITS OF USING AN ONLINE ORDERING APP FOR SUPPLIERS:
1. It eliminates the admin: Paperwork is a pure time-waster. Taking retail orders over the phone while keying them manually into your spreadsheet and manually generating invoices takes away your time and focus. With an online ordering app you can finally get rid of the pesky paperwork since most admin tasks will be automated. All your retail orders will go straight to your system without you having to type or count a thing; and if you're lucky enough to find an advanced ordering app - invoices and order confirmations can also be generated and sent to your customers automatically. All this gives you more time to do the things you love the most, rather than getting buried in paperwork.
2. It lets you manage all your customers and retail orders in one interface: An online ordering app can be your "one-stop system" for all things related to your customers and their retail orders. From just a single interface, you can see and manage all your customer orders and even access useful reports that will make the day-to-day running of your business much easier.
3. It can help you stand out: Adopting a mobile-friendly ordering system means that you are operating where your customers operate and interacting with them using the device they use the most: their smartphone. It also gives your retailers a way to order at any time of the day, so you can quickly become their supplier of choice. Especially when they need to place orders beyond office hours.
4. You'll have more orders coming in: Making it easier for your retailers to browse your product range and place orders 24/7 means that you will see an uplift in sales. The easier and more convenient you make it the higher your repeat business will be.
5. You can showcase your product range effectively without it costing the earth: With an online ordering app you can easily display your entire product line as the ordering system doubles as a beautifully designed, mobile optimised digital catalogue. According to our research, beautiful product photos can increase sales by up to 5% so it makes sense to take advantage of this cost-effective feature.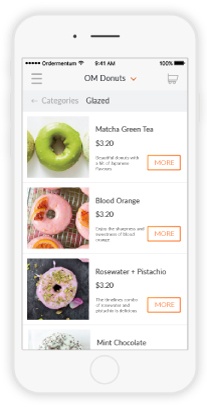 6. There will be fewer ordering errors: All your retail orders will go straight to your system in real-time eliminating any manual data entry and reducing your ordering errors and mistakes. Fewer ordering errors mean happier customers and better profits.
7. You no longer have to worry about payments: These days most customers prefer to pay using direct debit or their credit cards so you have to cater to their needs and give them hassle-free payment options. Online ordering apps can also accept payments making it convenient for you and your retailers.
BENEFITS OF USING AN ONLINE ORDERING APP FOR RETAILERS:
Online ordering apps also come with several advantages for retailers. Venues like restaurants, cafes, and pubs - big or small - can use the tool to save time and make their foodservice operations seamless.
8. They can order at a time that suits them: An online ordering app can make ordering easier and faster because it simply means logging in on their phones and placing an order. They can do this anywhere and anytime they want, even outside business hours.
9. They can see all their suppliers and orders in one place: An ordering app can serve as a "phonebook" where all their suppliers are listed for easy communication. It can also consolidate all the orders they have made so they will know how much they have spent in a week or a month (which is really helpful when it comes to improving cash flow).
10. On-time deliveries: Since all the orders they've placed in the app are accurate they can have their ordered products delivered on time. Our survey shows that "on-time delivery" is one of the most important factors for a retailer.
WHY CHOOSE ORDERMENTUM:
Ordermentum is purpose built for food and beverage businesses and is designed to make ordering and payments convenient for you and your customers.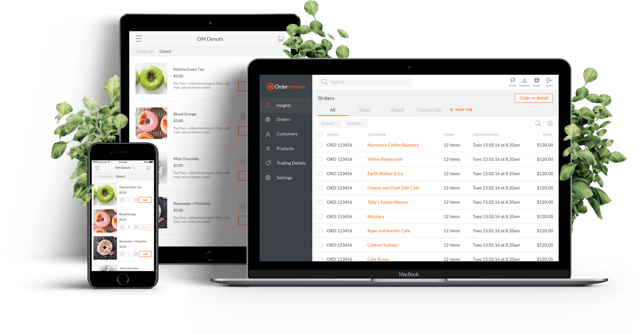 It automates all the stages in the order process that require manual work, therefore, completely eliminating admin
It has a clean and user-friendly dashboard that lets you manage your retailers, edit orders, and access powerful reports and insights
It allows you to build a digital catalogue where you can showcase your product line and highlight your newest deals and offers
Retail orders placed via the app will appear in your dashboard in real time, resulting in reduced manual data entry and fewer ordering errors
No more chasing late payments because the app lets you charge your customers by credit card or direct debit
Your customers can place their orders anytime they want, even outside your business hours. They can also pre-schedule their orders and set standing orders.
You can take a few minutes to try out the Ordermentum app here or you can request a free demo with one of our team members.
In the meantime, if you'd like to read more business advice from us, visit our blog.