How wholesale Food & Beverage Suppliers are streamlining production, driving retention and increasing their customer base with technology.
Since launching our tech platform in 2014, our one simple goal has always been to help food and beverage businesses save time and make money. Five years on, we are proud to be working so closely with so many Suppliers and Retailers to help them grow their businesses. We love being a part of this incredible industry – it's exciting, hardworking and innovative. But we also know that there are many challenges. Labour costs are rising, competition is increasing, loyalty is decreasing and the churn rate is higher than ever. Whilst this may sound a little bleak, a more positive trend is also emerging. An influx of food and beverage providers are embracing technology to future-proof their businesses. By turning to tech solutions these Suppliers and Retailers are transforming the way they operate.
We've identified 8 of the key areas where Suppliers are using simple technologies to trade smarter, so you too can future-proof the business you've built from the ground up. By the time you get to number 7 we guarantee you'll be jumping aboard the tech bandwagon, because as you'll see, it really is as easy as one, two, click.
Download the entire free guide here.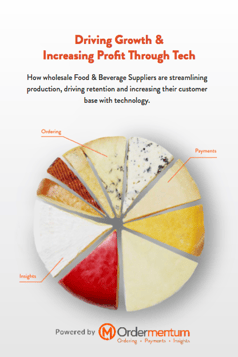 Andrew Low Co-Founder and Co-CEO Ordermentum