It's 10pm, you're sitting in the back office in front of a pile of papers after a long day at work - you did start at 5am, after all, writing up all the orders that came in today. Some are via text, some are voicemail messages (did he say seven or seventeen?!), there are ten emails from one retailer with different edits to his order, and a list you have to chase up in the morning because they didn't place their usual order. And you haven't even started trying to work out which invoices have and haven't been paid.
Sound familiar?
It's a tale as old as time, or at least, the food and beverage industry. Suppliers that have started small and grown quickly all too often find themselves bogged down by admin, which is why we created Ordermentum. For many suppliers, dealing with multiple customers, reconciling their orders, managing edits, entering the data and syncing with their accounting system, generating pick slips and creating delivery reports. For many, it's more than a full time job - they have multiple staff members handling all this manual work.
Some look at ecommerce platforms, some create elaborate spreadsheets and some don't see it as a problem - so long as those orders are coming in, that's just the way being a supplier works. Until Ordermentum, there hasn't been a tool created specifically for the Food and Beverage industry.
Our mission is to change the way food and beverage suppliers do business - eliminating the endless paperwork to give you back the time you need to do more of what you love. Afterall, no one starts a business to do paperwork!
Ordermentum is a web-based platform designed to reduce your order management workload so you can spend more time on the tasks that matter, focusing on providing an outstanding customer service and growing your business. Now before you get too excited, take a quick walkthrough of its best features and why it will change the way you do business.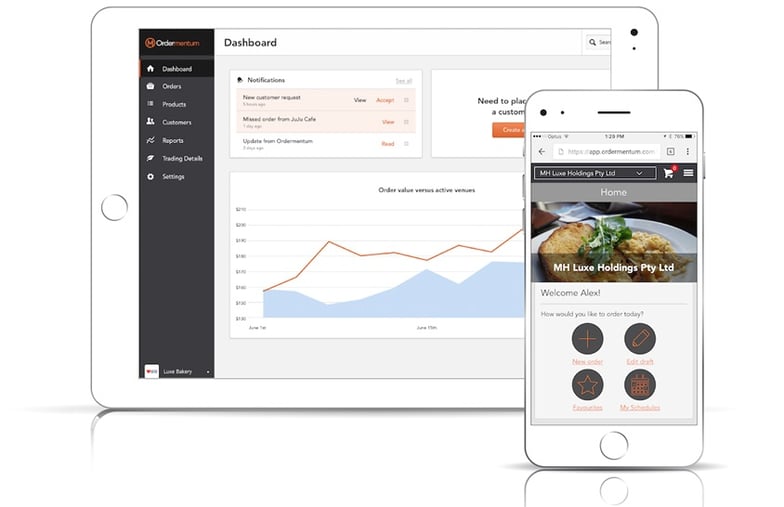 Seamless ordering for retailers
Keeping your customers happy is one of the most important challenges, if you want to stay in business! For B2B suppliers, one of the best ways to achieve this is by making things faster, simpler and easier for them. Ordermentum makes ordering faster, easier and simpler by providing an easy interface where they can order with one click, setup recurring standing orders and make edits instantly without having to call and wait on hold, send multiple emails, and wait for confirmations. By putting orders in the retailer's hands and creating automated, instant confirmations, data entry errors are virtually eliminated.
The best part? You get all your orders and payments straight into your system, synced with your accounting software and organised in the way you want to see it. Instantly.
Say goodbye to printed catalogues
Showcasing new coffee beans, cakes or pastries will now be easy with Ordermentum. The app provides you with a user-friendly dashboard where you can easily manage your retailers, and upload product images and prices (and even highlighted promotions) for your customers to discover.
Showing product images generates 30% more orders - meaning you can start upselling to your customers with ease.
The best part? You can show custom products and prices to different customers - for those you've set up specific deals with.
Which takes us to our favorite feature:
On-time payments
Reminding customers to order on time and chasing late payments are the two most business owners hate the most.
Good thing Ordermentum can do payment collection for you! Ordermentum has a built in, automatic payment system that not only cuts out paperwork but improves your cash flow. Your customers can enter their credit card details and pay instantly when they place an order, or you can set your own payment terms - charge their card 3, 5, 7 days later - however you like to do business.
In other words, you can take back control of your payments, meaning you no longer have to deal with invoices manually and you can focus on delighting your customers.
Impressed? Wait 'til you hear the next benefit. This will definitely give you your weekends back:
Easy-to-access insights
Ordermentum LITERALLY lightens your workload by reducing order taking admin. On top of that, the he platform allows suppliers like you to access advanced customer sales reports and marketing tools to get all the information you want, when you want it. On top of that, you can print delivery reports, pick slips, and invoices, too. It's like having a virtual secretary working 24/7 to organise the reports you want and sending them all to you.
To sum it all up, Ordermentum makes ordering and payment a piece of cake. No more phone calls, spreadsheets, data entry and the errors that go with manual systems, as you'll be able to accept all your orders and payments in the one place and manage your retail customers with ease.
So, what are you waiting for?
We're very excited to show you more of what Ordermentum can do. Click here to book a demo with us.