Clarke's creation, the "Butterbing", handmade with two fudgy dark chocolate brownie cookies joined together with delicious buttercream in a variety of flavours has earned the title of Melbourne's best cookie sandwich.

"I started the company in my home in 2014," shares Butterbing founder Simone Clark when we sat down with her. "I started there and grew by just adding new products, testing the market, and then soon enough the Butterbing was born."
Four years on and Simone's specialty bakery has expanded to employ 18 passionate people and supply about 400 venues across Australia, including Darwin and Perth. Their main customers are specialty coffee venues as well as roasteries, cafes, and little boutique groceries.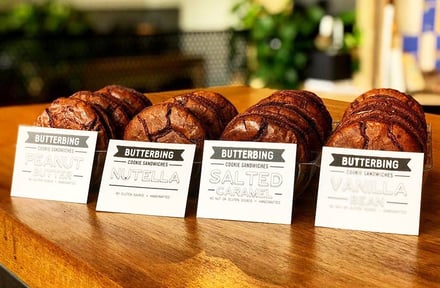 For Clarke, one of the special things about Butterbing's journey is the great team of mostly women that she now works with. "There's about 18 of us, two guys and the rest are women. That is a really unique culture that we have going on," she says. "We really love what we do, we come to work with a lot of positive energy, and I love that we can break that myth that women can't work well together because, to be honest, it's the best place I've ever worked."

Despite the positive and unique workplace, and the enormous growth that came from Butterbing's unexpected popularity, Simone saw that her business still had a few pain points that needed to be solved. One of them was payment processing.
"We had a few pain points which were mainly payment processing and anyone who has a small business knows that collecting money can be this really delicate little topic that you don't want to talk about too much with your customers" she said. Enter, Ordermentum.

Ordermentum is an ordering and payments platform that's specifically built for the food and beverage industry. Its app connects suppliers to retail venues and allows them to take customer orders and payments quickly, tailor pricing, and customise payment terms and methods. One of its best features is the 'Instant Payment', which charges customers instantly by credit card, direct debit, or charge depending on the agreed terms.
"They [our customers] pay by credit card and that payment happens at the time of order so it's a really safe kind of experience knowing that you're going to get your money before the product leaves," Simone added.
Butterbing is continuously growing and with Ordermentum, they have the freedom to showcase their latest range and promote their specials. The new products go to the top and that actually increases their sales when they launch something new. The platform also helps them manage their orders and streamline their processes.
"We have a small team. I like it that way. I don't want to add a huge army of administrators to process orders," Simone says. "I've managed to keep it just to one key person that processes all our orders instead of adding more people, because what Ordermentum does is it makes the process really efficient so customers can log on and place their orders. It generates invoices for us, it processes payments, and we just do the next steps after that."
What's more, using Ordermentum has been a big draw card for new customers, "They get really excited when they find out that we're on that platform and we can actually now use it as a selling point in our sales process" she said.
For Butterbing, Ordermentum has helped streamline their payment process and make their work life a whole lot easier.
"If you're considering using Ordermentum but maybe you're a little hesitant to change something in your company, you can just start off really small.
Maybe ask your customers if there's something they're interested in and try it with 20 customers and you'll soon find that actually, you like it as well and you can just actually roll that at your own pace. You don't have to just, bam, new change. You can just do it step by step. And I find that actually a really clever way of doing it."