Drinking coffee has become an integral part of our lifestyle with the average Australian consuming about 9 cups of their brew of choice a week. This has led to the rise of numerous specialty cafes and micro-roasters which all drive the success of our local coffee sector.
But just like other sectors in the food and beverage industry, coffee businesses, especially the traders, can experience a lot of fluctuation. Seasonality, holiday periods, and even weather can have a strong impact on coffee consumption and sales so it's essential that you have access to relevant market data for you to be able to better run your business.
Whilst looking at offshore coffee trends TradingSim, has found that seasonal factors play a significant role in coffee production and impact the price of coffee with consumption dropping by 12% during the Summer months and picking back up in Autumn and Winter. Futures Mag also supports this overseas data with coffee consumption peaking during the colder months of the year and declining during the warmer months.
But did you know that here in Australia, we are seeing an anomaly in that trend. In fact coffee traders and wholesalers suffer the sharpest sales drop during July, which is actually one of the coldest months in the country.
Whilst most of us believe that it's the Christmas season when cafe sales take the biggest hit due to the crazy Christmas rush, Ordermentum's Live Coffee Index has found that the biggest decline actually takes place during the July school holidays. As we all well know, July typically sees a mass exodus of holidaying Australians in search of warmer temperatures and this has a direct impact on the consumption of coffee.
The index is a real-time indicator of the volume and price of wholesale specialty coffee that's sold throughout Australia. It analyses seasonal factors and different coffee beans, and provides meaningful insights, so suppliers like you can have a better understanding of the week-to-week ups and downs of the wider market.
As well as discovering that the largest downtrend in volume traded is the July school holidays, the Live Index has also shown that January and February are low trading months for wholesalers because customers are still feeling the pain of credit card debts from the Christmas period.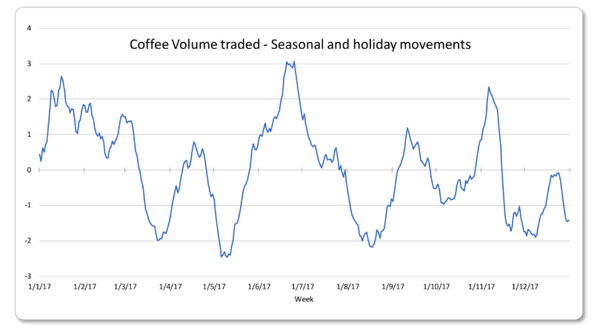 Meanwhile, the largest uptrend in volume is across the transition months of May and June. The cooler weather during these periods combined with the absence of major holidays means more consistency in coffee consumption. Monday has also been found to be the largest volume trading day of the week.
The Ordermentum Coffee Index is an industry first that is designed to empower small specialty coffee shops and boutique roasters with real-time information and game-changing insights that will help them make smarter day-to-day business decisions. Based on the data of "coffee sales only" across the entire Ordermentum database, the index will assist roasters and wholesalers like you with your consumption forecasting and predictive ordering so you can easily compete with the bigger industry players.
If you want this critical industry data and insights at your fingertips, register for the Ordermentum Coffee Index here: https://www.ordermentum.com/coffee-index-acces.