Last August, we surveyed our network of 6,257 Australian food and beverage retailers (cafés, bars, and restaurants). The goal was to find out what do retailers want from their suppliers, what the industry can improve on, and what the biggest challenges that retailers face are, so we can help wholesalers increase orders and build stronger relationships with their customers.
The results were really interesting, and when coupled with our ordering data, produced some fascinating insights into the minds of Australian Café, Bar and Restaurant owners, their behaviour and how best to serve them.
The key questions included in the survey were:
What is your biggest business challenge when dealing with suppliers?
What is most important to you in a supplier?
What could suppliers do to make your life easier & improve relationships?
We were overwhelmed by the number of responses we received, particularly those who took the time to leave some very insightful comments. The whole team at Ordermentum would then like to thank everyone who participated.
Here's what we found:
What is your biggest business challenge when dealing with suppliers?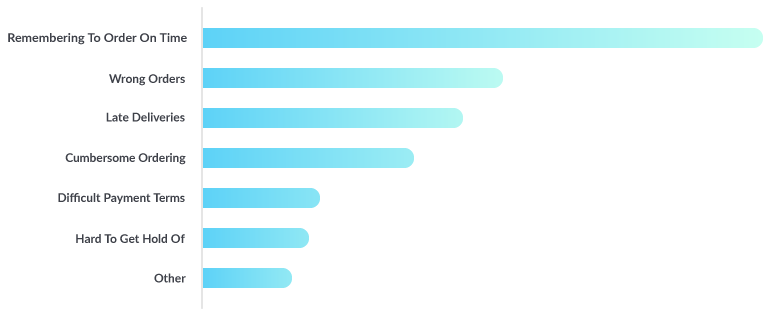 When asked what their biggest challenge when dealing with suppliers is, 41% of our retail venues said it was remembering to order on time/before cut-off. To address this, suppliers should consider sending out SMS reminders with a link to quickly place orders to make sure their customers don't miss cut-off.
18% of the respondents, meanwhile, told us that wrong orders were among the biggest challenges they face. Automating the process of taking orders and eliminating the need for manual data entry are the best ways to solve this.
From our data analysis of the 34,427 orders that were processed through Ordermentum in August, we learned that 27% of all orders are standing orders, i.e. the same order, placed on an automated and recurring basis. This is incredibly convenient for retailers - if suppliers have the processes to allow standing orders, it saves both the retailer from forgetting to order, and gives certainty for the supplier to allow for accurate forecasting. Oh, and they never have to ring customers to remind them to order again!
We also found that retailers often don't have enough time during work hours to place their orders. In particular, 31% of the orders that come in via Ordermentum are placed outside of regular business hours. We suggest suppliers invest in a mobile-friendly online system where customers can place their orders at the time that best suits them, rather than having to call during office hours. This doesn't just result in better customer experience, but in repeat business and more sales as well.
What is most important to you in a supplier?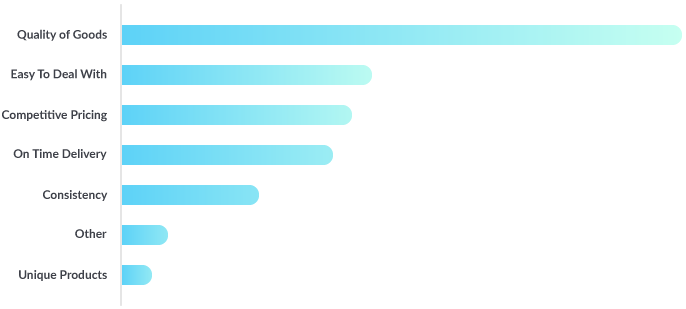 When asked what is the most important thing when choosing suppliers, the majority of

the surveyed retailers said it's the quality of the goods.
62% of the respondents, meanwhile, were more focused on the customer experience. 17% of them stated that being easy to deal with is more important than the supplier's ability to offer competitive pricing at just 15%.
The best way for suppliers to stay competitive is to ensure their products are high quality, to provide unbeatable customer service, and to make sure they are available at the times their customers need them.
When asked what's most important in a supplier, 15% answered: "on time delivery". Actions like automating business processes that take too much time and manual work, sending order confirmations to customers, and providing delivery updates can all improve the delivery process and reduce errors and delays.
What could suppliers do to make your life easier & improve relationships?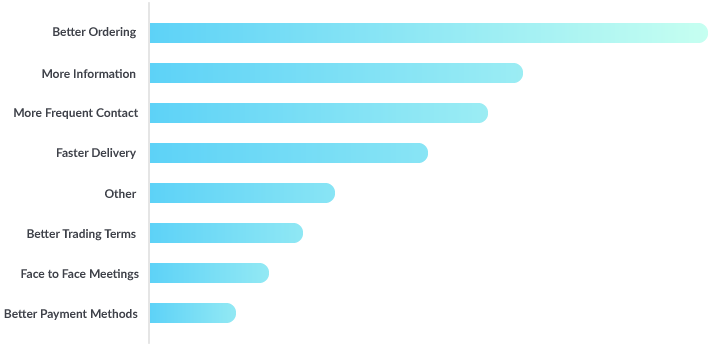 When asked how suppliers can make their retailers' lives easier, most of the respondents answered that better ordering process is the most important thing to change.

To address this, suppliers should consider having a user-friendly system that customers can easily order from and can guarantee data is synced across all business stages to prevent errors and streamline production processes.
At 19%, the second most important thing to improve was more information about promotions and products. Retailers want to know more about their suppliers' promos, learn from them, and hear about their specials. Suppliers should find ways to showcase their offerings and promotions from time to time. Some of the effective strategies to do so include:
- Sending out email campaigns with monthly specials;
- Sending out text message campaigns containing 'flash sales';
- Have a digital catalogue that is easy to update;
- Building 'new products', 'favourites' or 'trending' sections into their ordering system or catalogue;
- Featuring products on the homepage banner;
- Taking great product photos - great product images can increase sales by 3-5%
Through the survey, we also discovered that retailers want more frequent contact and face to face meetings. They want to get to know their suppliers better and build stronger connections with them. Time, however, is the biggest hindrance to being able to do this. Suppliers are busy - but, by streamlining the ordering process, removing the need to enter data manually, and leveraging technology to create reports automatically, suppliers can have more time to engage with their customers and take their relationships to the next level. Fundamentally, by eliminating the admin involved in ordering processes, instead of calling to chase up late orders, suppliers can spend that time having much more valuable conversations.
If you found these insights useful, or would like to know more about how you can address the issues retailers are raising, download the full results of our Retailer Insights Survey 2017 here for free.
In the meantime, if you want to read more industry updates, you can check out the "Ordermentum News" section on our blog.