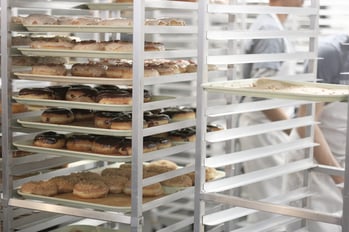 We spoke to Tony Smith from the Baking Association of Australia, to update bakery owners and the industry on the skyrocketing cost of flour and the impact this will have on bakery owners Australia wide.
If you're a bakery owner, now might be the best time to start saving costs and safeguard yourself. Flour price is about to skyrocket.
Click play to listen now:
"Faxes are now a thing of the past so the next best idea is to try to get some sort of automation into making taking orders easier for wholesale. Most bakeries actually do some sort of wholesale business, so they do need a system in place that makes it easier for them," says Tony.
With this dramatic price hike alongside the tight market competition and already low margins, our local bakeries could now be left with no choice but to pass on these costs to the customers instead of sucking them all up. Because obviously, there's only so much they can absorb. What's worse, this price increase could force small and start-up bakeries to close down their business due to the incapacity to buy quality flour.
5 ways to safeguard your bakery business:
Do the numbers, and know your cost of goods. Don't wait until the cost increase is in place. Know your cost of goods and your profitability. This will help with product pricing and managing your margin to ensure profitability. For assistance and advice, get in touch with the BAA.
Invoice at the time of order. Don't wait until later that day or week. You can automate this process with ordering management software, which will have long term sustainable benefits and ensure you get paid.
Cash flow is as important as margin. Offer automated and flexible payment terms to your customers. Set up direct debit or automatic payment on delivery. Don't waste time chasing payment, and make sure you get paid on time.
Get visibility over your business performance by digitising your ordering process. Getting visibility over the data will help you identify growth opportunities, reduce customer churn, and increase your average order size.
With a dramatic increase like this, costs will likely need to be passed to the consumer. If product price rises are needed - communicate these quickly and efficiently or you will need to absorb the cost making it harder to recover. If you have a digital product catalogue, this can be managed instantly.
If you are looking to safeguard your bakery business and improve your business performance, get in touch with our team today and we will help.