A growing cafe supply business also means a growing number of retailer orders. While taking customer orders seems like a simple task, managing all of them and making sure they are delivered to the right customer at the right time with the correct invoice is a whole different story. Not to mention the many challenges that you might also encounter along the way - inaccurate calculation of inventory, missing invoices, and incorrect data entry, to name just a few.
Many businesses start small with just a few customers, and taking orders is a thrilling validation that the business is growing fast! However, as the business grows, without a good order management system, order taking can become a costly headache - costing the time of your staff, and costing in real dollars when there are ordering issues and mistakes.
This is where having a better order management process becomes crucial. With good order management, you will not only be able to deal with high volume of orders seamlessly, but you will also gain some important flow benefits that will help you grow your business:
More organised workflow
Reduced errors in order taking, inventory, and delivery
Faster shipping of goods
Improved customer satisfaction
If you don't have a streamlined order management process yet, here are our top tips to get the right systems in place for your business.
First, revisit your current process
There's no better way to improve your order management process than looking back at the one you currently have and doing an honest review. Understand how your system currently works and monitor every step - from orders being placed, to inventory checking, right up to how your orders are picked, processed and shipped. This way, you will not only find where there are gaps, you can also determine where you can possibly improve and which steps in the chain are taking too much time, or rather, too many resources. From there, make a start by improving one step in the process at a time.
Next, set new benchmarks
After looking back at how your current order management process operates and finding your weakest spots, it's time to set an improved flow and make that the standard. Begin with the actions you're taking when processing a single order. If it's taking you more than 15 steps before you can deliver the products to your customer, assess each step in the process and see if you can cut down to 6-7 steps. The shorter the process, the easier it is for you to handle more orders in a day. Plus, you'll be saving time.
The easiest process to improve are those that require large amounts of admin. If you're entering orders in to multiple different systems, or typing anything up manually, those steps are your first targets!
Employ the first-in, first out method
An easy way to keep your processes flowing smoothly is to process your requests in the order they come in, and never let anything else jump the queue. This might seem very exhausting, especially if you're managing your orders manually. But in cases where you're dealing with a lot of retailers, this will help you keep orders from piling up and from being missed or forgotten. The most important thing to remember is to prioritise the customers who have placed their orders first to avoid confusion and to make sure they receive their products on time.
Take advantage of order management software
There's no doubt that managing orders manually using a pen and paper or even spreadsheets still works. But to achieve maximum efficiency, you should eliminate as many administrative steps as possible. This not only reduces your errors, but can save you tens of thousands of dollars in staff costs per year (to find out how much you could be saving here).
An order management system will allow you to cut out the most admin-heavy steps in your ordering pipeline, and should integrate with your accounting, inventory and logistics sytems so you can say goodbye to manual data entry and process your orders much faster.
Better yet, by allowing your customer to submit their orders straight into your system and sending them instant confirmations, you can virtually eliminate ordering errors. Most systems will do this by providing a mobile app or online form that your customers can complete themselves to submit an order, instead of sending text messages, emails, leaving voicemails or even faxes!
Order management solutions come in many different shapes and sizes, but if there is one purposely built for you, it's Ordermentum - designed specifically for food and beverage suppliers, and their customers.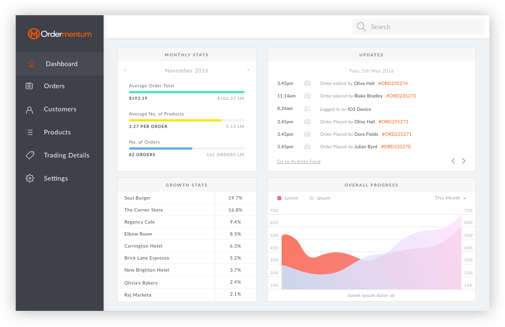 Ordermentum provides you with a seamless ordering and payment workflow that is designed to be fast, mobile and easy for you AND your customers to use.
Your customers get a mobile app that doubles as a digital catalogue, with bespoke/individualised pricing and trading terms for each of your customers so you can negotiate deals, discounts and special orders with them. By using a visual app for your customers to order from, not only can they order in just a few clicks, but the product images built into the app mean you can upsell your customers by promoting new products- typically increasing sales by 3-5%
From there, your orders sync to your accounting system, delivery slips, pick slips and reports can be instantly generated, and your customers can easily download their own invoices or make edits to their orders - further reducing the admin work required from your team.
The best part? You can also process payments automatically via credit card or debit card when the invoice comes due - on whatever terms you set with your customer. Payments will be tracked automatically, so you can also eliminate payments admin from your supply chain.
If you would like to learn more about Ordermentum and see how it could save you money AND time, you can book a completely free demo here.
These are just a few tips to get you started and help you manage your orders efficiently. Don't forget that as your business expands, what works now will likely become cumbersome very quickly. By investing the time in automating your most time consumer processes, you'll free up valuable time to focus on making more sales and growing your business. Never overlook how far your business can go by having automated processes.
Looking for more business advice from us? Check out more hot tips in the Business Advice section of the Ordermentum blog.