We've got everything your sales team needs to find, impress, onboard and track the progress of your newest customers. Read on to find out the six ways we help supercharge your sales team.
1. Sign up new customers in seconds with a QR code for each salesperson
Create an impressive, tailored onboarding experience for your customers with Ordermentum's QR codes. You can create custom QR codes for each salesperson, your website, specific marketing campaigns or regions, each with tailored pricing and visibility groups. There's no faster way to get from zero to trading.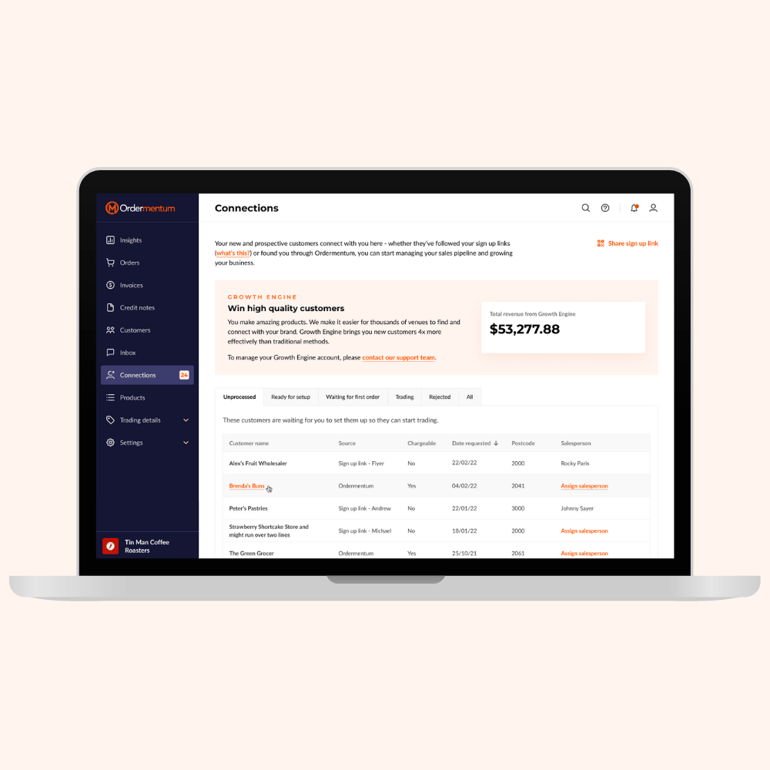 2. Track your success in Connections
The Connections page gives your sales team a clear view of every unprocessed connection request that requires a response. You can see the status of all our customers: Unprocessed, Ready for setup, Waiting for First Order, Trading and Rejected.

This makes your sales funnel so much easier to understand, and you'll have info on where a new connection has come from, whether they're from one of your sign-up links, if they found you on Ordermentum, if they were referred by you, or if they found you through Growth Engine.
3. Assign a salesperson
On the Connections page, you can assign a salesperson to the new customer, making it very easy to tell who's responsible for who. This gives clarity to your sales team and provides a smooth experience for your new customer.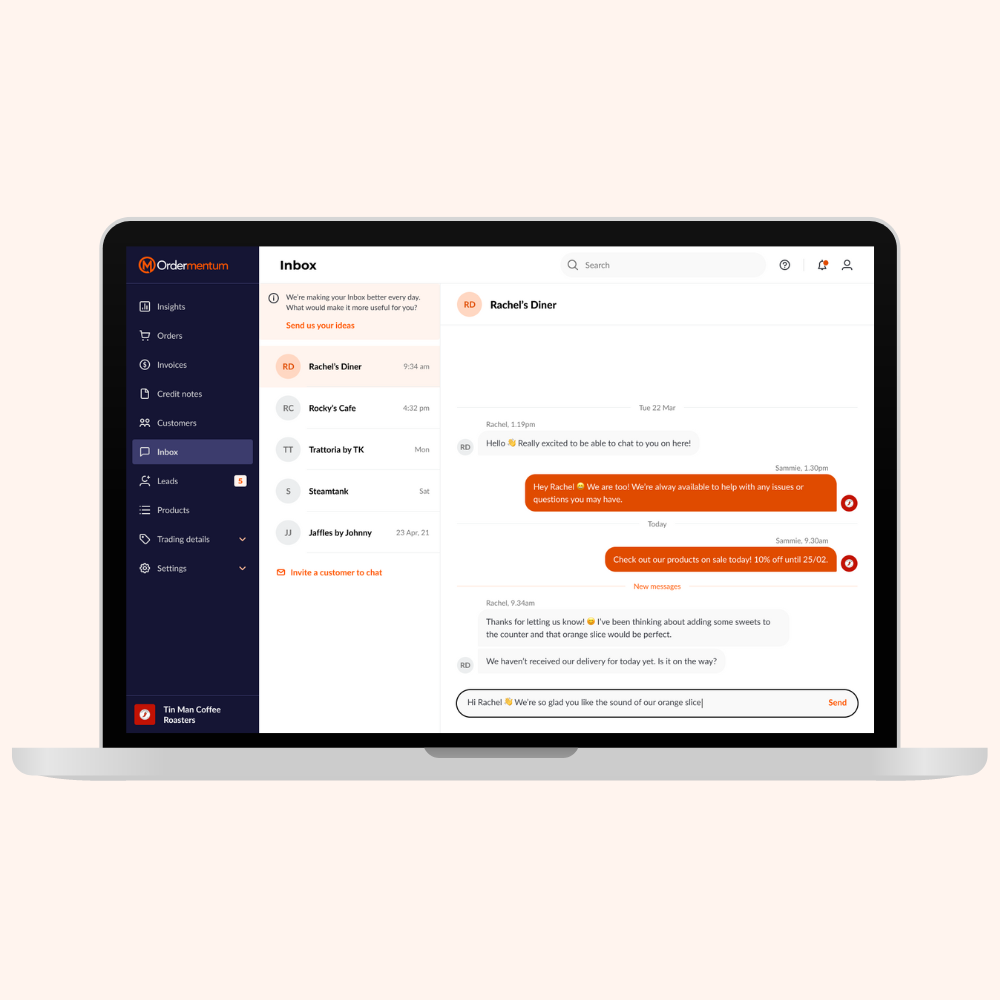 4. Keep them engaged with Chat
Once you've set up your customer in Ordermentum, you can nurture them by sending a message from your Inbox. Messaging your new customers helps you give them the best first order experience, and helps you with record keeping.
5. Work smarter, not harder with Growth Engine
As you use Ordermentum, Growth Engine will start recommending you to venues that are a good match. Sales teams are always amazed at how Growth Engine provides them with hot, qualified leads. It completely revolutionises the process! Not only does it make your sales team more efficient, but it also gives the salesperson more time building a high-quality relationship with the key stakeholders at the venue.

6. Track at-risk customers and re-engage them with Insights
Have you signed up for Insights yet? Track your new customer's spend patterns and know when to step in to keep them engaged. The Customer Watchlist report includes the ability to track five cohorts of customers, based on their ordering history with you: Likely Churn, Concern for Churning, Out of Ordering Sequence, Expect Order Soon and Within Order Sequence.
If you've got questions about the above tools, we're always here to help. Just email: support@ordermentum.com.
Additionally, if you'd like a free trial of the Insights feature, contact us today at support@ordermentum.com or reach out to your Success Manager for a demo and free trial.