From a small-sized bakery that sells direct to customers through your shop front, you have now decided to expand your business and go wholesale - bringing your delicious baked goods to more people by selling to cafés around town. Great news!
But what really happens when you decide to grow your bakery production? The ideal scenario is hundreds more wholesale orders flooding in. But with those orders, comes a whole new set of complications. Without the right plan in place, all areas of your business can quickly become overwhelmed - order taking, production, packing and delivery can all come under pressure very quickly. And if just one of those steps falls over, you risk losing customers and damaging your reputation. Especially if you're still relying on that old pen-and-paper method when taking orders.
However, you shouldn't let this risk stop you from expanding. You simply need to right tools and the right strategy to expand your sales and make sure your operations are also scalable, and you can quickly identify areas of weakness. A great way to solve this is by going digital.
Regardless of whether you're expanding your bakery or not, it's crucial that you ditch the traditional spreadsheets and get yourself a dedicated ordering system that will enable you to manage all your orders from a single place while allowing your customers to quickly order cakes and other baked goods online, whenever and wherever they want. Using an online ordering system is much more than just a modern-day tool to take orders efficiently - going digital comes with a full suite of advantages that are perfect for growing bakeries like yours.
MANAGING YOUR BAKERY WILL NOW BE A PIECE OF CAKE
To start with, an ordering system makes placing orders super convenient and time-saving for your customers.
Put yourself in their shoes: would you like calling or emailing a supplier in the midst of a busy lunch service just to try to get your orders in before the cut-off? Or would you rather order in a few taps on your mobile phone while you're on the go? That's what an ordering system can do. It allows your customers to place their orders online - at any time of the day, even outside your bakery hours.
Online ordering is essential in any business these days. Based on a past study by Nielsen, customers now expect retail businesses to be available 24/7 in multiple formats. These businesses need to tap into the so-called "omnichannel" that expands from in-store to online to keep their customers engaged. Several bakeries worldwide also believe in the importance of being able to accept orders online. According to Illinois-based Creative Cakes:
"We're closed on Mondays and would often hear customers say that they'd tried to call in and order, but we weren't here. It was frustrating knowing we were losing sales. Now, our online orders allow for an increased revenue stream and customer convenience. Our customers like ordering cakes in their pajamas and appreciate the discounts we offer when orders are placed online." - Beth Fahey, co-owner
San Francisco's Boudin Bakery feels the same. Lead marketer, Gayle DeBrosse, said:
"With the increasing popularity of the Internet, we wanted to offer our customers another convenient way to order Boudin Sourdough, especially 'after hours' when many people have the time to shop. During peak holiday ordering, it also allowed consumers an alternative to ordering via phone."
While these are retail studies rather than wholesale, the important thing to remember is that it is the same people ordering from you, even if it is in a business capacity. The same people that are now used to buying most things in their lives online - from dialling up an uber, to grocery delivery to clothing and appliances.
Moving forward, ordering systems can also save your precious time. The challenge with having a bigger bakery with no ordering system in place lies on the fact that your staff have to take all the orders over the phone and key them MANUALLY into your spreadsheets, which is obviously prone to errors and mistakes.
An online ordering platform eliminates the data entry as customers are placing orders themselves, selecting from a menu of product options that mean they aren't typing anything in wrong. Since all orders go straight to your system (and can even be synced with your inventory software), you no longer have to manually enter any data into an excel sheet. When you reduce your manual data entry, you also reduce your ordering and delivery errors.
The tool also improves your back-office efficiency. That's because apart from eliminating manual data entry, it also does a lot of other admin work for you, including generating production reports and creating invoices. Your customers have their own login to check their order and get automatic confirmation, so they don't have to call you to check how many loaves you ordered, or accuse you of getting it wrong on delivery. The system can be integrated with your current accounting software, cutting out the step where you have to create and send the invoices yourself. Your customers will receive them automatically after placing their orders.
Last and not least, you can use ordering systems to showcase your best-selling bread, cakes and pastries. An online ordering sytem has the double benefit of acting as a digital catalogue that showcases your products for your customers to easily view on their smartphones, and always being up to date if you add new products.
As you can see, an ordering system simplifies the whole ordering process. The improved back-office efficiency means you can finally accept a larger number of orders with ease, and produce and deliver them faster - all leading to great customer satisfaction. If you're still not convinced whether an ordering system is a good addition to your bakery or not, just take a look at the other businesses who are benefiting from this kind of technology.
Overseas, bakeries like A&J Bakery, New Cascadia Traditional, and Bisousweet Confections have invested in a reliable ordering software to streamline their order taking process. Karen Collins of Bisousweet Confections said their bakery software has been one of the best investments they have made. It helped them consolidate every process within their business and facilitate their day to day activities.
Here in Australia, Sydney-based Luxe Bakery who's known for its handcrafted artisanal baked goods also has an ordering system in place. According to general manager Justin Chapman, he can't actually imagine running the business without the system. Before they got to use it, they received most orders through text messages and phone calls. "We had several team members who were all responsible for phoning to chase late orders everyday. It was pretty messy, especially before long weekends or public holidays," Chapman explained.
SO, WHAT'S THE BEST ORDERING SYSTEM FOR YOUR BAKERY?
On the market today, there are several ordering systems you can find. But if you want something that can do more than just enabling your customers to order online and allowing you to manage multiple orders from a single place, go straight to Ordermentum.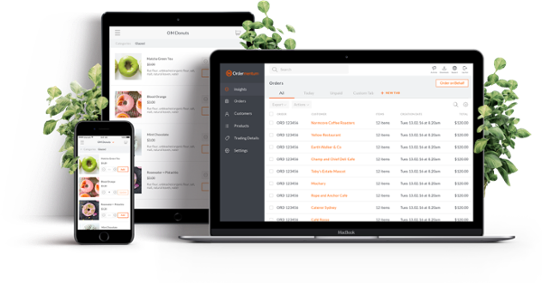 Our ordering app is purposely-built for food and beverage businesses like your bakery. It can smooth out your entire order taking process and automate all the tasks that require manual work so you can have more time to focus on your expanding business. Particularly, the platform can do these ten things for you:
It lets you sell more cakes, pastries, and other baked goods through its always-up-to-date digital catalogue;
It allows you to customise different prices and products, so each retailer you sell to sees their own offers and deals;
It lets you charge your customers instantly by direct debit, credit card, or according to any agreed terms. With this, you never have to chase late payments again. Payment terms are also flexible;
It guarantees that all your data is up-to-date since the app integrates with your in-house inventory and accounting platforms;
It instantly creates invoices and order confirmations and sends them to customers;
It lets you generate customer lists, powerful insights, and other essential reports in just a few taps;
It reminds customers when their orders are due with a text message;
It allows your customers to place orders in advance and set recurring orders;
It also allows your customers to access their order history and invoices when they need them;
It lets you manage and edit retailer orders from a simple and easy-to-use dashboard.
Want to find out more about Ordermentum and how it can make your bakery stand out in a crowd of competitors? Talk to a member of our team here. Or, try a free demo of the app here.
Summing it all up, an ordering system is a great investment if you're thinking of expanding your bakery. Not only will it help you manage all the orders that will flood in, it will also increase your back-office productivity and will automate all the manual admin work so you can effortlessly fulfill your customers' orders on time. Remember, customer satisfaction is always a priority.
For more business advice like this, check out our blog.