We are a smartphone-obsessed generation. Almost everyone now relies on their mobile phones, and not just for your basic communication. We now use smartphones to shop for new items, answer our most pressing questions or to order our next meals. In fact, we use our mobile phone more than we use a desktop computer to access the internet. In Australia, Nielsen reported that 60% of all time we spent online is through mobile devices. We spend roughly 23 hours on tablets online every month, 33 hours on our smartphones, and just 29 hours on a desktop.
We're calling it early - in a few years time, we won't be talking about mobile marketing, mobile development, mobile strategies or mobile orders. Mobile phones will be the center of these things - an essential part of any marketing activities, website interface, strategy or ordering system. Just like we don't talk about colour TV anymore - it's just regular TV.
It's the same case globally. Last year, mobile web usage surpassed desktop usage for the first time. According to data from the web analytics firm StatCounter, the share of mobile and tablet internet traffic worldwide reached 51.3%, while desktop's web browsing decreased to 48.7%.
And what do you think is the activity that most people do online, on their phones?
Buying stuff.
Customers now prefer to shop through mobile apps and mobile-optimised websites. A 2016 survey, which involved 1,000 Australians, showed that almost 55% of the respondents have purchased something online using their smartphones.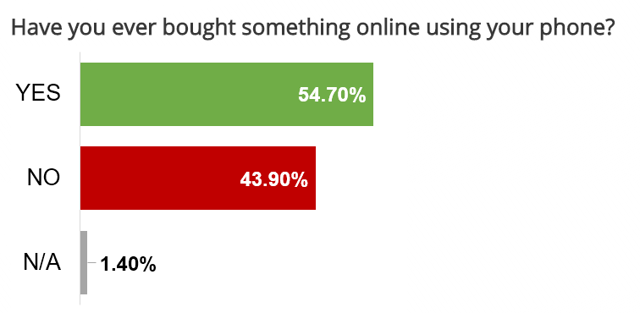 Photo from: dejanseo.com.au
There's simply no reason for you to not take your orders mobile. This isn't simply "joining the bandwagon." You are taking advantage of the medium that people use most in order to widen your market and increase your sales.
So, what's the most effective way for you to take orders mobile?
The answer: adopt a dedicated mobile ordering platform.
Mobile ordering software brings a number of benefits that are perfect for your growing food and beverage business:
First, you'll be able to reach more potential clients. Consumers have a clear preference for shopping for goods and servieces on a mobile device rather than on a desktop. Google also backs this up, reporting 34 percent of online purchases currently happen on a mobile phone. Simply put, getting the right mobile ordering software in place can help you to be where your customers are.
Second, you'll see a larger number of orders coming in. And this isn't just because you have widened your reach, but also because you are providing your customers with a method that lets them place their orders far more conveniently. Remember, the easier it is for them to browse a product list and make a purchase, the more likely they are to order and do repeat business with you.
You will also increase your sales. Mobile ordering software allows you to take orders 24/7 - beyond the usual 9-5 business hours. Your clients will have a far better experience as they can finally place their orders whenver and wherever they want.
Mobile ordering software eliminates the problem of late payments, too. Most platforms today have the ability to connect with payments, making it effortless for you to charge your customers instantly by credit card.
Finally, the software helps streamline your entire order taking process. While it makes it simpler for your customers to place their orders at the time that suits them, it also makes it painless for you to manage all these orders from a single place, without having to manually key in all the orders you receive. In addition, it will also be easier for you to update your product list, showcase your latest deals, and promote your newest inventory additions - by pushing it straight to the mobile phone in the palm of your customer's hand.
As you can see, a mobile ordering software can help your business stay ahead of the competition. It can increase your overall sales while smoothing out your whole process, giving you more time to do what you love most. If you're ready to see how a dedicated mobile ordering system could help you, there's no better place to look than Ordermentum.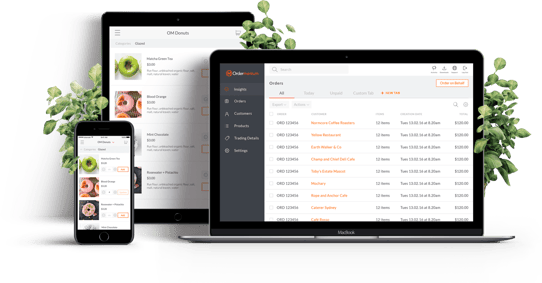 Our ordering app is purposely-built for food and beverage businesses. It provides a mobile ordering solution where you customers can order in just a few taps, and easy-to-use dashboard that enables retailers to place their orders and payments on time, every time. Its edge over the others?
Convenient: It lets your customers order in a few taps on their mobile phones. They can place multiple orders faster and easier at the time that suits them - not just during office hours. Even better, they will never miss their cut-off again. The app will send them a text message an hour before the cutoff to remind them to place their orders, with a link to click and confirm an order straight away.
Time-saving: Your customers can set standing orders, for when they have the same order that's placed on an automated and recurring basis. They can save their precious time by being able to schedule their orders in advance, and you can save yours too by doing away calling to chase late orders, or manually entering them.
Organised and always up-to-date: With a digital catalogue that can be customised for each retailer, your customers can effortlessly browse through your new and current product lines and view your latest promotions and deals. They also know exactly what they're getting since they will see clear photos of the products they are ordering. According to our data, having product images in the Ordermentum app results in a 3-4% increase in sales.
Easy payments: Your loyal customers no longer have to enter their credit card details every time they want to make an order. The app can charge them instantly by credit card, direct debit, or according to the payments terms you have agreed. The terms can also be tailored per customer - up front, 90 days, or anything in between.
To summarise, a mobile ordering platform like Ordermentum helps you take your orders mobile so you can be where your customers are and give them a seamless and convenient ordering process. If you want to see just how easy it is for retailers to order from you on their mobile phones, check out our live demo here. If you're ready to find out more about how Ordermentum could transform your business, talk to a member of our team here.
Meanwhile, to read more business advice from us, visit the "Business Advice" section on our blog.