As a food & beverage business owner with big dreams, it's easy to get stressed when things aren't turning out the way you expected them to. Maybe you're losing customers, or you've had a downturn in sales, you might even be struggling to make a profit. It can be a pretty hard slog at times, but the good news is there are ways to turn it all around.
We're sharing the best tips from Australia's top chefs and restaurateurs to help you get you out of your rut and take your food business to lofty new heights!
"Set short, mid and long-term goals." - Ben Shewry, owner-chef, Attica restaurant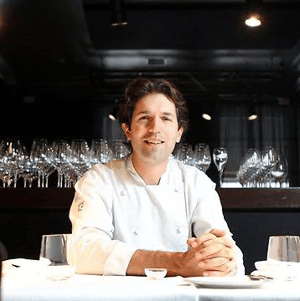 As Ben Shewry, the chef and owner of the award-winning restaurant, Attica rightly maintains - "You have to have a great business plan". Before he bought the Melbourne dining venue, Shewry spent six months formulating a plan for his new venture. And the proof is in the pudding!
"Most people wouldn't know I spent all that time working on a business plan for Attica – a restaurant that I am already running and that is already successful," Shewry says. "And now in my second year of owning it, because of my business plan, I've been able to renovate. Without one, I would have just been floating. Set short, mid and long-term goals. Factor in risk. Basically, every single thing to do with your business should be in that plan. There should be no detail too fine. And if you build this strong business plan, you can then take that to other people. If it's really good and solid, they'll believe in it too."
"Keep learning from the people around you." - Luke Mangan, chef & restaurateur, Luke's Kitchen
Look for outside help. Yes, it's your business, but you don't always need to be doing everything all by yourself. It's also a really smart idea to take the time to seek out mentors and business experts to help make your cafe or restaurant successful. Here's some solid advice from Luke Mangan, a local chef and the owner of several restaurants in Australia:
"Business is a learning experience. You have to keep learning from the people around you because the challenges keep coming. In the early days, I neglected the more mundane aspects of being in business, until it began to affect cash flow. I didn't get much advice from my accountant, I thought I was doing fine because my first restaurant was really successful, so I opened a second and a third."
As Mangan points out there were a lot of things he didn't understand and by seeking expert financial advice he was able to turn his business around. "I always had an accountant checking things off but never utilised him to my full advantage," he said. "Once I did, I started to see a better profit and with a fresh approach my cash flow wasn't under as much pressure."
"You've got to have something better." - Ken Burgin, café owner turned industry consultant
Ask yourself this question: With the number of cafes and restaurants constantly popping up all over the country, how will you stand out?
One way is to offer something that nobody else can and food is one area where you can experiment. According to Ken Burgin, a restaurateur who once managed the successful Sydney-based Caffe Troppo and now advises cafe and restaurant owners, serving great coffee alone isn't enough anymore.
"Doing good coffee isn't hard if you just follow the steps," he said. "You've got to have something better – and often the food side is where cafes can find their point of difference."
Though of course, you need to have a plan when it comes to the food you'll be serving. Don't offer too many items and never have an extensive menu list as this can lead to food wastage. As Burgin says, a clever chef knows how to take 10 ingredients and turn them into 20 dishes.
"Invest in your team." - Andrew McConnell, chef and owner, Cumulus Inc.
Did you know that your staff is one of the secret ingredients to your success? These people are among your most important assets; and by making them feel valued, keeping them motivated, and guaranteeing they're happy with what they're doing, you can reap a lot of business benefits. As Andrew McConnell, the executive chef and owner of the popular Cumulus Inc. restaurant in Flinders Lane, demonstrates
At Cumulus Inc., I have worked hard to bring together a team that is driven and creative. Nurturing their skills and progressing their careers is important in giving them opportunities to grow and develop."
"Create positive business relationships." - Andrew McConnell, chef and owner, Cumulus Inc.
Aside from investing in your team, chef and restaurateur Andrew McConnell also says that you should build positive business relationships if you want to have a successful dining venue. "Pay all of your suppliers on time, and not only are you helping their livelihood but you get the best service and produce in return," he maintains.
There are many ways to create good relationships with your suppliers. One is by leveraging technology tools like order management systems.
This time-saving technology connects you to your suppliers so you can easily order stock from them and pay them on time, helping you build lasting, mutually beneficial relationships. When choosing which technology to invest in, Gary Adler from Melbourne-based The Chocolate Box has one tip: try before you buy.
"The more thoroughly you do your research into a new software and make sure it's covering as many of the points you think you need, the better," he says. "A trial is a good way of doing it … I'm one of those people who likes to hear about references."

So if things don't seem to be going your way get proactive - create a business plan, work with mentors and hire experts where you need to to keep learning, invest in your team, and create great business relationships. You'll be surprised at how quickly you'll be able to turn things around!