We'll be continually updating this article as we learn more. Latest update 22nd November 2017.
In April this year, Amazon shook up the entire Aussie retail market after confirming its plans to expand and bring as many services as possible to Australia. Though local consumers may not know the impact of this long-anticipated arrival at this time, one thing is for sure -- the U.S retail giant's Australian landing is going to be tremendous.
Amazon is known for being the "everything store", providing shoppers with all the things they need at the lowest possible prices. From garden sculptures, sports collectibles, and handmade jewelry, to wearable technology and professional skin care products, they have it. Amazon is also known for absolutely dominating almost every industry they enter. And as they expand here in our shores, Australian consumers can expect to get their hands on what Amazon is well-known for: cheap pricing and fast shipping options.
Amazon hasn't released much official information about its arrival in Australia yet, except for this short written statement:
"Amazon Web Services launched an Australian region in 2012, we launched a Kindle Store on Amazon.com.au in 2013, and we now have almost 1,000 employees in the country."
"The next step is to bring a retail offering to Australia, and we are making those plans now. We are excited to bring thousands of new jobs to Australia, millions of dollars in additional investment, and to empower small Australian businesses through Amazon Marketplace. We are optimistic that by focusing on the things we believe customers value most – low prices, vast selection, and fast delivery – over time we'll earn the business of Australian customers."
As the statement says, Amazon is not a total newcomer to our market. It already has around 1,000 employees working here and has been offering entertainment, such as e-books, audiobooks, and Amazon Prime movie and TV streaming for some time. CEO of Kalido, Joel Norton, even said that Aussies are no longer strangers to the U.S retailer since many of us already buy products from the company's website.
"Australians are spending something like $500 to $700 million on Amazon in the U.S., so we're already a big user of Amazon," Norton stated.
Amazon may remain low-key for now with its not-so-detailed initial statement, but based on its track record and actions made in other countries, it is certain the retail giant has some really exciting plans up its sleeves.
There is very little official information, outside of the statement above, but here's everything we know so far about Amazon's arrival in Australia.
Amazon Australia might launch by Black Friday
Early in November, Amazon Australia CEO Rocco Braeuniger announced that the local version of the US-based e-commerce giant will go live "really, really soon". And looks like that "really, really soon" will be this week on Black Friday.
Several reports said there's an internal email wherein Amazon told all its Marketplace sellers to get their pricing, stock, and details ready for an "internal testing phase" scheduled on November 23rd.
"Dear Seller, to prepare for the launch of the Amazon Marketplace in Australia we will start an internal testing phase with a small number of customers on Thursday 23 November 2017, 2pm AEST."
"Once you have passed Seller Identity Verification you will be part of this testing phase and you should be prepared to receive orders from this point onward ... We are very excited to have you on board during this testing phase. Let's Make History!" the email said.
The e-retail titan hasn't confirmed this report yet, but many are still believing Amazon Australia's launch will really do push through at the start of the holiday shopping season. Even before the news about the internal email broke, a couple of sources familiar with Amazon's plans already shared that the e-commerce giant's goal is to go live on Black Friday. One of the sources, Peter Kearns of 180Commerce, even confirmed that Amazon has been recruiting local and international sellers to help fill the shelves of the upcoming Australia storefront.
Launching on Black Friday or not, better to still start getting your wallets and credit cards ready.
A range of items have popped up on Amazon Australia website
Amazon has also been tight-lipped about what products will be offered upon launch. However, with the Australian site being populated with a huge array of new products, seems like we already know what to see once the local version does go online on the 24th.
In the past weeks, many have spotted Amazon.com.au uploading new items beyond its current e-books and Kindle devices. Garden gnomes, HP laptops, electronic cables and alarm clocks are said to be appearing on the website. So, can we take this as a sign that Amazon Australia is really hitting Down Under this week? Certainly.
Retail expert Dr. Gary Mortimer of the Queensland University of Technology, in fact, predicted that clothing, electronics, and sporting goods will be the first items to be offered.
"It's hard to tell [what will be sold] but I suspect what they will have on offer will be very similar to eBay today with categories and tabs like sporting goods, automotive, definitely clothing for ladies, children and men, electronics, sporting goods, footwear and accessories, homewares and furniture possibly, dry goods and bespoke ingredients and foods," Mortimer said.
Meanwhile, at the recently concluded summit in Sydney, country head Rocco Braeuniger confirmed that Amazon will also be selling its own line of products along with the items from its third-party retailers when Amazon Australia opens.
Amazon has purchased a warehouse in Melbourne
The Australian expansion is happening gradually, but there is momentum nonetheless! After much speculation on where it would establish it's first fulfillment center, and the challenges associated with finding a space large enough, Amazon has purchased a former Bunning's Warehouse site that's 24,000 square meters. Not quite the 93,000 they were looking for, so there is some speculation Amazon may also be looking for sites in other Australian cities. The facility will be located in the Pellicano's M2 Industry Park, providing easy access to the South Gippsland Highway, Monash Highway and Eastlink.
Amazon is hiring already
Amazon has selected Rocco Braeuniger as the manger of the company's Australian retail operations. Braeuniger is an Amazon veteran, having spent the last decade as director of consumables, cross site and mobile customer experience at Amazon Germany. Amazon is now actively recruiting for operations managers, systems technicians and HR specialists.
In a statement, Amazon said:
"We are excited to bring thousands of new jobs to Australia, millions of dollars in additional investment, and to empower small Australian businesses through Amazon Marketplace.

"We are optimistic that by focusing on the things we believe customers value most — low prices, vast selection, and fast delivery — over time we'll earn the business of Australian customers."
Amazon Prime Now will be here very soon
Amazon Australia will concentrate on consumer and home electronics, and by that, it means Aussies can enjoy a local version of Amazon Prime Now very soon. Much fanfare was made of the launch of Prime Now in Singapore, including grocery items in its free 2 hour delivery offering. The company has confirmed the service will be part of their initial Australian launch. Prime Now gives its members some pretty cool perks, including the concept of a "two-hour delivery". It hasn't been confirmed yet if Amazon will be bringing its own courier service for delivery or if will it be using third parties. There's also no word so far regarding the pricing.
Together with Prime Now, the Amazon Marketplace, an e-commerce platform that is designed for smaller businesses and third-party sellers, will also be part of the initial launch.
AmazonFresh is set to arrive, too
Amazon's grocery offering will be hitting the Aussie shores as well, but not that soon. We have to wait a bit longer as the service isn't part of the initial launch plans. Nevertheless, what's important is that it will eventually enable local consumers to order from a vast selection of fresh food and grocery items like fruit, meat, vegetables, cheeses, and frozen goods.
Physical stores and an Australian version of AmazonGo, a checkout-free supermarket, could land in our country, too. But as Brittain Ladd, Amazon's former global logistics senior manager, said, this service will only roll out here "after Amazon has become more established in the country and analysis determines the market will support physical stores."
The launch won't be small
While details aren't yet released, Amazon in it's launch statement confirmed there will be 'hundreds of thousands' of products in it's launch. Morgan Stanley retail analyst Thomas Kierath has stated it will likely start with books, electronics and clothing. Commentators suggest the electronics industry, specifically online electronics retailers, will feel the biggest impact of from the market entry of this enormous new competitor. With the addition of AmazonFresh, the impact on the grocery industry will also be pretty significant.
A local Amazon marketplace will be fully operational by 2018
As of now, an official Australian launch date hasn't been released yet. However, there is speculation that the global e-commerce giant will begin offering some of its services to Australian consumers this September, and will be fully operational in the country by the end of 2018.
That's everything we know so far about Amazon's arrival in Australia. Now the big question is: are we ready for it?
For some local retail businesses, the arrival of Amazon is making them nervous. While the Amazon Marketplace gives retailers a new place to sell, and a ready made audience that already knows (and probably buys from) Amazon, there's no doubt the giant retailer is going to bring quite a bit of price competition, and open up product lines from the US and other countries worldwide that consumers didn't have such easy access to.
For shoppers, it's a completely different story. The increase in competition means lower prices, and a greater range of goods available. Research from Nielsen Omnibus revealed that three in four Australians aged 18 and above showed interest in a local Amazon. Over half of the respondents even said that they would purchase products from it. The top items people will most likely buy once the local Amazon website rolls out are electronics, books and clothes.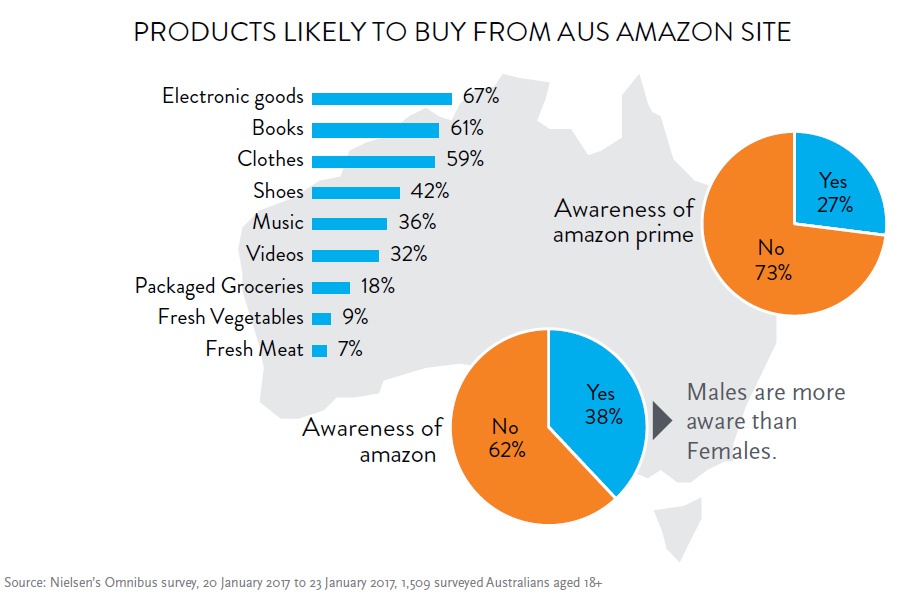 There's no doubt that Amazon will spend an astronomical amount over the next couple of years to fully kick off its complete range of retail services in Australia. We'll be keeping a close watch on their every move, so stay with us.
Meanwhile, for other Amazon-related stories, you may check out the 'Amazon Down Under' special report section on our blog.