Did you know that our buying decisions are heavily influenced by our emotions. This means that how your customers feel every time they interact with your business is going to have a significant impact on their buying behaviour and patterns.
As Douglas Van Praet, the author of Unconscious Branding: How Neuroscience Can Empower (and Inspire) Marketing, says: "The most startling truth is we don't even think our way to logical solutions. We feel our way to reason... Emotions don't hinder decisions. They constitute the foundation on which they're made!"
Your customers love to feel special, unique and important. They want a highly personalised dining experience, the perfect loyalty program, exclusive memberships, and free products because it all contributes to making them feel like they are highly valued.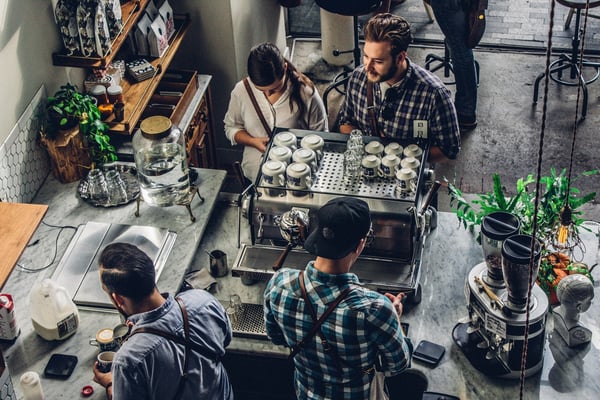 So, how do you create an emotional connection with your customers and provide them with the exceptional customer service that they are looking for. Here are a few simple ways:
1. Make sure your customers feel the love
It really is as simple as treating every person who comes in contact with you and your business as you would like to be treated. A nice smile, a friendly hello - these simple gestures can really impact how people feel about your business and can positively influence their buying decisions.
It's also a great idea to make sure that your regulars or loyal customers know how important they are to your business. If you run a cafe - remember their name along with their coffee order, if you're a wholesaler be sure to show a genuine interest in how their business is doing.
There are enormous benefits to building a loyal customer base and by showing genuine affection you'll find that your repeat customers will not only keep coming back but also help you generate business with positive word of mouth advertising (remember, that's free and worth solid gold!).
2. Go for the surprise and delight
It goes without saying that exceptional customer service is a huge influencer of business success. Over the years expectations have changed and consumers expect excellent customer service and can be really disappointed and vocal when an experience doesn't meet their expectations.
That's why it's important to go that extra mile and surprise and delight your customers. This could be anything from throwing in a few free products to their order, offering loyalty discounts to repeat customers, or even offering your latest products to your loyal customers as pre-sale exclusives.
3. Own your mistakes and go above and beyond to fix them
Whilst it's never intentional - disappointing a customer can leave a bad taste in their mouth and depending on how you handle it, it can also negatively impact your business. So what do you do when the inevitable happens. Made a mistake with a shipment? Can't fulfil a big order because you don't have the stock? Supplied a product that didn't meet your customer's expectations? The first step is to do everything you can to make up for the disappointment. You might not be able to absolutely "make good" but the simple fact that you are willing to go above and beyond to fix the problem will do wonders for how your customer ultimately views the experience. The second step is to make sure that it doesn't happen again. If you're continuously missing orders, running late on deliveries or just not able to keep on top of your workflow then perhaps it's time to put an order management system in place.
Ordermentum is an ordering and payments app that has been specifically designed for the food and beverage industry. With Ordermentum your customers will be able to order from you when it suits them and the instant data and metrics available means that you will never miss an order and you'll be able to keep on top of your inventory.
We know that emotions significantly impact how people buy and we also know that a thriving loyal customer base can positively impact your business's bottom line. Making simple decisions that prioritise your customers can be transformative for your business. So what are you waiting for?!
If you'd like to read more industry insights like this, visit our blog.