Amazon is known as the company that has changed retail forever. The behemoth of online retail has successfully dominated almost all industries, including logistics, cloud solutions, web hosting, and streaming services, to name a few. However, there is this one market it has been struggling to break into: groceries.
For many years, Amazon has been experimenting with ways to enter the grocery industry. Unfortunately, until now, it hasn't been able to crack in to the market successfully. Here's a quick look though at the company's many attempts to get into the gigantic market for fresh produce.
August 2007: Rolls Out AmazonFresh
The e-commerce giant's first push at groceries was 10 years ago when it rolled out AmazonFresh. The concept was simple. People order grocery items online, then have them delivered to their doorsteps on the same day or the next day through Amazon trucks.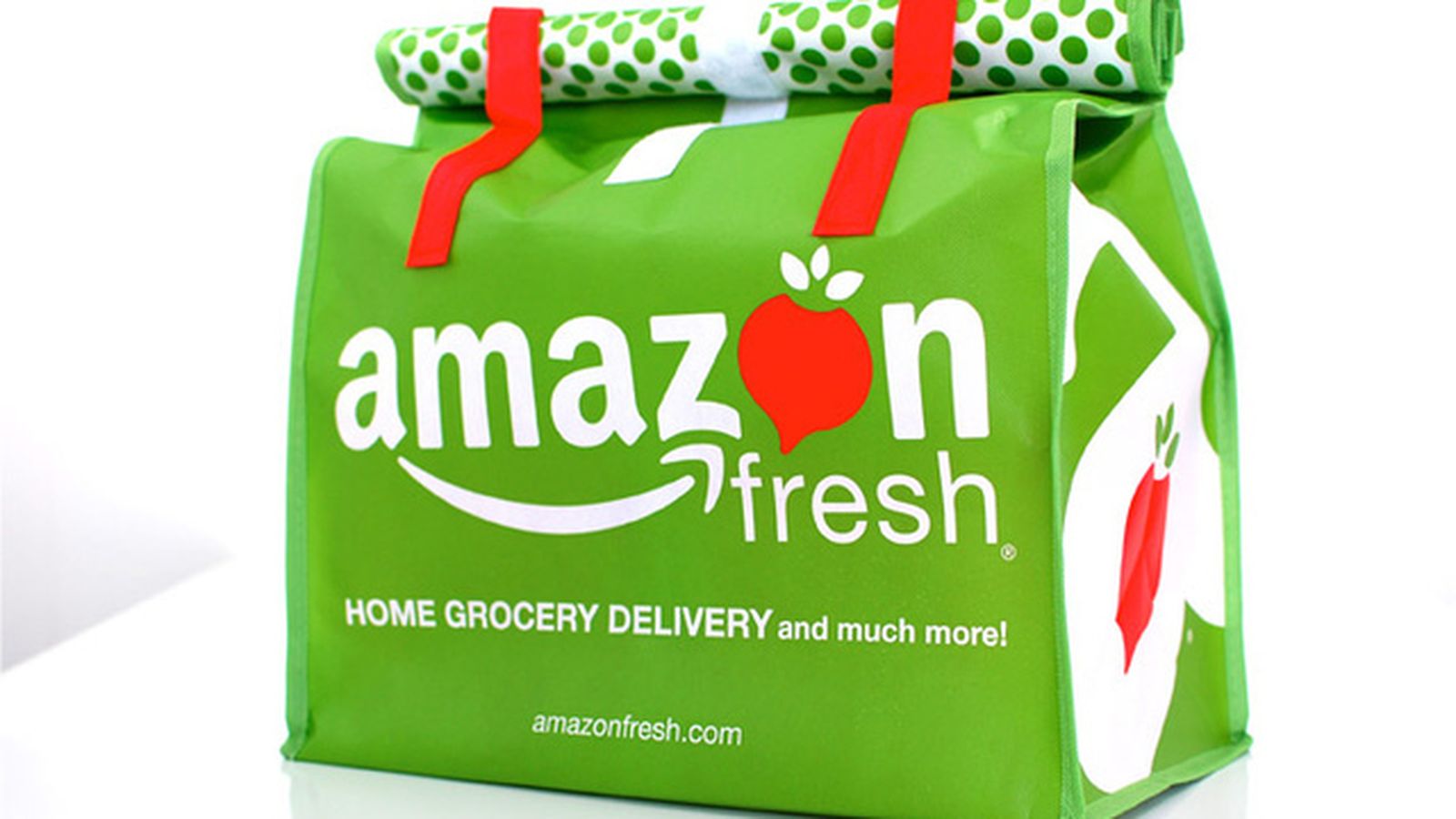 Although it seemed like a little piece of heaven on earth for consumers as they could finally order pumpkin pies or pre-cooked turkeys on the fly, it's quite a different story for Amazon. The service struggled, to the point where they had to cut the rate for Prime users from $299 per year to $14.99 per month. The problem back then was clear -- grocery items just aren't similar enough to boos, which don't spoil.
Obviously, AmazonFresh can't just put fruit juices or yogurts nearing their expiration dates on discount, just like brick-and-mortar grocery stores normally do. These products were regularly returned by shoppers, leaving Amazon with nothing but lost money and bad customer feedback.
As Jason Goldberg, the vice president of commerce at Razorfish, said:
"It's notoriously difficult to stay profitable by delivering groceries. Perishables must arrive when a consumer is home to receive them and put them in a refrigerator."
December 2016: Opens first Amazon Go store
Following the challenges faced with AmazonFresh, the company understood it couldn't triumph in the grocery game without a physical presence. So, last year, it once again attempted to crack the grocery industry, this time, with a 'smart convenience store' called Amazon Go.
Different from the Amazon we know - a site that lets people shop online - Amazon Go is a new kind of physical store that enables consumers to grab grocery items, such as salads, milk, and sandwiches, without using a checkout. Instead, smart technology automatically scans the products and charges you as you walk at the door. This video from Amazon shows how it works:
Currently, the 1,800-square-foot Amazon Go store located in Seattle is only open to employees for testing. The 2-minute video above said the service would come in "early 2017", but Amazon hasn't provided further updates about it thus far.
Nevertheless, unlike AmazonFresh, it looks like this smart store isn't slowing down, after a report from Business Insider revealed Amazon's initial plans to build as many as 2,000 grocery stores over the next decade.
March 2017: AmazonFresh Pickup Launched
Months after Amazon Go initially opened, the e-commerce giant rolled out what's likely to be a continuation of its current foray into physical retail stores. Dubbed 'AmazonFresh Pickup', the service is similar to the AmazonFresh concept, except with a twist. Consumers can now go to Amazon-run stores in either Ballard or Sodo, where their ordered groceries are waiting to be loaded into their cars by an Amazon worker.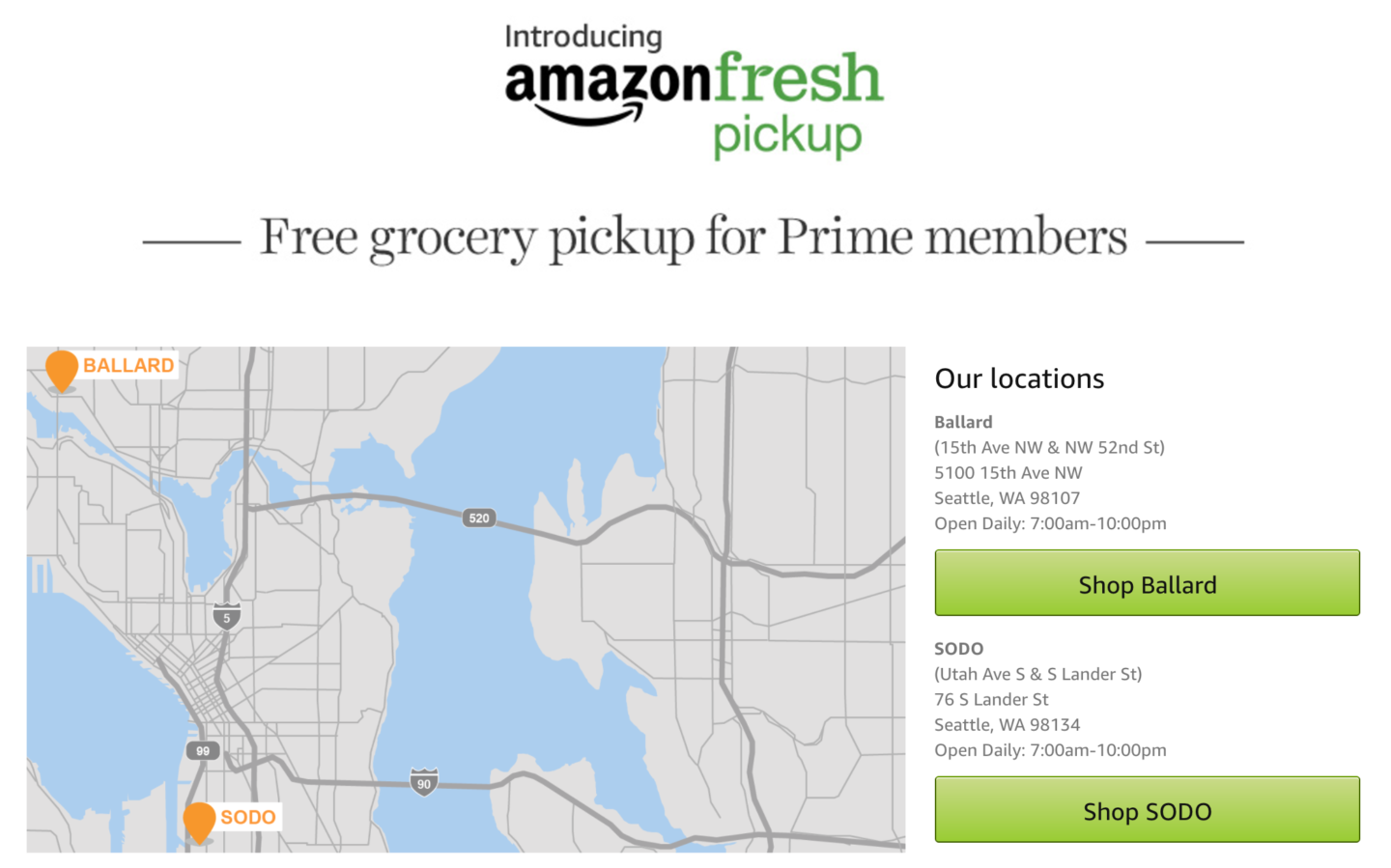 What's interesting about the Fresh Pickup is it serves as a quick and easy way to purchase groceries. As Amazon stated on their site: "Orders can be ready in as little as 15 minutes after they are placed. There's no order minimum and the service is free for Prime members."
The catch, obviously, lies in the way consumers get their items. Unlike the traditional Amazon service where everything is brought to your doorstep, AmazonFresh Pickup needs you to drive and personally come to the pickup location to get your stuff, albeit with a 'grocery concierge' of sorts speeding the grocery shopping process up for you.
June 2017: Acquires Whole Foods
Although Amazon Go and AmazonFresh Pickup already seem like great ways to lure shoppers to buy bananas, eggs, and tomatoes digitally, the world's largest e-commerce player still can't get enough. Last month, it acquired the supermarket chain Whole Foods for a whopping $13.7 billion cash.
With no word yet from Amazon on what will happen after the buyout, there's one thing we can be sure of: this deal will likely give the company a much larger chunk of the market share and will strengthen its stand in the physical retail world. Just like Michael Pachter, an analyst at Wedbush Securities Inc., said, Amazon clearly wants to be in the business of groceries and believes that having a physical presence will give them a strong advantage.
"I assume the physical presence gives them the ability to distribute other products more locally. So theoretically you could get 5-minute delivery," Pachter continued.
Amazon may have failed to make significant advances in the grocery realm many times, but they're definitely not giving up. The acquisition of Whole Foods along paired with AmazonFresh Pickup and Amazon Go, if successful, could position them to become the king of the food and grocery industry.
For more Amazon-related stories, check out our in depth analysis of Amazon Down Under.