Here in Australia many of us are fighting the good fight against plastic but according to statistics, Australians use more than 9.7 billion throwaway plastic bags a year. Equally as alarming, Science Advances calculated, there will be roughly 12 million kilograms of waste ending up in either the natural environment or in landfills by the year 2050.
The food industry has a big role to play in solving this problem. A past report from the NSW Environment Protection Authority revealed that 2.96 billion or 75% of lightweight plastic comes from Australian supermarkets whilst the rest comes from fast food restaurants, convenience stores, liquor outlets, and other food businesses.
Fortunately, we are seeing lots of local restaurants and cafes stepping up to tackle this problem head on and they are leading the way in helping us get just that little bit closer to "plastic free".
MILK DELIVERED IN 15-LITRE METAL PAILS
The Little Green Corner in Geelong is one cafe leading the way. They receive their milk from local producer Schulz Organic Dairy in large, stainless steel metal pails to eliminate milk carton waste. Staff then transfer the milk to reusable glass bottles.
"We don't save any money by not having packaging, but we're cool with that," says cafe owner Hugh Whitehead. "It's an idea that fits in with our values about waste and that's good enough for us."
Little Green Corner's plastics-free efforts also include offering discounts to customers who bring their own reusable coffee cups, and making their own cordials from excess fruit and serving them with sparkling water to do away with bottled drinks.
"We want people to enjoy the experience, but do it in a way that's light on the environment," Whitehead noted. "We are ultra-local and ultra-keen to engage with the community. We want to be an example of a business doing things the right way, not just turning a profit."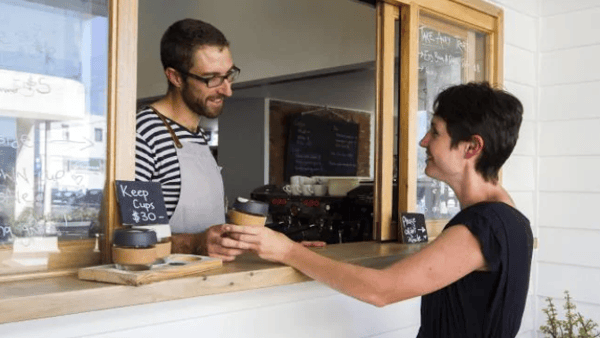 Little Green Corner's coffee take away window
The cafe's milk supplier, Schulz Organic Dairy, is in the fight against plastic as well. Apart from trading using 15-litre metal pails, they are also piloting glass (returnable and refillable) bottle deliveries. However, they have said this concept requires high commitment from customers as they will need wash and cap-on the bottles for collection the following week.
"We hope we're providing consumers with a sustainable alternative to plastic, but we need them to help us and go that extra mile," says Simon Schulz, third-generation dairy farmer and the owner of Schulz Dairy.
NO PLASTIC STRAWS, CONTAINERS, AND MILK CARTONS
In Wollongong, beachside café Earth Walker doesn't use any plastic products. Instead they use metal and paper straws as well as cardboard takeaway containers. They also work closely with their local milk supplier Country Valley to limit milk carton waste.
"Within the first two days we said 'we can't have this amount of plastic', so we researched and Country Valley had these machines; put 5 litres [of waste] into a bag, so you have no rubbish, it comes into a ball, that's it, you recycle it," cafe co-owner Ciara Kulmar said.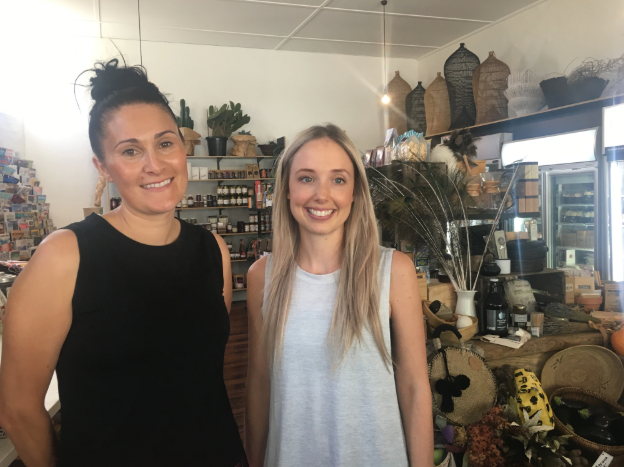 Earth Walker cafe's owners Ciara Kumar and Bianca Poscoliero
Earth Walker is the first business in Australia to receive the 'Ocean Friendly' stamp of approval by Surfrider, a non-profit environmental organisation who has accredited only 150 restaurants in Hawaii. According to spokesperson Susie Crick, customers are looking for businesses that have the Ocean Friendly stamp.
"That will assure the customer that the business doesn't give away plastic straws, don't give away plastic takeaway containers," she added. "It just means that the business is really ethical and cares about the environment, not just profit."
KITCHEN FOOD WASTE INTO AN INTENSIVE COMPOSTING SYSTEM
Birregurra's popular Brae restaurant has been earning the praises of many because of its all-out support for the war on waste and its impressive commitment to sustainability. Brae turns all of its soft waste like vegetable tops and peelings into chicken feed while the rest of its kitchen food waste is put into compost for its large vegetable garden.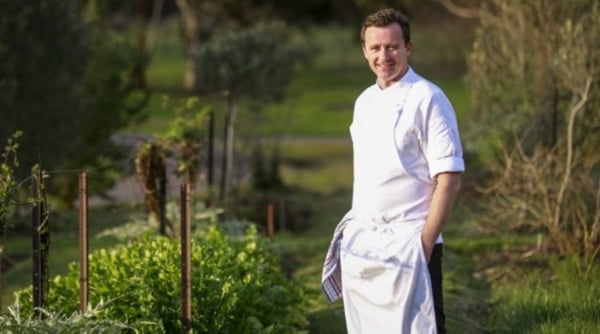 Dan Hunter, owner-chef of Brae
The regional restaurant also gets its milk delivered in bulk and returns polystyrene containers to suppliers to be reused rather than broken down. And despite serving over 200 customers, Brae only fills six wheelie bins a week.
"I don't think there's anyone under the age of 45 that isn't aware of the state of the planet," says Dan Hunter, the chef-owner of Brae. "Many people coming to restaurants today would consider sustainability as something that's important to them. If you're working alongside nature or using it as one of your tools, it's highly important that you look after it – because you want it to be there in the future."
FREE COFFEE IN EXCHANGE FOR A BUCKET OF RUBBISH
If there are local food businesses that are really getting creative in tackling the plastic waste problem, it's these establishments on the east coast. They offer free coffee, in return for a bucket filled with waste from the beach.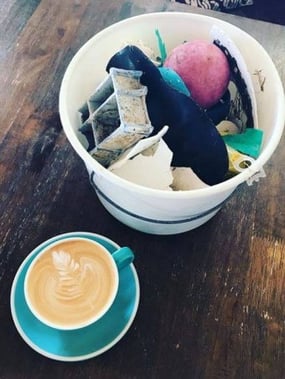 Business owner Jennie Truman is one of those who has joined the initiative. At her North Stradbroke Island cafe, The Blue Room, a pail of washed-up rubbish can be swapped for a cup of coffee, whilst at her Oceanic Gelati Bar, the buckets can be exchanged for a scoop of gelato. According to Truman, the rubbish found on the beach includes toothbrushes, broken plastic bottles, thongs, razors, and balloons with ribbons. Plastic bottle lids were the most common.
"The first day we had heaps in. We had one couple with enough for three cups of coffee," she said. "Our main beach, which is facing the south-east, collects everything that comes up from the south on an inshore north current. We've had big swells and tide over the summer period and there's a ridiculous amount of rubbish down there. I could fill a bucket in under five minutes, easy," she added.
Australia is still very far from being plastic-free but with these initiatives and eco-friendly practices from local food businesses, the industry can make a huge difference. We are certainly excited to see more and more cafes and restaurants embracing the movement towards a cleaner, more sustainable environment.
Want to read more industry insights like this? Visit our blog.