Planning to turn your love of making bread and pastries into a profitable bakery business? Then let us help you get started. We know that opening any sort of business can be costly. It can also come with lots of different stresses that you may not have thought of, but the good news is a bakery can be one of the most lucrative types of shops to open particularly within the food and beverage industry.
Here are the basic ingredients you need to set up a successful operation.
STEP 1: DETERMINE THE TYPE OF BAKERY YOU'D LIKE TO OPEN
Not all bakeries are the same. Depending on your baking skills and budget, you may choose to open and operate a retail bakery or a wholesale bakery. A retail bakery business sells baked products directly to customers, whilst a wholesale bakery sells or supplies baked goods to retail venues like cafes, restaurants, and grocery stores. It's important to note that the latter type may require a bigger startup capital and workforce because with any luck you will be doing business with large-scale customers from the word go!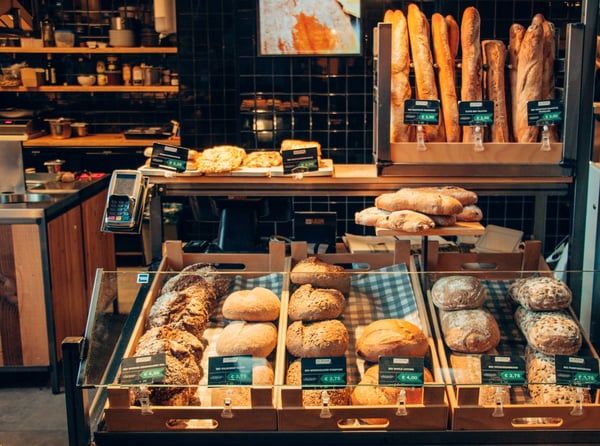 Once you've figured out what type of bakery you are going to open, it's now time to decide which type of service you are going to deliver. There are four basic bakery service styles:
Online Bakery - This type of bakery doesn't need a storefront and can be a good, lean way to start-up. If you choose this type of set up, consider how your customers will place their orders. It's important to have a user-friendly website, digital catalogue with pictures of your baked goods, and a smooth ordering and shipping process.
Specialty Bakery - This focuses on a certain kind of baked product. Some common examples are wedding cake shops, cupcake sellers, and pie makers. Vegan and other health-conscious bakeries also fit under this category.
Bakery Cafe - Also known as sit-down bakeries. This is a retail business that has a dining space for customers to sit down and enjoy their baked goods.
Counter Service Bakery - This is similar to a bakery cafe but without the dining area. It's normally a small establishment where customers can simply walk in and pick up their orders.
STEP 2: CREATE A BUSINESS PLAN
Just like any other food business, the success of your bakery depends on how solid your plan is. This is the phase where you set your goals, study your competitors, identify and understand your market, and finalise your products or menu. This is also where you line up your financing.
Of course, you need money to run your bakery - and this includes not only the startup costs but also the funds needed for purchasing equipment and hiring staff. You will need to list down all the expenses you think you'll incur so you know how much money to invest. This part of the set up can be tricky and very time-consuming so best practice is to hire a professional accountant or use a good accounting system that can help you manage your financial data.
STEP 3: CHOOSE A LOCATION
There are two ways you can go about this and it also depends on what sort of shop you're setting up. If you have the money in the bank or you're setting up a dine-in or counter-service bakery you will probably want to look for a place that you can operate from solely - just be sure to keep a check on the rent you don't want to be stuck with high rents from the get-go. Alternatively in start-up phase if you're setting up a wholesale operation you can choose to rent out commercial kitchen space to save money.
STEP 4: PURCHASE EQUIPMENT AND OTHER SUPPLIES
You're not just baking for your friends and family anymore so you'll need commercial baking equipment that can help you produce large quantities of your products. Among the most important things you will need in your bakery are shelves, ovens, utensils, pans, and other baking equipment like electric mixers, crimping wheels, and blenders.
If you don't have the capital for this renting space in a commercial kitchen is a really great alternative!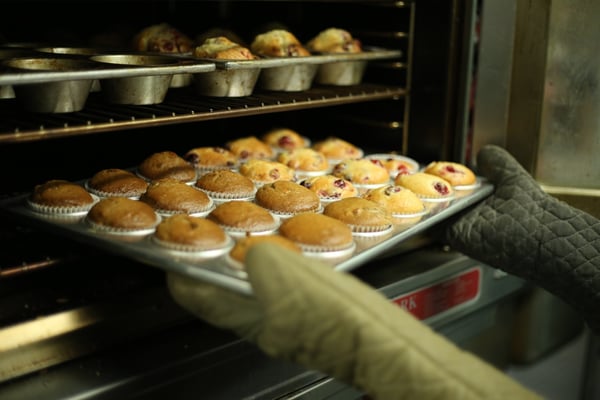 Of course from a brand awareness/marketing point of view it's great to have branded packaging but when you're starting out don't put too much focus on this. You might find that things change as you go and you don't want to be stuck with hundreds of bags, boxes or containers that you will never get to use.
STEP 5: HAVE A RELIABLE ORDERING SYSTEM
Turning your baking hobby in to a thriving business means an increase in admin. One of the most time-consuming tasks is order management and let's face it, it's also one of the most important! It doesn't matter if you're just starting out and currently have a low volume of orders or your plans don't include future expansion - you still need a solid order management process in place. It will make you more efficient and will help you manage your orders, especially if you choose to operate a wholesale bakery.
Ordermentum is the only ordering and payments platform that's specifically built for the food and beverage industry. A lot of wholesale bakeries in Australia are using this tool to eliminate the admin and improve their ordering processes. One happy Ordermentum client is Sydney's Luxe Bakery. According to general manager Justin Chapman, before Ordermentum, they received most of their orders through phone calls and text messages.
"We had several team members who were all responsible for phoning to chase late orders everyday. It was pretty messy, especially before long weekends or public holidays," he says.
Justin also noted that the tool doesn't only improve their internal processes, it also streamlines ordering for their customers.
"New customers, they love it. It's very easy for them," Justin shared. "They get a confirmation of their orders being placed. They see what day it's going to be delivered. If they have an event coming up 3 days in advance they can put through an order 3 days earlier and know that's it's going to be accurately processed."
Great baking skills alone are not enough to set up and grow a profitable bakery. Beyond your talents, you also need to have the ability to look at your business from every angle and learn the ins and out of the baking trade. By combining the above "ingredients" with your passion for your craft, you're sure to achieve the success you deserve! Ordermentum can help you do just that - book a free demo here.
Want to read more business advice like this? Head over to our blog.