Through their flagship store on Sydney's busy Clarence Street Nook Urban Fresh Bar has cultivated it's popularity through delicious seasonal dishes, stellar coffee and a sleek fit-out. So much so that in 2016 their second city eatery opened on Hunter Street, to satisfy the growing demand for their excellent food and blended roasts. Whilst this exciting growth phase established Nook Urban Fresh Bar as one of the busiest cafe chains in the city the expansion came with some serious challenges.
The talented cafe team quickly realised that their existing processes for managing their increased orders with their growing supplier base was just not sustainable. According to Urban Nook Fresh's Manager, Kate, every single day the cafe's small team was having to ignore a line of hungry customers in the middle of a busy lunch service to either phone in their orders, or follow up on orders already placed. So they turned to Ordermentum to provide a tech solution that could save them time and reduce their stress levels.
"Before Ordermentum, ordering was super stressful," says Kate, the manager of Nook Urban Fresh Bar. "We're flat out here, and making orders while we're trying to serve customers is really inconvenient and disruptive."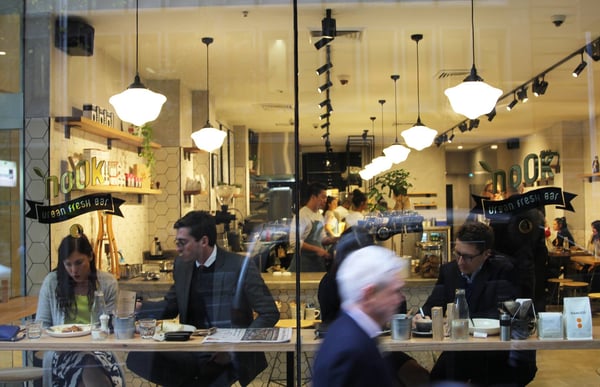 Ordermentum has been able to provide a one-click ordering solution that enables Nook Urban Fresh Bar to order stock when it suits them and not just during their suppliers' office hours. In just a few clicks Kate and her team are able to place an order anytime, anywhere and what's more with the "Standing Orders" feature they are able to place an order for any date in the future. Adopting this new order process has saved them time and has enabled Kate to better focus on managing the business.
Ordermentum's user-friendly interface means that cafes can make their own instant order edits and access their invoices and order history whenever they need to. And because the ordering and payments platform sends out text reminders too, Nook Urban Fresh Bar receives a text message an hour before each supplier's order cut-off time to remind them to place their orders.
"Ordering with Ordermentum is super easy" Kate adds. "I get text reminders after service, it's great that all my suppliers are in one place, and I can do it really easily in a couple of seconds."
Ordermentum makes ordering easy and painless and for Nook Urban Fresh Bar it has been able to help them ride the wave of expansion without the often associated stress. If you want to learn more about the app and see how it can simplify your business's ordering process, book a free demo here. One of our team members will be happy to help you get started.
In the meantime, if you'd like to read more customer stories like this, just visit our blog.