Technology has had a positive impact within every facet of our society. From improving how we go about our everyday lives to specifically how we grow, process, and buy our food. What's more it has ultimately answered our insatiable demand for convenience.
So, what are the ways that tech is elevating the Food and Beverage industry specifically? Here are some of our favourite examples:
TECHNOLOGY ENHANCES CUSTOMER EXPERIENCE
Order ahead apps have definitely changed the customer dining experience and provide the ultimate in customer convenience. These mobile tools allow consumers to view a restaurant's menu anywhere and place an order so that it's ready when they arrive.
And this technology has benefitted restaurant owners, too - giving them more time to prepare food and the ability to increase table turnover. Also, since most pre-order apps have online payment features, restaurant owners can sell their meals in advance. All these result in better customer experience, and of course, improved business operations.
TECHNOLOGY MAKES THE LIVES OF FOOD BUSINESS OWNERS MUCH EASIER
According to Stephen Dutton, a foodservice analyst at Euromonitor International, today's technology is transforming a restaurant's concept of customer service. "Technology is replacing the service elements that defined more traditional restaurants," he says. "Many new restaurant concepts feel they must leverage technology to remain relevant to younger consumers who have grown up in a more tech-enabled environment."
As revealed in Toast's 2017 Restaurant Technology Industry Report, 95% of restaurant owners agree that technology really does improve their business efficiency. Most of them now believe that technology tools like POS systems, ordering and payments platform, mobile applications can streamline their processes and simplify their work lives.
TECHNOLOGY PROVIDES ULTIMATE CONVENIENCE
Delivery apps such as Foodora, UberEats, and Deliveroo are becoming more and more popular now as consumers lead busier lifestyles. This type of technology has provided them with ultimate convenience enabling them to order food anytime and anywhere, and have it delivered straight to their door.
Robotics is on the rise, too, when it comes to home delivery. In the US, Domino's Robotic Units can deliver hot pizzas directly to your home. The restaurant chain introduced them just last year to improve convenience for their customers and are leading the way on food delivery powered by technology.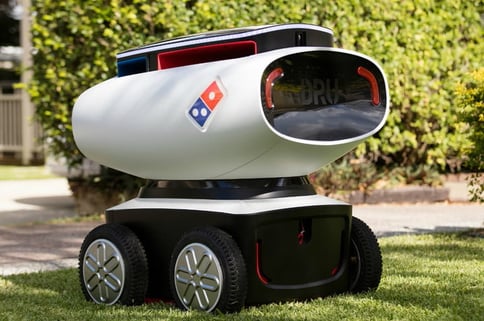 Domino's delivery robot
"With our growth plans over the next five to 10 years, we simply won't have enough delivery drivers if we do not look to add to our fleet through initiatives such as this," says Domino's Group CEO and Managing Director, Don Meij.
"Robotic delivery units will complement our existing delivery methods, including cars, scooters and e-bikes."
TECHNOLOGY HELPS SOLVE INDUSTRY ISSUES
Just like other industries, the food and beverage sector is not perfect. There are many serious issues that need to be addressed such as high food waste and the lack of access to locally grown produce. However the sector has definitely embraced a number of technology innovations to solve these problems.
Vertical farming, precision agriculture, and drones are just some of these tech innovations that are helping to increase farming efficiency and output. It is estimated that by the year 2050, the earth's population will grow to 10.5 billion which means produce will need to be doubled to be able to meet the market's demand.
Meanwhile, there are a lot of intuitive tech solutions to the number 1 problem the food and beverage industry faces: food waste. You're probably familiar with LeanPath already. It's software that lets restaurants and other food service providers track the amount of food being thrown away. The tool can already be found in over 1,000 kitchens across 20 countries and it has successfully reduced the food waste of users by up to 80%.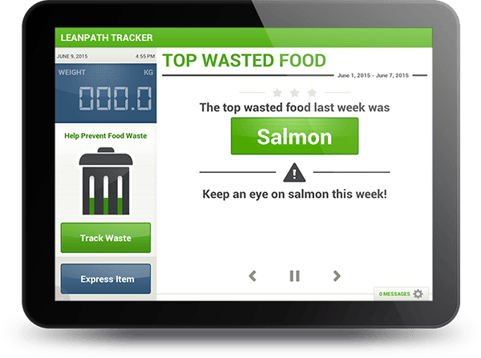 LeanPath software
There's no doubt that technology is changing the food and beverage industry for the better. It's providing consumers with the ultimate convenience they're looking for and is helping the restaurateurs take their business to the next level. As we move further into the digital age, we're certain that more technology innovations will emerge to help shape the industry's future - it's an exciting time to be a part of!
Want to read more industry insights like? Head over to our blog.