Marketing with Ordermentum: 8 ways Ordermentum maximises your trade show experience
Marketing with Ordermentum: 8 ways we maximise your trade show investment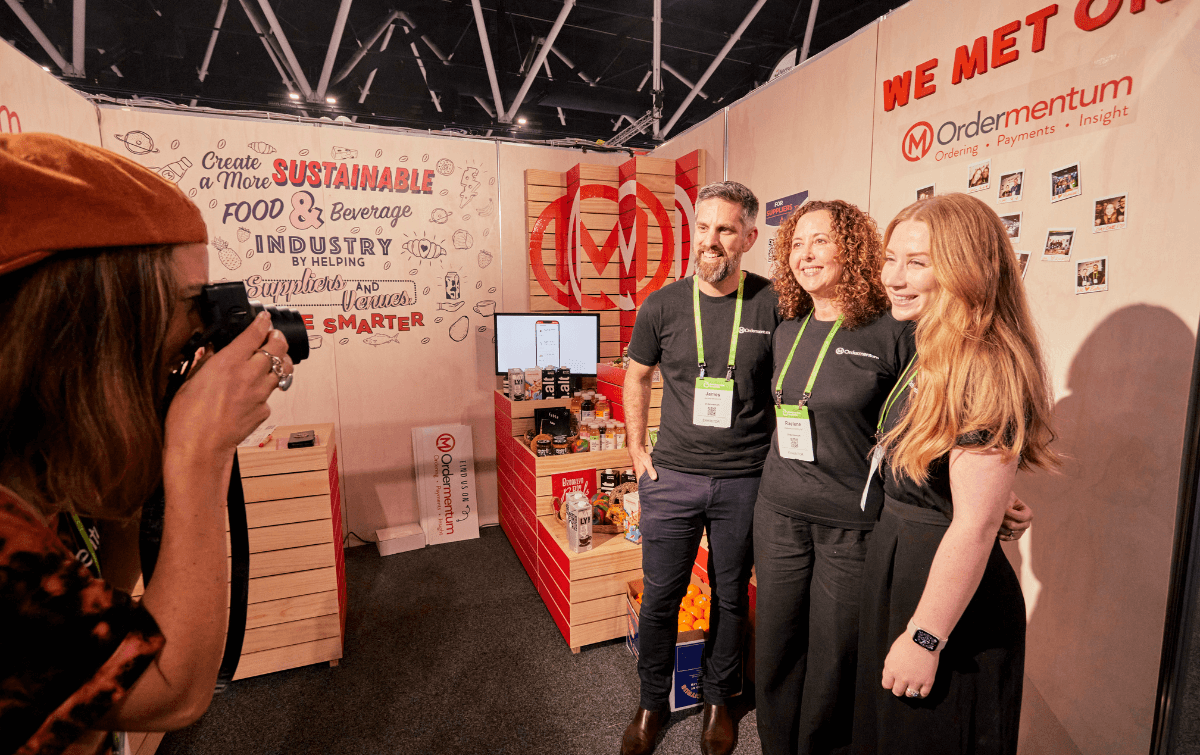 Trade shows are hard work, expensive, time consuming, and not to mention a logistical nightmare! But when you're there, set up, proud of your display, nothing beats being a part of the industry, connecting with like-minded businesses, potential customers and thought leaders in the space.
Ordermentum has built a suite of marketing features to help suppliers cost effectively acquire new high quality customers, and many of these can be used at trade shows.
Here are 8 ways we can get more out of your experience: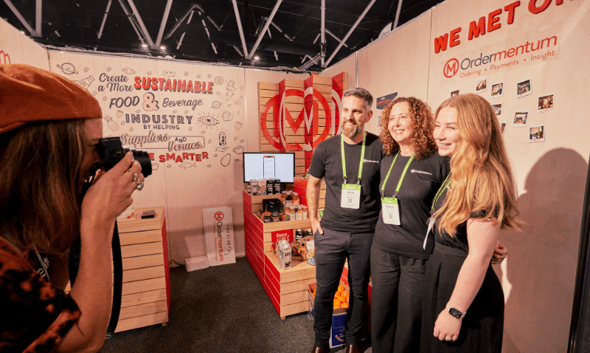 1. Acquire new customers with no post-event admin
Within Ordermentum, you can create as many unique links and QR codes as you like. You can stick QR codes directly on products and collateral: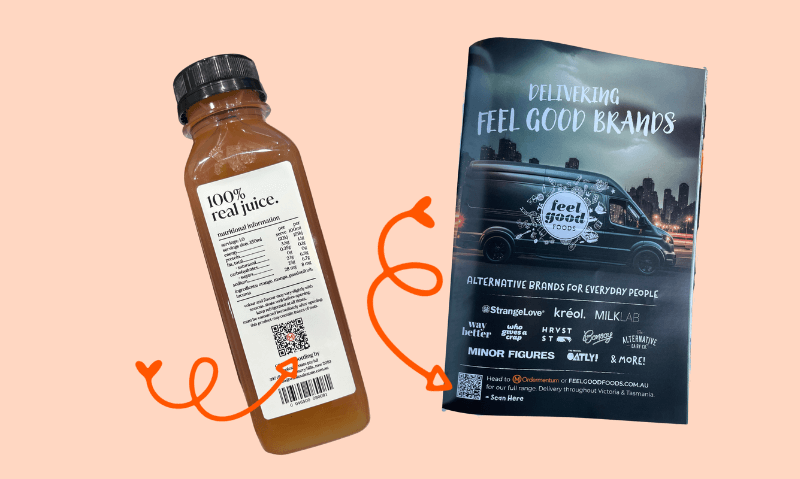 Or you can stick the QR codes up on your stand so prospective customers can be directed and set up exactly the way you want through our custom profiles.

You can use these sign up links in email communications, in your instagram bio, email signatures - everywhere!

In the Connections tab, you will see which links your new customers clicked on, and can measure the effectiveness of the trade show, and each marketing channel used.

Find out more about Sign Up Links and how you can track where all your new customers come from.


2. Set up real time promotional categories for the Trade Show
We recommend setting up custom categories in your Ordermentum Digital catalogue for the trade show. You can have sample packs for purchase (or free!), you can have starter packs, special offers, low or no minimum order value - it's up to you.

By giving a reason for venues to connect with you via Ordermentum at the show, you will instantly show up in that venue's profile, ensuring you stay front of mind even when the show has ended.

Make their first experience a great experience.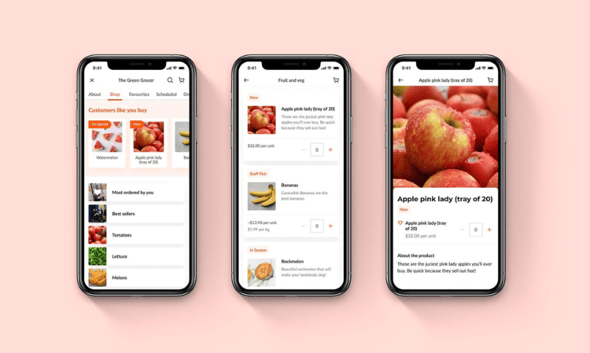 3. Create trust with Ordermentum signage on your stand
At last count, nearly half of the hospitality industry are already using Ordermentum, and our Suppliers have told us how important it is to let prospective venues know that they Re available on OM…If you are going to a trade show, make sure to let us know and we will send you or hand deliver Ordermentum signs for your stand. Ordermentum now connects with over 39,000 Australian venues (growing daily!), and we have connected over 50,000 new Supplier and Venue relationships, we are trusted by the Venues who use us, and they will recognise our logo and have our app in their pocket already.
Our most popular feedback from Venues is "I wish all my suppliers were on Ordermentum" - so a visual indicator to show you are on Ordermentum removes any friction between you and that first order.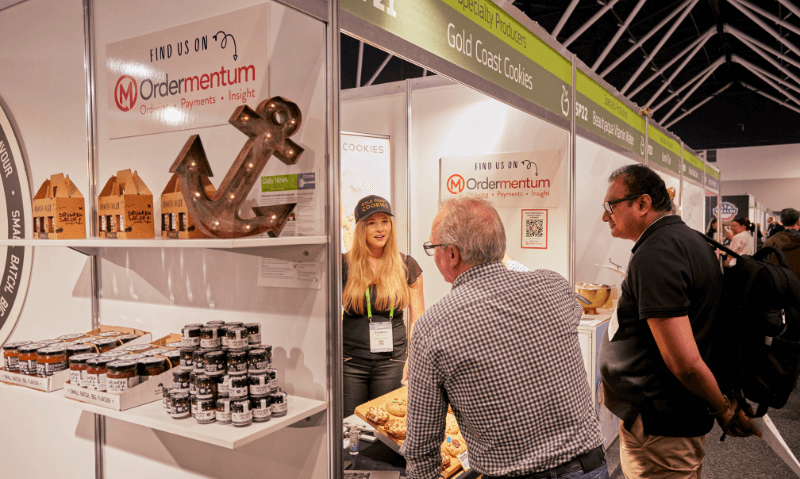 4. Turbo charge your online presence for the week
Get your profile up to spec if you haven't already, prospective customers will be browsing your instagram account as soon as they walk away from your stall - be ready and - Follow @ordermentum and tag us in your social media posts and we will reshare and promote your content. If we are also exhibiting at the event (MICE, Foodservice Australia, or the Baking Trade Show), we will be proactively generating a lot of content and will include your brand!
5. Chat directly to new customers in the Ordermentum app
Once a venue connects with you in the app, you can chat directly via our chat functionality. Our chat feature is one of our fastest adopted features - both venues and suppliers love being able to connect and chat directly, and to keep all the information in one place. If there are any issues with the order, delivery instructions required, or product queries - you can speak directly and seamlessly to each other via chat.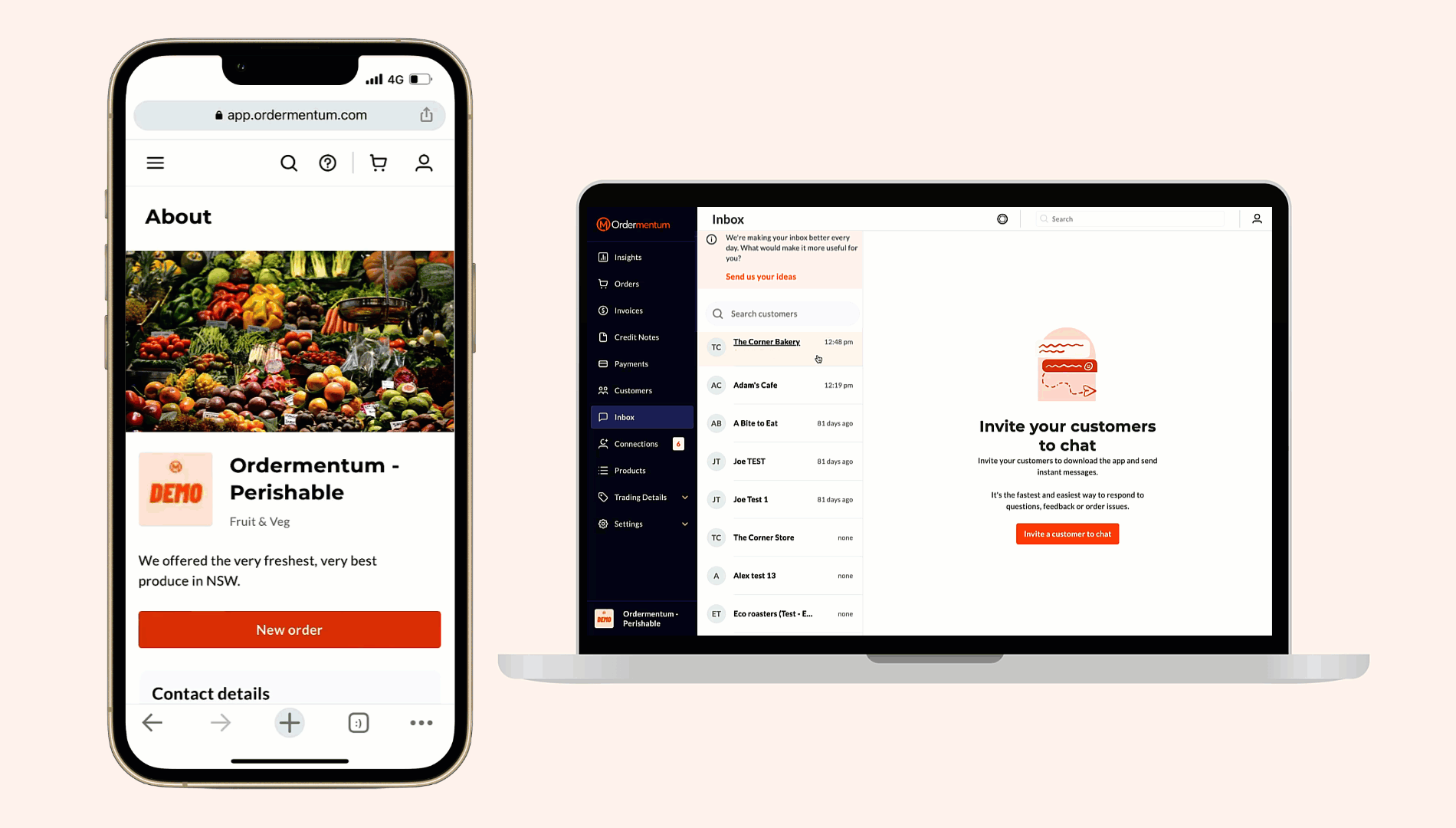 Be able to vet your new leads instantly with our new feature that provides you a quality rating of the venue that is wanting to trade with you (something like this).
6. Have your beautiful curated product catalogue on display
The real time digital catalogue is at the core of creating an amazing ordering experience for your venues. Prospective customers can scroll through your catalogue and see your range displayed through beautiful imagery. We have seen sales spike dramatically after venues have access to images of the products, and easy to navigate categories.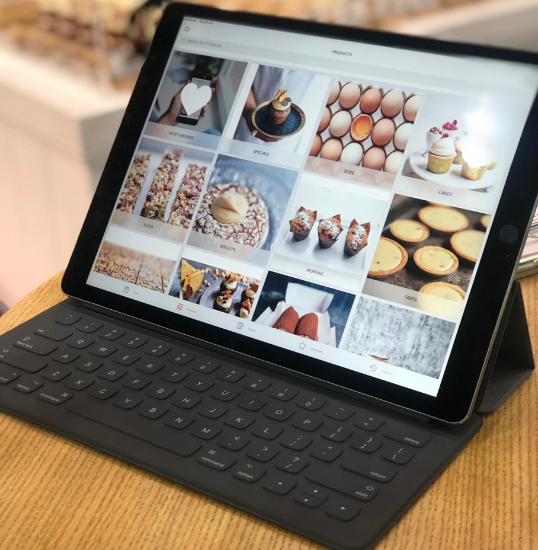 PLUS. Don't forget to set up your profile with a video introducing yourself, your key information, and top selling products - we see that profiles with video content convert new customers at a much higher rate than wholesalers that don't have a video or a completed profile! No brainer.
7. Remove any payment friction and lengthy credit checks for new customers
Take away the friction of lengthy credit checks, and remove the stress of not getting paid with Ordermentum payments. Ordermentum has processed over $1 billion in payments for the hospitality industry, and with the best payment features in the industry our focus is on ensuring our suppliers are paid quickly, paid securely, with no bad debt. giving your customers the best possible experience, and ensuring you have strong cash flow and real time insights into how your business is performing.
8. Growth Engine PLUS - let new customers purchase instantly
We always ask our wholesale customers what their favourite feature is, and Growth Engine is always top of the list. Growth Engine uses smart recommendations to connect venues to new suppliers, and is by far the most cost effective customer acquisition channel for wholesale suppliers. We use the word 'smart' because we don't proactively promote competitive suppliers to your customers ever, but we will promote complimentary suppliers to give venues a better experience.
Growth Engine PLUS goes one step further and allows suppliers to set up a publicly accessible product catalogue (curated by you), where venues can order straight away. This is great for trade shows as customers can instantly see your product range and order on the spot! Ordermentum suppliers get a dedicated Growth Engine specialist to help you grow your customers, and we have found that suppliers who adopt all our features grow on average 40% YoY!
9. Connect with us and come say hi!
If we are also exhibiting at the Trade Show - come and say hi! And let us know beforehand you will be exhibiting. We will always have a content team there to support and amplify our customers. Your success is our success, and we will do everything we can to ensure you have a successful trade show, minus the stress.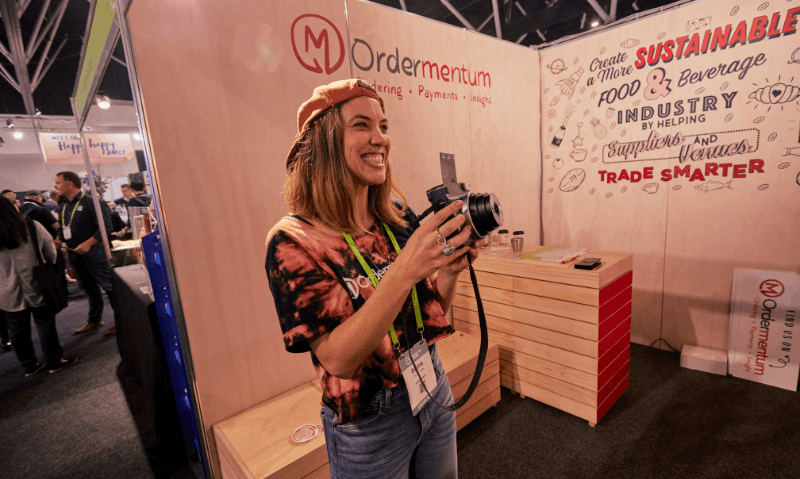 Check out some of our trade show wrap ups here:
---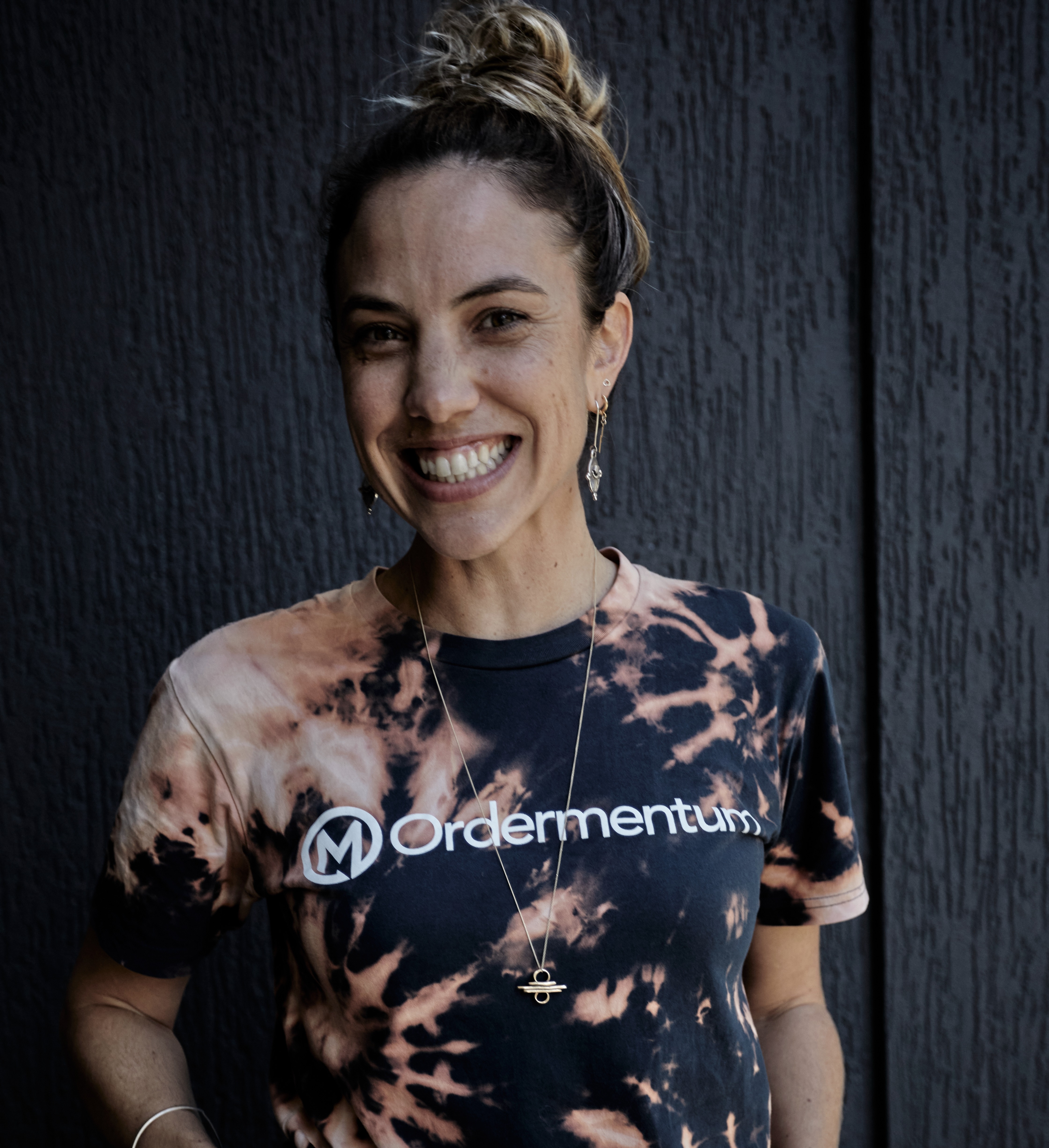 Written by
Sophie Paulin
Chief Marketing Officer of Ordermentum. Passionate about bringing the hospitality industry together, and helping the industry trade smarter.
---