In 2012 when Tess Ulvesund discovered she had an autoimmune disorder, she set out on a journey of discovery to find healthy alternatives to her favourite treats. Growing up in a family that used to bake a lot, she didn't let having to cut back on certain foods limit her but instead had such success trialling recipes at home that he soon had requests from local cafes to be their in house chef! "I couldn't really see myself working in a café. I wanted to be able to get out and see people so I guess it just snowballed from there."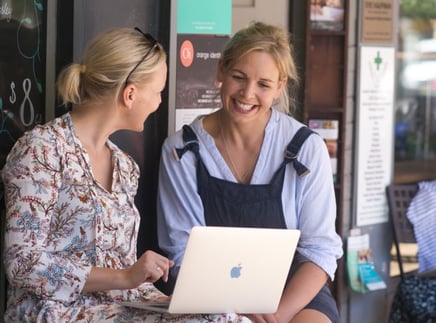 Right from the beginning, Tess had the fun challenge of transitioning quite quickly from making treats in her own kitchen to supplying cafes all around town. "I remember making my first big wholesale order of produce and having it in our garage where I was living at the time. My then partner said to me, 'You're going to have to ramp up production. Otherwise this is all just going to sit here.' Because for some reason when you place your first order with this particular wholesaler you had to spend two thousand dollars. I was like 'Oh my God, what am I going to do with all these nuts?!'"
Early on, Tess was doing everything herself, from marketing to production, to sales, and also deliveries. "I remember I didn't even have a delivery schedule. I'd go to the city on Thursdays then race home and cook, then I'd go to the South the next day. I would cook and then drive and cook then drive."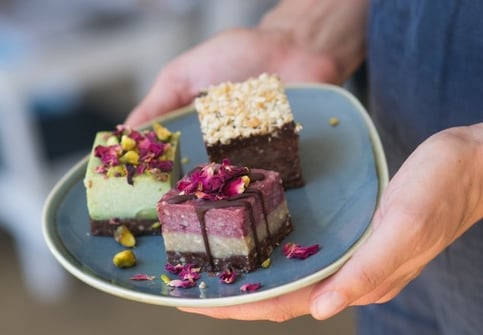 Deliveries were a big learning curve, but Tess winged it like any savvy small business owner. "I had quite a few customers in the city. You can't part anywhere in the city if you're not in a proper delivery van, it's so hard. So after driving several loops around Martin Place I just parked right on Martin Place and put my hazard lights on, then I would run to the café! I never got caught thankfully."
The business quickly developed to the stage where she needed a commercial kitchen, but luckily one of her earliest customers was a chain of cafes, which gave her the certainty of orders she needed to expand. But expanding comes with its own challenges, and one of the biggest ones has been sticking with her values and ethos. "A lot of the time you get asked to do products that you aren't necessarily that happy to sell. But I think I've stuck with that quite well, I've just said 'You know, this isn't something that I'm happy to sell. The product that you wanted me to make isn't something that I'd eat myself. So for that reason I'm not going to go ahead with that offer even though it might be a very lucrative.'"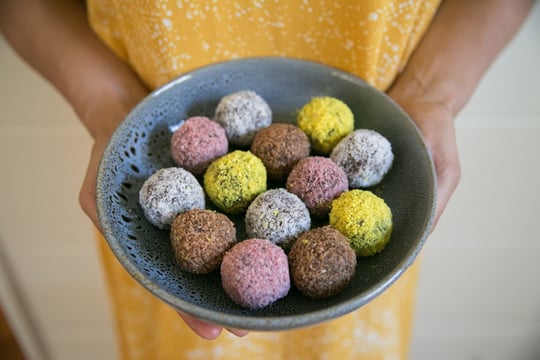 However, the market for her raw, paleo and vegan treats has grown and grown. "When I first started out it was paleo that was really popular at first, and then vegan. It wasn't such a big thing back then, so you had to convince people a little bit. Then it got really popular. I found quite a bit of pop competition popping up at that over those years."
Despite the explosion in competition, only the best suppliers have survived over the longer term. While Tess' products are incredibly popular (we tried the Salt Water Tessie, the clean version of a caramel slice, and the Tessero Rocher – a Nutella-esque hazelnut slice - and we can definitely agree her products are delicious), it's customer service that really maintains her long term customer relationships. "We're really nice to deal with. I wholeheartedly try to put customers first and be very good with customer service. As you grow, there's a limit to how many places you can be in at the one time, but we're very responsive and try to be very quick with turnaround and delivery times and all that sort of thing. But I also think the products need to speak for themselves. Which they do."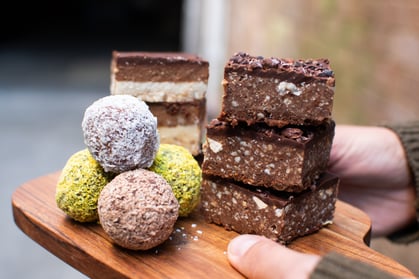 The growth of Wellness by Tess meant she turned to Ordermentum to support operations. "We needed software that does exactly what Ordermentum does, which would help us with all the orders. They were coming in left right and centre in so many modes of communication, I just couldn't keep up. Sometimes I would have in the back of my head 'Oh that cafe has ordered but I don't know where the order is.' It also makes it a lot easier not having to follow up with people and chase invoices. I mean sometimes I forget to pay my bills. It's the same with our customers. It's just a lot of following up. So Ordermentum just simplifies our days and makes it a lot easier to showcase product as well."
Having a digital catalogue has been a bit of a surprise benefit when it comes to sales too. With customers having instant access to all products, prices, sizes and details, it has cut down a lot of time spent on customer support. "Now when I call a prospective customer that has received a sample box they have all the information. So rather than going into the nitty gritty of how much is this one, how many are in this one… that would drive me mad actually! It's a much better conversation to have with them."
A big change for Wellness by Tess is that Ordermentum allowed them to stop using cash. "At one stage, we had one or two drivers on the road and they were taking cash on delivery. As we grew they had to handle too much cash and it got quite messy and complicated. So now I can follow every transaction and we don't have any of those hiccups we used to."
Despite automating orders, Tess and her team know the importance of still maintaining contact with customers, but instead can focus on what they really want to talk about, rather than chasing invoices or lengthy negotiations.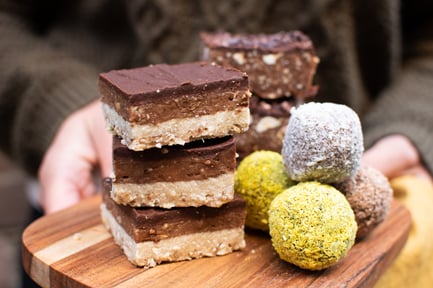 "Ordermentum is phenomenal for making it very personal. But we definitely still have to touch base with customers to say 'Hey we know you're very special to us.'" The other great feature they love is the automated SMS reminders to place orders.
As the business has grown, Tess has been able to keep doing all the parts of the business she loves. "The best part is that I've been able to do what I love, which is being in front of people. I really enjoy getting out and talking to cafes, showing off my products that I'm really proud of. It definitely isn't a job where I feel like I'm selling insurance or something where people don't want to give you the time. They're quite happy to sit down and chat with you and you know you form a lot of close relationships whether it be with staff or with customers. I just love what I do. It doesn't feel like work which I think is a really good thing."
Want to learn more about Ordermentum and how you can transform your business with online ordering? You can book a free demo here.
In the meantime, if you'd like to read our other customer stories, just visit our blog.