It's been 17 years since co-founder and CEO Emma Welsh launched Emma and Tom's with Tom Griffith, her childhood friend. Since then, the company has grown from four premium juices to one of the best-known health food brands in Australia, producing juice, kombucha, kefir water and snacks.
But that kind of journey doesn't happen without twists and turns. From dealing with customer churn, to staff shortages, and the recent backlash against natural sugar, Emma gives us insight into what it takes to run her business.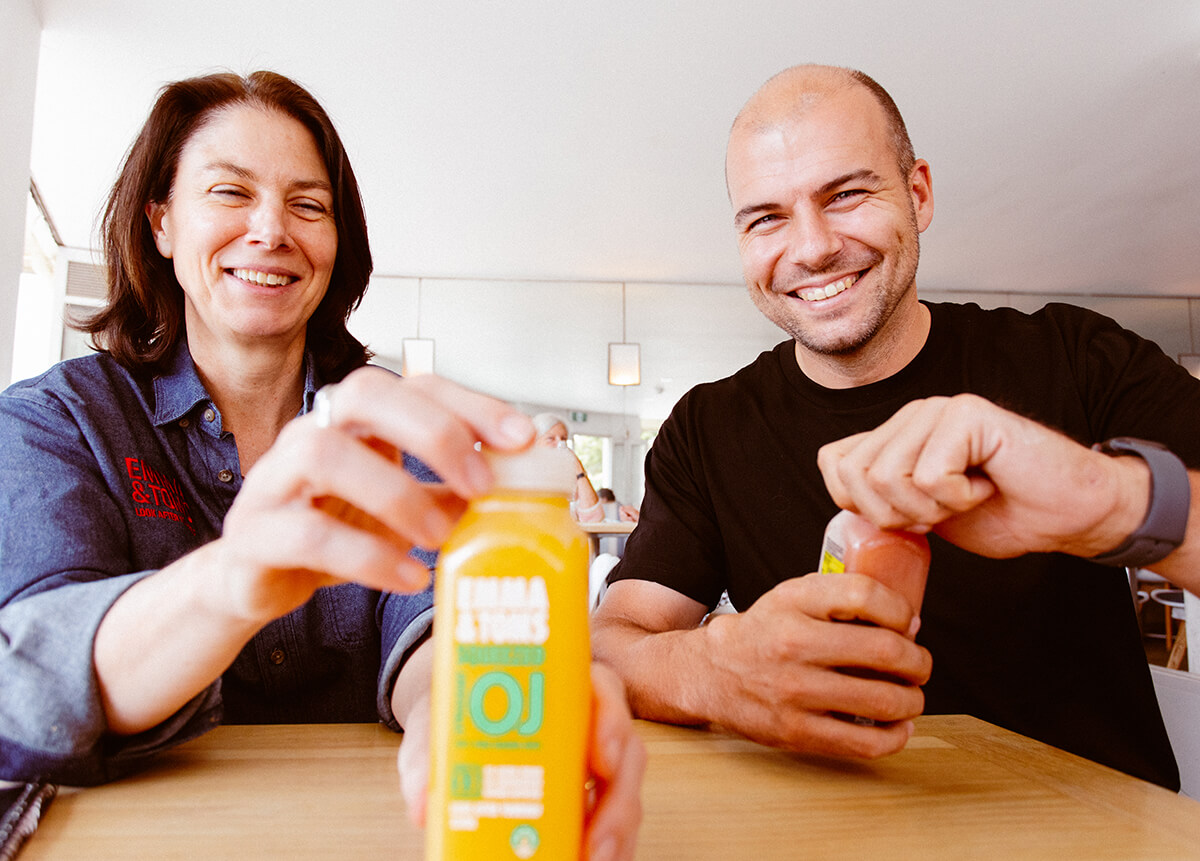 "Tom had been skiing in Canada, and was drinking these great tasting green juices and whole fruit smoothies" explains Emma. "They were tasty, nutritious, healthy and great fuel...that's why he saw potential for the product in Australia."
So much potential, that he phoned Emma and asked her if she'd consider starting a juice business with him. At the time, Emma was leading consumer marketing at NAB in Melbourne, after working as a strategy consultant in London and co-founding a start-up there.
"We started looking at the idea together and eventually developed our first four products which launched about a year after we initially talked."
The early stages of Emma and Tom's
One of the first products in Emma and Tom's arsenal was Green Power, a drink reminiscent of Tom's favourite refreshment between ski sessions. But getting to that stage wasn't easy. Emma and Tom faced trial batches of juice that didn't didn't taste good, incorrect labelling, transport and distribution woes, delayed payments (or no payments at all) - and worst of all, fresh juice that would expire before it had a chance to reach the customer.
Eventually, their persistence and prescience paid off, as consumer thirst for premium juices grew alongside the burgeoning health and wellness movement. At that point, the business crossed over from passion project to money-maker, and this is when the pair shifting strategy and focussed on hiring.
Everything's easy with the right people
"I've come to realise that if we have great people working in the business, everything's easy," says Emma. "On the other hand, if we don't have great people, then nothing goes well. So, at the end of the day, it's the team."
Key to attracting talent for their team has been creating a product and brand that people love. "It's easier for us to hire people because they're happy to be associated with us."
Building a brand that resonates
It takes time to build a brand that appeals to the consumer market, as well as the employee market, but the factors that make Emma and Tom's unique is the crisp and colourful visual identity, their stockists, and their distribution model.
"In terms of stockists, we've stayed focussed on cafes, delis, and food services. This is a very large market and to service it well requires specific capabilities which we have worked hard on developing. This sets us apart from many other companies."
Taking distribution inhouse key to growth
Their branded delivery vans are another differentiator. Like most suppliers, the company had used third party distributors - but they were churning through customers at an alarming rate.
"We knew it wasn't the product that was causing the churn. And finally, after four years, I realised that to give our customers what they need, we needed to do our own distribution."
This decision led to small batch delivery by a fleet of red and white vans emblazoned with "look after yourself," and an ability to engage with customers and build invaluable relationships.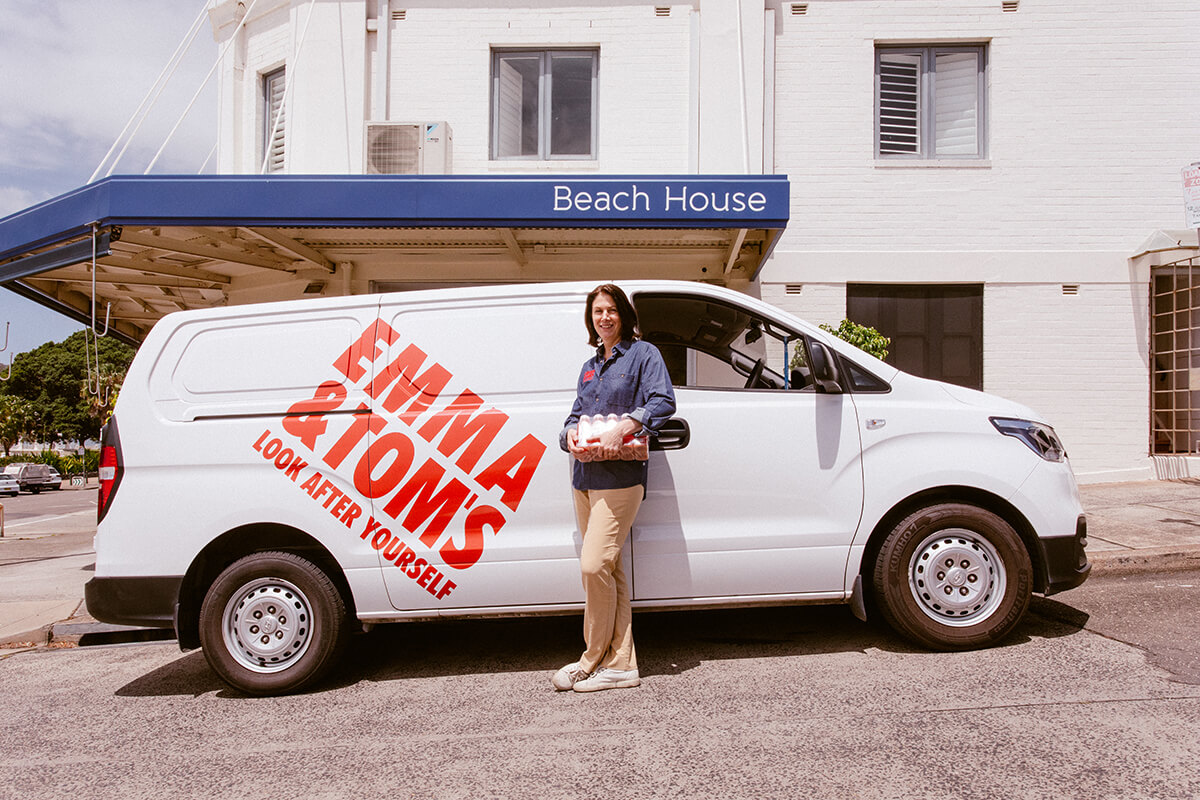 "Distribution is something many people shy away from, but it has so many benefits and it means we can grow and improve efficiency. Customers are assured of freshness, instead of relying on distributors demanding minimum order quantities that don't work with a short shelf life."
Technology and constant improvement drive the business
Making improvements is a major tenet of Emma and Tom's, and the company makes a big effort to keep abreast of any new technology that could improve their operations. The technology they employ ranges from using GPS and tracking in their vans, to cloud based invoicing, to ordering with Ordermentum.
"I always ask, are we using all the things that we could be using? When we use something like Ordermentum, we're thinking about our customers being more efficient, as well as what's more efficient for us."
Painful losses during the pandemic
Despite their business nous, Emma and Tom suffered during the pandemic, with sales falling 70% overnight. They lost the majority of their customers (schools, cafes, corporate offices), which was "terrifying." But, due to government support and rewiring the business, they made it through and are now taking their time dealing with the aftershock of COVID-19 - including staffing issues that are affecting the entire hospitality industry.
"We used to have a lot of foreigners working for us because they'd come on working holiday visas and things like that. The job suited them, and now we don't have those people. The sooner we can get the borders open and if we can have young people who want to come and work here again - that'll be fantastic."
Resisting the backlash against sugar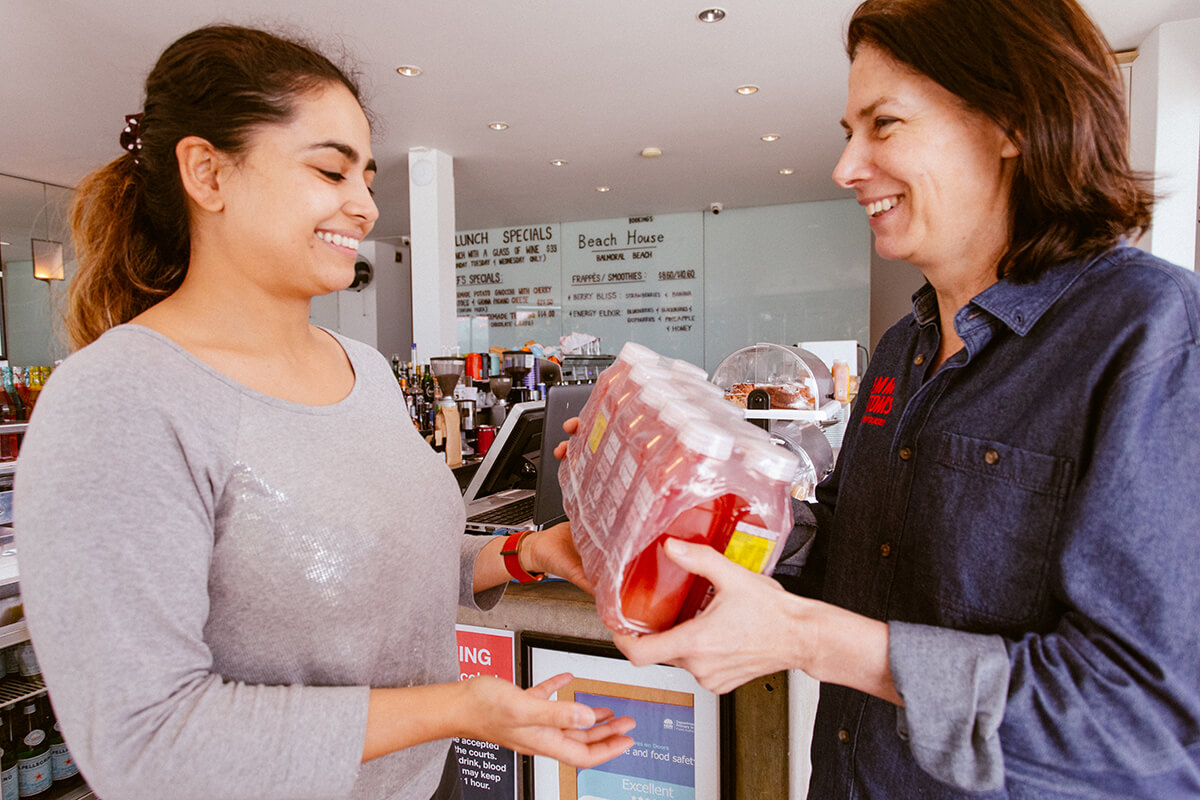 The other challenge over the past few years is the misconception about sugar in fruit juices. "I really wish customers hadn't been made afraid of juice - especially the sorts of juice we sell. They're not from concentrate. They're full of fibre, the fibre fills you up and slows the absorption of sugars into the bloodstream which is key."
She feels strongly that a balanced diet is all about increasing nutrients, while managing total calorie intake. "Micronutrients and phytonutrients are critical for good health, and consumers are being misled into thinking that drinking something with zero calories is better than drinking whole fruit juices. It's crazy."
In spite of the sugar backlash (natural or otherwise), the messaging around nutrients and whole foods has cut through. Emma and Tom's range has grown from premium smoothies and juices to iced teas, sparkling drinks, kombucha, and a range of healthy bars and superfood balls.
What's next for Emma and Tom's?
In a world obsessed with high quality health food, Emma sees overseas expansion as a goal. "We've got agents or importer/distributor partners in Singapore, Malaysia, Hong Kong and Dubai and Jordan - but we really seem to have resonated in Hong Kong. We're in five star hotels, some of the cafes as well as the 2 main supermarket chains...the products sell really well there."
Despite the lure of international markets, Emma still thinks there's a huge amount of untapped opportunity in Australia itself. After the speedbump of the pandemic, she's looking forward to increasing the customer base and encouraging more Australians to enjoy premium health drinks and snacks.
When questioned about whether she ever sees herself doing anything else, she's unequivocal: "It's clear that there are a lot of opportunities, and there's a lot of stuff we need to do. Particularly rebuilding out of COVID and getting back on to a good trajectory. So for now, no, I don't see myself doing anything else."
Are you interested in becoming a supplier on Ordermentum?
Grow your business like Emma and Tom's and book a demo.
Or, if you're a venue wanting to order from Emma and Tom's, it's free to download Ordermentum - and make all your ordering easy.