There are only a few days left before this year's Restaurant Leaders Summit opens its doors to restaurateurs and food and beverage industry professionals alike.
Hosted by Hospitality Magazine and set to be held on July 31, 2017 in the Ballroom at Royal Randwick Racecourse, the conference will give executive chefs, senior managers, and restaurant owners/operators in Australia's food and beverage industry a full day of inspiring success stories, business advice, and practical tips on how to grow a business.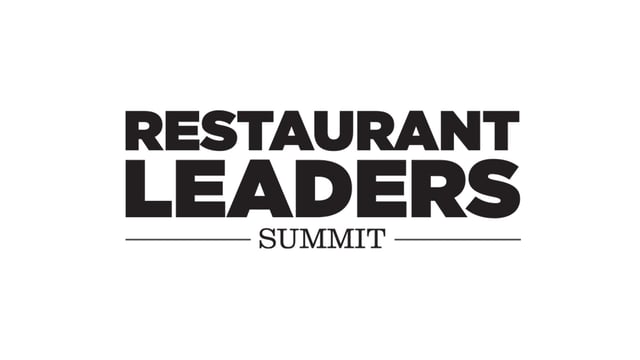 The Restaurant Leaders Summit is now in its second year. Their first run in 2016 was a great success, with industry leaders such as Oakridge Winery's head chef Matt Stone, Nel Restaurant's Nelly Robinson, Rockpool Dining Group's CEO Thomas Pash, and Beach Hotel Byron Bay and Longrain Melbourne's Lisa van Haandel all present. Lisa van Haandel said: "It was a particularly well run even. The printed material on the day, topics covered, timekeeping… thoroughly well done. I think it was an EXCELLENT initiative on Hospitality magazine's behalf!"
This year's Restaurant Leaders Summit will be no different. Expect the one-day conference to bring great opportunities for you to connect with fellow foodservice professionals and get plenty of inspiration. If you're attending (or still thinking of attending) the upcoming event, below is everything you need to know about it.
IT WILL FEATURE Q&A SESSIONS, PANEL DISCUSSIONS, AND PRESENTATIONS
The Restaurant Leaders Summit will be packed with a series of talks and Q&A sessions from food and beverage industry experts. Not only will these professionals share new culinary ideas, they will also give you a lot of advice and tips. Everything you need to know about enhancing your skills and running your business better will be discussed, including the best ways to drive revenue, and how and when to franchise.
Here are some topics you wouldn't want to miss:
Moving Out of the Big Smoke – the Case for Regional Openings
The Benefits of Running a Business - That Happens to be Vegan
Solving the Staffing Saga - 457, Underpayments, Retention
What You Need to Know About 2018
Here's the exact schedule of all the presentations and Q&A sessions: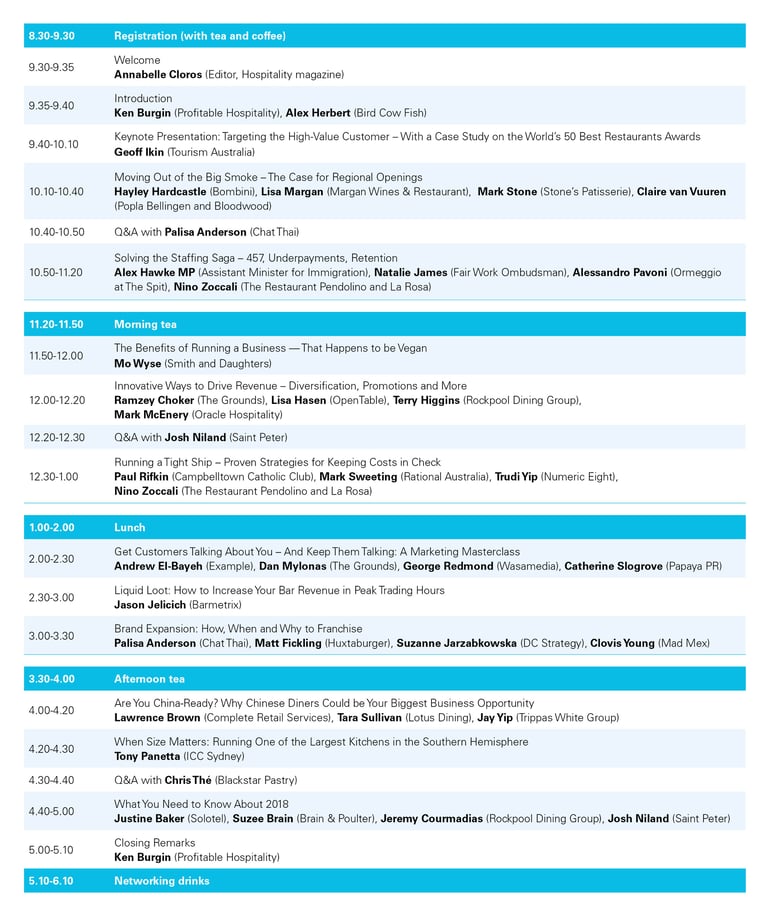 THE SUMMIT HAS A GREAT LINE-UP OF SPEAKERS
The host, Hospitality Magazine, has invited the leading restaurateurs, chefs, and consultants in the country to share their secrets and to highlight strategies for how to overcome business challenges and further your career.
Among the many speakers to present on the day is Assistant Minister for Immigration, Alex Hawke, who will be discussing the recent changes to the 457 visa scheme, which has so far had a far-reaching impact on the food and beverage industry. As event founder Paul Wootton said, "that session in itself should be reason enough to attend."
In addition to Alex Hawke, you will also see Josh Niland (Saint Peter), Palisa Anderson (Chat Thai), Jeremy Courmadias (Rockpool Dining Group), Lisa Margan (Margan Wines & Restaurant - Hunter Valley), Ramzey Choker (The Grounds), Jason Jelicich (Barmetrix), Tara Sullivan (Lotus Dining), and Nino Zoccali (The Restaurant Pendolino and La Rosa) take the stage to share their expertise.
THERE WILL BE A MINI-EXPO
Aside from the Q&A sessions and the panel discussions, another highlight of Restaurant Leaders Summit will be the mini-expo. This mini-expo will see several sponsors showcasing their companies and demonstrating new products and services on their assigned space in the expo area.
This year's event sponsors are:
Comcater
Rational
Conga Foods
H&L
OpenTable
Oracle Hospitality
Big Review TV
Ausphin
Chem-Pack
Flat
Intrust Super
Liven
Scotchmans Hill
THE EVENT WILL BE AN ENTIRE DAY OF NETWORKING AND LEARNING
The Restaurant Leaders Summit will be a great chance for you to meet your fellow professionals and get face-to-face with the most prominent restaurant managers and executive chefs in Australia. During the one-day conference, there will be free lunch and post-event drinks, giving you plenty of time to mingle and connect with peers.
To buy your tickets, simply visit Restaurant Leaders Summit's website. Tickets are priced at $349 + GST for restaurant managers, operators, and chefs, and $599 + GST for foodservice suppliers.
Summing it all up, this year's Restaurant Leaders Summit is a must-attend event for those who are seeking ideas and advice on how to better their skills and take their food and beverage business to the next level. The event will feature inspiring speaker sessions from the leading industry experts.
As the event's founder, Paul Wootton, said: "If you're in the hospitality business, you'll find attending the Restaurant Leaders Summit invaluable. You'll discover new business solutions, make helpful connections and hear from industry experts as they share their wisdom."
Want to read more food and beverage industry trends? Check out our blog.