There seems to be no slowing down for our $8.4 billion convenience sector and that's according to the latest State of the Industry Report which showed revenue generated through in-store merchandise grew by $201million year on year.
Chief Executive Jeff Rogut of Australasian Association of Convenience Stores (AACS) maintains this strong growth has been influenced by changing consumer eating habits as well as by the investment in innovation from leading convenience operators and it's paying off.
"To record such a strong result in a challenging market is a credit to the leading retailers and suppliers in our industry to adapt their offer in a way that resonates with their customers and reinforces their value proposition," Mr Rogut says.

"On the basis of this result and the innovations happening in stores and down the supply chain, we have every reason to remain confident in convenience."
Also according to the latest Report, food and beverage is the winning category, with in store sales outperforming other categories for the fourth year in a row. The category accounted for $3.8billion in sales in 2018.
"The strong food and beverage result is a reflection of the work done by many of our retailers and suppliers over many years. The efforts by the leading operators in convenience to position themselves as a viable and healthy food shopping option for busy consumers is being rewarded," Mr Rogut said.
THE RISE OF ON-THE-GO FOOD CATEGORY
We know that whilst consumers are busy they still want healthy food options which is why on-the-go-food with a healthy edge is steadily rising.
A number of convenience stores have started stocking their shelves with chilled ready-made meals like sandwiches and salads, and have also begun installing barista-style coffee machines. Based on the AACS State of the Industry Report of 2014, consumers are visiting convenience stores more frequently now to satisfy their coffee cravings and this trend has only continued over the years.
"There's been a huge investment in terms of upgrading stores and making the experience for customers far more inviting and offering different products," says AACS chief executive Jeff Rogut.
7-eleven Australia is one chain that's meeting the rising demand for convenience. In 2017, they started trialing a new store layout in some outlets in Sydney, Brisbane, and Melbourne to provide busy consumers with quick access to quality on-the-go food.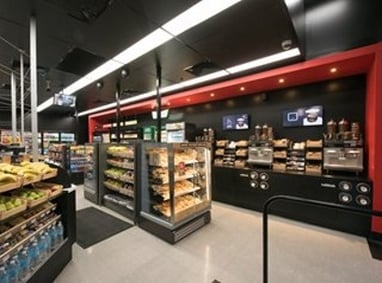 "It's about the customer sensory experience," says general manager for retail operations, Braedon Lord. "Our customers are looking for alternatives, for food on-the-go. The differential is a quick service food store."
The new stores are expected to have a larger space dedicated to coffee drinks and ready meals like sushi, salads, hot pastries, and other bakery products. Their sandwich offer is set to increase from 40-100 units and the Krispy Kreme Doughnuts section has also be given a bigger area.
Fuel giant Caltex Australia is also spending big to take a larger slice of the convenience market. They have begun to roll out a number of their planned 20 'The Foodary' on-the-go stores which offers customers a huge array of breakfast, lunch and dinner meals, locally-roasted coffee, meal kits, and delicious baked goodies from artisan bakers.
"The Australian convenience industry is rapidly evolving and our goal is to meet the changing needs of consumers, wherever they are," says Bruce Rosengarten, Caltex Australia's Executive General Manager Commercial. "We will continue to trial and test new products and services to ensure what we're offering is what customers want."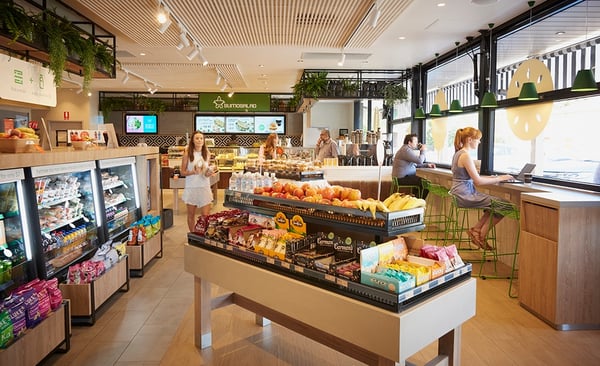 The Foodary
With this continued demand for convenience smaller food and beverage retailers need to think about how they are meeting this customer need and providing on-the-go food options that are tasty, healthy and don't break the bank. There is lots of opportunity here to take a slice of the convenience pie without being a convenience store. It could be a river of gold in a competitive market - so why not give it a try?
Want to read more stories like this? Visit our blog.