With the food & beverage industry constantly changing, and the technology world continuously growing, humility has definitely been a key value in Ordermentum's quest to satisfy high aspirations.
Receiving criticism is challenging. The human brain is wired in such a way that even positive criticism, is more likely to be perceived as a threat. So at first, it does require a bit of conscious effort to welcome feedback from a place of humility! At Ordermentum, we constantly share our work with our peeps, asking for feedback, because we are well aware that, someone in the team will have a totally different point of view or will spot something that was missed. And by doing so, both productivity and product quality increase.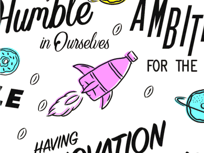 As an employee, it is so motivating to be part of an environment where you can admit your flaws and mistakes without the fear and the stress of being judged. After all, you won't have all the answers, and not everything you try will work. And when you dare and take all those worries away, there is more room - more room for each of us to learn and to grow. I will let you guess who benefits from it? Yes, that's right - our product and our customers.
So whether your business is large or small, your team young or expert in their field, we encourage you to practice humility to welcome team cohesion, ambition, growth, motivation and so much more in your workplace.