We all recognise that as the tech around us continues to improve, innovative payment methods like cashless and contactless will continue to grow as well. And those of us in the highly competitive food and beverage industry will need to adapt to the changing preferences of our modern-day consumers.
According to the Global Payments Evaluation Study, conducted by RF Intelligence Group, Australia has the highest number of consumers who make contactless types of payments in the world. 66% of Australian consumers are aware that they have a contactless card and 53% of them have made a cashless transaction. Given this trend, it's not surprising that many local coffee shops are beginning to take the plunge into payment technology and give their customers the ability to buy coffee without cash.
WHO'S LEADING THE WAY LOCALLY?
Pablo & Rusty's Coffee Roasters was the very first cafe in Australia to tap into this trend. The Sydney-based roastery accepts payments via card, mobile payment apps like Apple Pay and Samsung Pay, and even through reusable coffee cups.
How does it work?
The cafe uses Commbank's Albert POS system which allows them to take payments from Frank Green smart cups - sold in-store - that contain a chip linked to a customer's credit card.
"All you have to do is just tap it on the system and it integrates with our POS system to enable you to pay without using a wallet or a phone," explains founder Saxon Wright. "There's an eco aspect to it as well, as it will save on takeaway cups."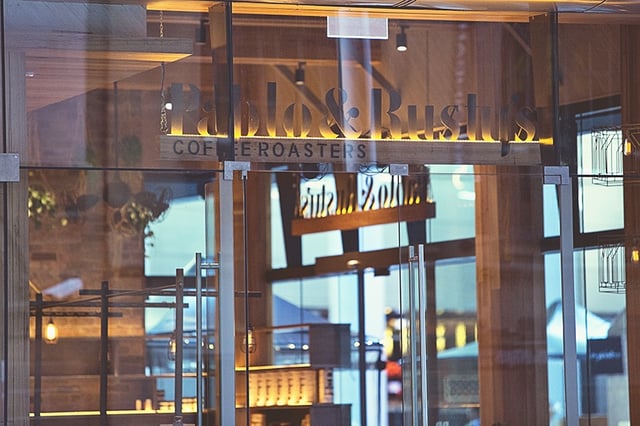 Image: Pablo & Rusty's Coffee Roasters in Sydney CBD
For over two years, Wright hasn't accepted any cash at Pablo & Rusty's Coffee Roasters.
His idea to put up the first cash-free cafe in Australia was due to his desire to innovate and also because of their customers.
"The number of people who don't have a credit card or a phone is getting pretty small these days, and we just want to get people away from that common thought that you need cash in a cafe," he says.
"We were just thinking through some of the logistics of how to manage cash as a cafe, and it's quite problematic. The idea just came to us — what if we didn't have cash?"
Wright also believes that cash is an old school way of dealing with a daily process and suggests that all coffee shops will eventually become cashless, it's just a matter of when. For now, he sees his business at the forefront of the industry and rightly so!
WHAT'S HAPPENING AROUND THE WORLD?
Overseas, the cashless trend is well and truly thriving. Browns of Brockley in Southeast London stopped accepting cash at the beginning of 2017 and is now taking payments only by card.
According to owner Ross Brown, the move has saved him a considerable amount of time and money since his staff don't have to cash up, count coins, and take large sums of money to the bank anymore. He also said their customers loved the idea and they have even been receiving good feedback from the very beginning.
"Very few people seem to have missed [cash]. I remember it used to be really shameful when you had to use a card for small amounts, but it has become so much cheaper to handle card transactions now that that feeling has gone," says Brown.
In Singapore, coffee shops in Tampines and Choa Chu Kang are also offering cashless payments. Senior Minister of State for Trade and Industry, Sim Ann, went on a tour around the new venues and said the use of technology for everything from self-ordering kiosks to cashless payments will mean the two cafes will be able to serve customers effectively and efficiently whilst reducing the amount of paid staff needed.
And then all over the world we have Starbucks. The well-known coffee giant is believed to be the first one to hop onto the mobile and cashless payments train. It launched its mobile payment service as early as 2009 where customers were able to pay for their order via a barcode displayed on the app.
In 2015, Starbucks introduced its Mobile Order and Pay (MOP) feature in the U.S. This service enables customers to order their beverage in advance and pay for it using the coffee shop's smartphone app. The feature has been very effective in reducing waiting times and in minimising labour costs.
These few examples show how easy it is to visualise a future where cash becomes completely redundant. As the technology progresses so too will the needs and expectations of consumers and it will be those establishments that embrace the changes that will succeed. None of us want to be left behind in business so as the food and beverage industry continues to steam ahead towards cashless operating start thinking about the changes you need to make to stay ahead.
Want to read more industry trend stories from us? Head on over to our blog!