It's no secret that Australia is deep in the throws of a rampant love affair with coffee, and the passion only seems to be getting stronger.
As with any great love, Australian coffee roasters and cafe owners are continually committed to growing, evolving and experimenting to bring the best of the best to what has become an inherent part of Aussie culture. Here's what to watch for in 2019.
BUTTER COFFEE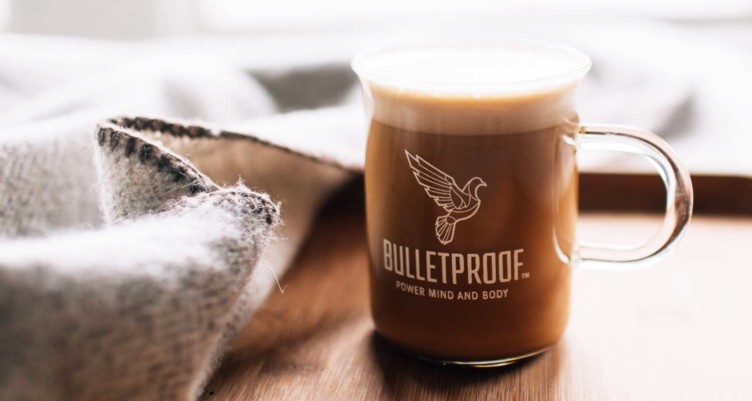 Bulletproof Coffee (image from BulletProof.com)
Officially called Bulletproof coffee, the creamy beverage was developed as part of the Keto Diet, a technique of low carb, healthy fat-focused eating that allows the body to better utilize fat for energy.
The drink is made simply by blending butter (or non-dairy ghee or coconut oil) and MCT oil into black coffee. The actual process of blending allows the fats in the butter to break down and bond with the caffeine molecules, meaning a slower release of caffeine into your system. This has two immediate benefits; one being the avoidance of caffeine jitters, and two, enabling your body to more slowly release and better utilise healthy fats for energy, while keeping you full for longer.
Apparently, there's a lot of science behind it all, but we're not entirely convinced it's not just another wellness fad. Either way, expect to see it on menus this year - particular at your local health food shops.

A SPOONFUL OF VEG?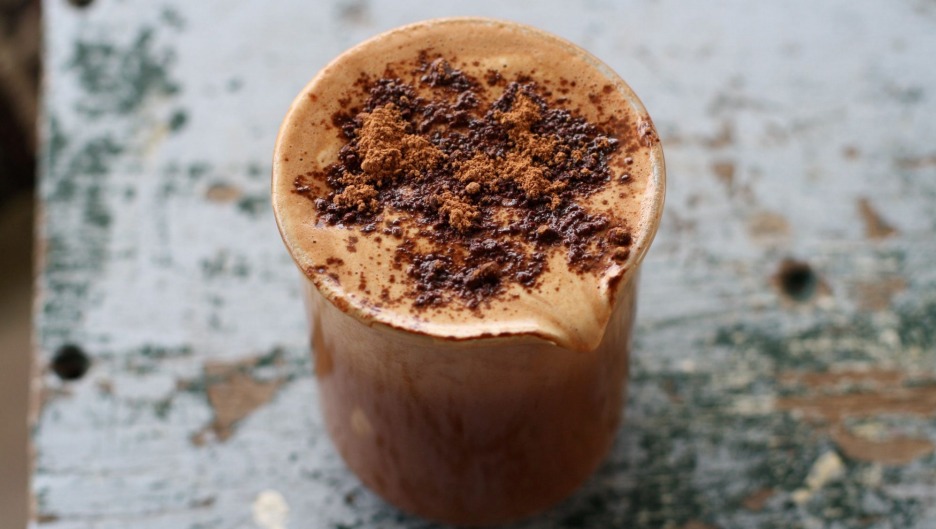 Mushroom Latte (image from GoodFood)
Butter isn't the only thing making its way into your cup in the name of healthier living these days. Melbourne cafe, Commonfolk, has added a broccoli latte to their menu. Imperfect veg set for the chopping block is instead dehydrated and ground into a powder. It's an easy way to stir an extra serving of greens packed with protein, fibre and phytochemicals, into your latte, if you're up for it.
In a similar, and perhaps more flavour complementary, vein, dried, medicinal mushroom will continue to make its way into your brew. Originally hailing from Finnish company, Four Stigmatic, the blends are found to have a variety of health benefits including reducing anxiety, increasing focus and productivity and regulating blood sugar levels. Mushrooms also naturally contain high levels of antioxidants and the element Geranium, which helps your body use oxygen more effectively, combating the effects of free radicals. While veg coffee may sound unappealing, the added health benefits could be worth getting used to.
OAT MILK AS THE NON-DIARY OF CHOICE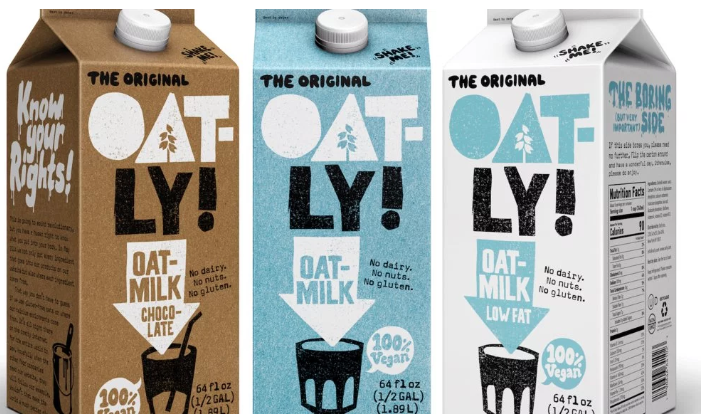 Oatly Oat Milk (image from Time Magazine)
While the nut milk trend feels like old news, baristas are predicting that perhaps the biggest trend for 2019 will not so much focus on the coffee itself, but rather its perfect partner.

Tom Gunn, General Manager of Proud Mary coffee roasters in Melbourne, predicts oat milk to be the next big thing to fill your cups. Based on global trends, oat milk has begun to completely surpass soy and almond milk as the non-dairy of choice. In fact, there are shortages of the product in the US and the UK. Specifically, Oatly will be the brand of choice. The company is working hard on their expansion into Australia, and the trend is already well on its way.

According to Gunn, oat milk tastes better and creates a better blend with coffee than the alternatives, which are known to split when mixed with coffee. Plus, the production of oat milk is much more sustainable overall, using less chemicals and water. It's a win for all.
NITRO COFFEE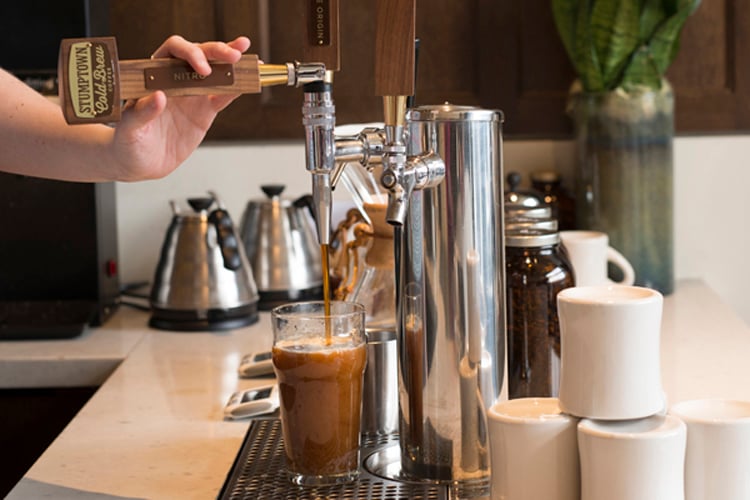 Nitro Coffee (image from: Stumptown)
Nitro coffee is the next evolution of the cold brew trend. It entails pumping cold brew coffee with nitrogen gas and serving it through a draught system, complete with tap and all. When the nitrogen-rich liquid is pushed through tiny holes in a pressurized valve, it results in a smooth, creamy beverage with a silkier mouth feel.
It's similar nature to some types of beer also makes nitro an ideal candidate for canning. It's been a slowly growing trend in the past couple of years, and expect to see it in more and more cafes in 2019.
COFFEE SUBSCRIPTIONS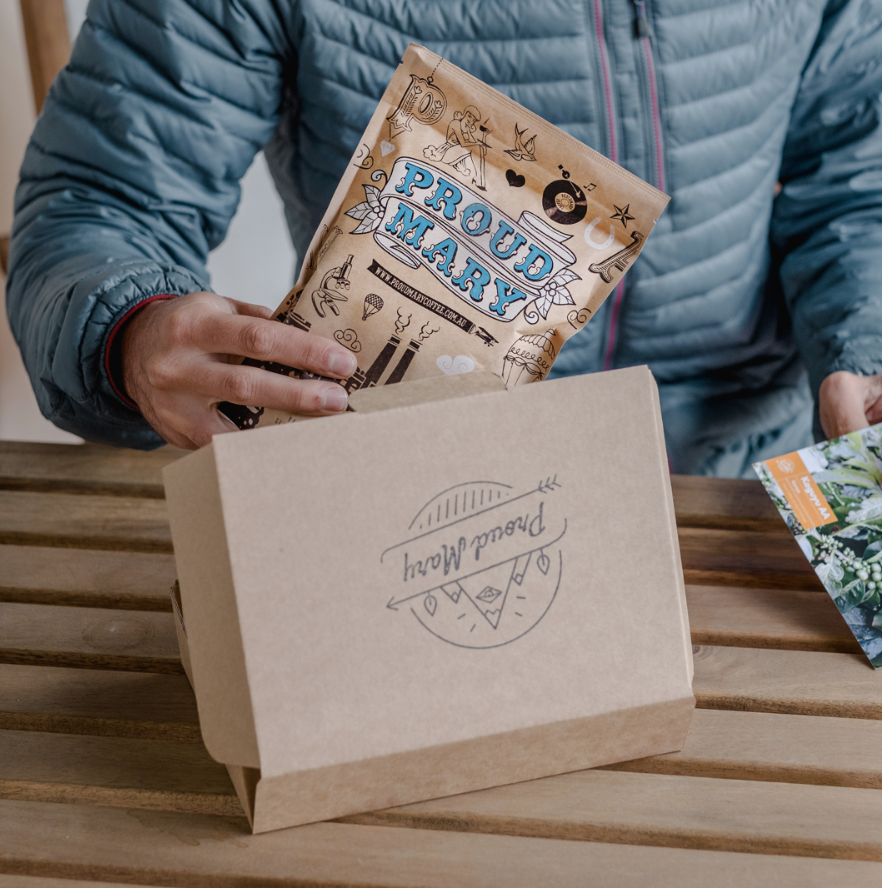 Proud Mary Coffee Subscription (image from: Proud Mary)
While going for coffee with mates could still be considered a national pastime, the peaked interest in speciality coffee means increased demand for take-home options. Most consumers with an interest in speciality coffee are aware they can grab a pack from their local cafe, but there are also a range of options to getting your favourite bean delivered straight to your door. For the most part, these services are more than affordable. For example, Proud Mary's, at only $22.50 per fortnight, offer a different blend express shipped anywhere in Australia.
"What our roasters are doing is second-to-none," says Gunn, "they monitor the process so thoroughly, cupping and tasting every single batch. And you get that delivered straight to your door."
Perhaps one of the most surprising things for Gunn is the amount of subscriptions that span rural Australia.
"People have come in here once on holidays three years ago, or their daughter or some family member lives locally and raves about the coffee, and they've signed up to be part of the subscription service."
Long-time barista, Costas Arvanitopoulos, reports the number one learning from years working at Toby's Estate was the demand for take-home beans. Arvanitopoulos launched Barker Street, his online subscription service, at the end of 2018. The business plan was formed off the basis of home grocery delivery services, and the motivation was to provide interested consumers with the very best coffee beans from Australia, the UK, Malaysia, and the Americas.
Arvanitopolous sees it as a chance to really give Australian consumers the education they desire, bringing the best beans straight to their door, and continuing to fulfill their increasing desire for coffee knowledge.
ONA Coffee is another to watch, with their own subscription service in development.
COFFEE INFUSED BEERS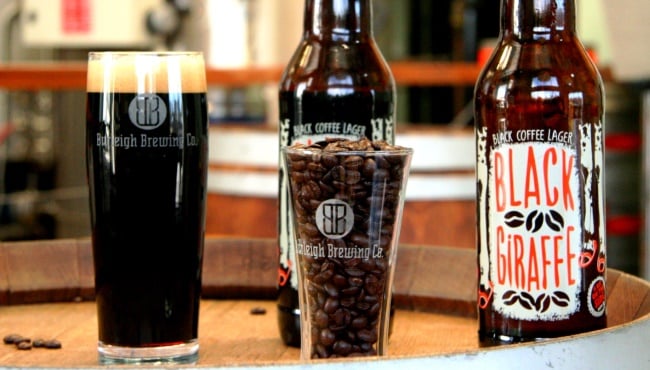 Coffee Infused Beer (image from: Zarraffas)
In 2018, Australia saw, on average, the opening of one craft brewery per week. Thanks to the small batch nature of many of these production houses, there's plenty of room for personalisation, collaboration and experimentation - including the infusion of coffee.
The flavour profiles and descriptions for the two beverages can be shockingly close, with darker ales described as having coffee characteristics. But the true complexity of the coffee comes through when brewers are brave enough to infuse lighter beers with whole beans and cold brews. This adds a deep, roasted flavour, complementing the fruit and citrus of lighter ales.
The process could be anything from cold infusion of whole beans at various stages of brewing, to the addition of cold brew added post-fermentation. Whatever the process, this is one to keep a close eye on.
CREATIVE COLLABORATION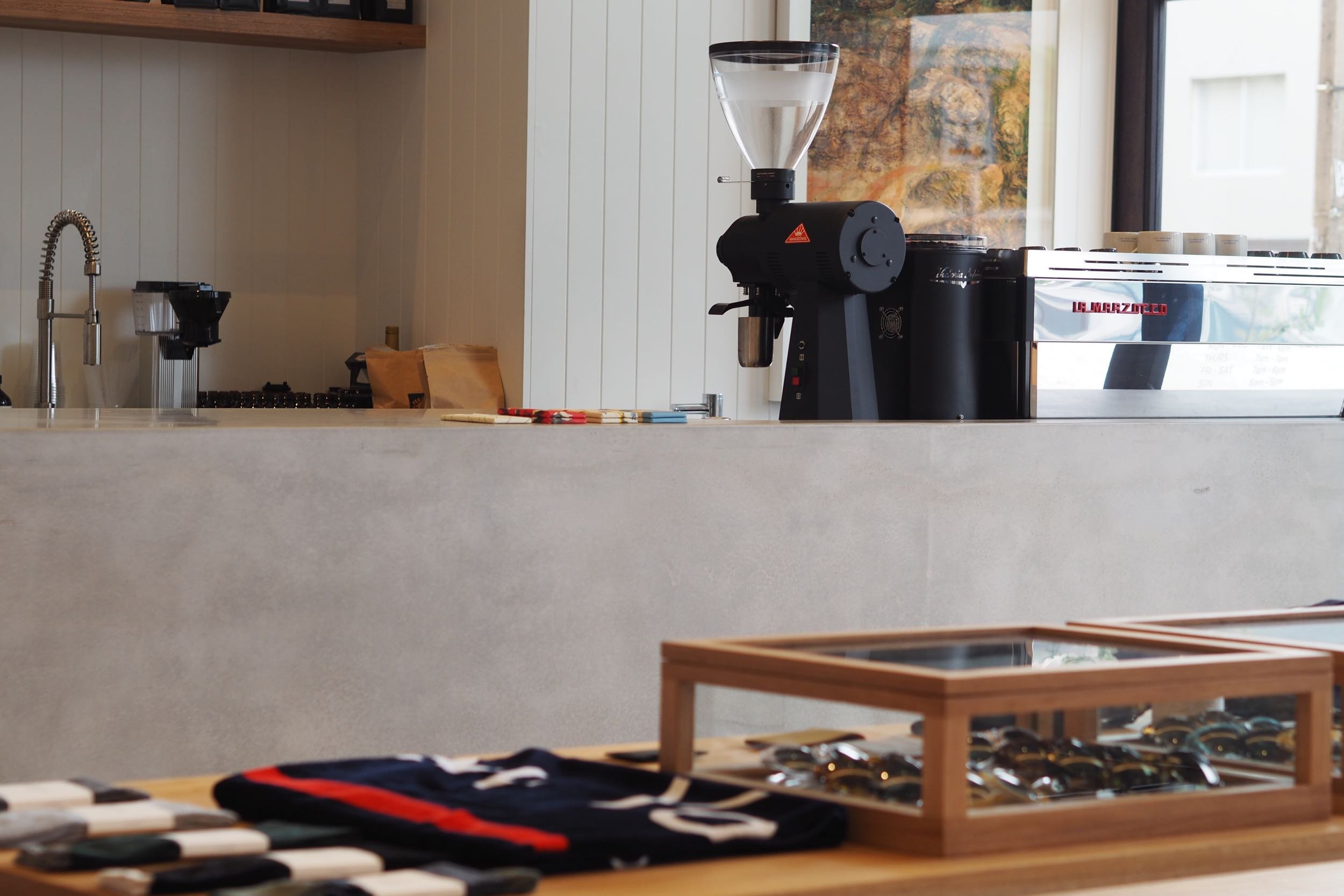 Saturdays NYC, Bondi (Image from Hey Gents)
Collaboration may just be the buzzword of 2019. It seems that many small, local brands and producers are exploring ways to come together in support of one another and allow their products to co-exist, and coffee roasters are along for the ride.
Well-known NYC surf retail shop, Saturdays NYC, has launched an Australian flagship at Bondi Beach with baristas slinging Artificer single origins and specialty blends. The NYC original is known specifically for their house blend, which brings regulars from all over Manhattan to the shop for their weekend fix.
Another recent Bondi Beach installation is the first brick-and-mortar shop from online surf shop, The Critical Slide Society, where co-owner Sam Coombes has also incorporated a cafe counter serving up brews from his other joint venture, Will & Co. coffee. The space serves as much more than just a retail surf shop, with plans for collaborative art displays and events in the near future.
Whether it's local designers partnering to bring to life new and exciting RTD packaging, or small-batch cold brew partnering with alcohol brands to fuel the nation's espresso martini obsession, there are plenty of places to look for collaborative opportunities in this choose-your-own-adventure environment.
As with any new trend, perhaps some may be short-lived, but there are plenty of ways local roasters and wholesalers can consider expanding their repertoire and connecting with their own customers or directly with keen consumers.
Do you work in the Coffee Industry? Here's how to thrive in 2019.
Know your Products
Customers are increasingly discerning when it comes to what they buy and fair-trade, organic, sustainable and locally-sourced all remain the big influencers in 2019.
So, whether you're a Roaster or a Café owner knowing your products – where they are grown, how they are created - is required knowledge these days. Your customers also want to know how to get the best out of your products - the best way to brew, the best flavour combinations, the best accompaniments.
Establishing yourself as a product expert and freely sharing your knowledge and passion is a sure-fire way to build a repeat business pipeline.
Know your Customers
We've all heard the adage "People buy from People" and in the super competitive coffee industry, it's more true now than ever. So, spending time with your customers, getting to know them, showing a genuine interest in their business/lives, these are all excellent ways for you to build a successful empire.
Embrace Technology
The technology solutions that are currently disrupting the food and beverage industry will change the way you do business, for the better.
Chasing payments, taking orders manually, printing large and cumbersome product catalogues, are just a few of the old-school methods that tech is helping businesses do away with – saving you a lot of time and a lot of money along the way.
Get whole business visibility
We know that running a business takes a heap of hard work and no doubt you're wearing many hats every day. By getting complete visibility of your business – what's working and what's not – you will be able to effectively focus your time where it's needed the most.
Focus on doing what you love
Let's get absolutely real for a moment, you didn't start your business to spend the majority of your time doing the stuff that doesn't spark joy. And whilst we recognise that there is lots of the mundane in running a business that doesn't mean it needs to be at the expense of doing what you love.
By getting the balance right you can have a thriving business and a full heart.
Did you know that we are here to help?
With Ordermentum you can automate all the complicated and time-consuming tasks that need manual work, easily access reports that show how your business is doing and ultimately reclaim your time to focus on your products and your customers.
To find out how Ordermentum can help you thrive in 2019 book a free demo today.