Pretty, colorful flowers are now making their way from your garden to your plates!
Considering the many health benefits attributed to plant-power and our hunt for "Instagrammable" food and drinks, floral flavours and snacks incorporating petals and whole flowers have bloomed this year. Supermarket chain Whole Foods even listed floral flavours as one of the top trends for 2018, along with super powders and functional mushrooms.
Sure, adding jasmine and chamomile to beverages and using rose petals in almost everything isn't new. But with the current war on sugar and consumers' push to eat healthier foods the popularity of floral flavours is growing.
According to several studies, edible flowers are the healthier alternative to sugar. They provide subtly sweet flavours and fresh aromas without adding calories. Chris D'Adamo, the director of research for the University of Maryland's Center for Integrative Medicine, says that even if there are no definitive health benefits in using flowers as flavours yet, he believes there are already some proven advantages.
"With hibiscus, for example, there have been human trials looking at its ability to lower blood pressure," D'Adamo said. "More studies are needed, but there is some evidence there. There is some pretty good research for other flowers, too."
Whole Foods is one of the major brands that has started tapping into the floral flavours trend. In their stores, you can find Lime Mint Elderflower Italian Sparkling Mineral Waters, Lavender Lemon Granola, the Belvoir Fruit Farms Elderflower Lemonade, and the GoodPop Hibiscus Mint Frozen Pops.
So what are the other floral flavours we will see more of this year?
Lavender in lattes are on the top of the list.
In Australia, lavender lattes are just one of the many "super-food lattes" that have popped up, next to turmeric and matcha. Sydney nutritionist Lee Holmes says that apart from its anti-inflammatory properties, Lavender can also help with managing insomnia, anxiety, and depression.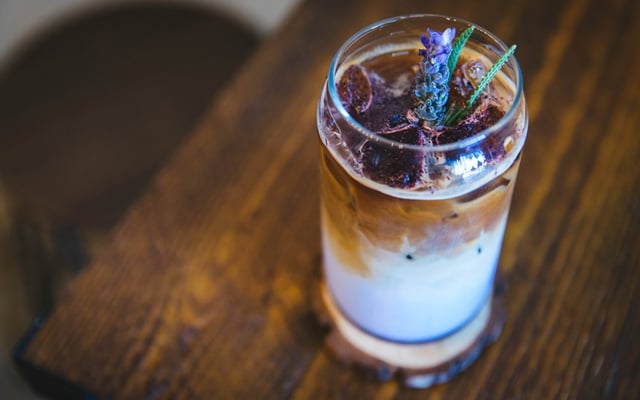 Iced Lavender Latte (photo from: Los Angeles Magazine)
Then we have hibiscus flower teas, which are known for their extremely high antioxidant content. The fact that you can also turn Hibiscus flower in to a semi-sweet syrup, has added to it's popularity. The syrup has a tart-like flavour that adds a unique taste and complexity to desserts and beverages, like water or sparkling wine.
Rose-flavoured everything, elderflower cocktails, and edible flowers are also anticipated to become the "It" foods of 2018. There are already several restaurants around the world that have started serving dishes with edible flowers. Too Many Chiefs in Victoria, is adding edible flowers to their salads and healthy bowl meals.
In Tel Aviv in Israel, a chef is using edible flowers on his sashimi pizza. And in California, there's the Jacobs Farm that's selling fresh organic edible flowers for restaurant and cafe use. Among the products they offer are marigold, calendula, chive blossoms, and nasturtium, which are great with scrambled eggs or tossed in rice dishes
This year, flowers and petals will become more than just your standard table decoration. You'll see them being used more in bubbly drinks, snacks, teas, and healthy meals providing not only an added health benefit but also an interesting splash of texture and colour.
More stories like this when you visit our blog.