Pasta is making a come back on restaurant menus!
You might have noticed that the popularity of pasta has dwindled somewhat as consumers have moved away from dishes heavy on carbs and sugar. But this popular Italian dish is making a come back albeit with a slight variation. Now, it's the healthy alternative "pasta" that's taking the spotlight - we're talking pasta made from quinoa, chickpeas and lentils as well as vegetable-based pastas like squash and zucchini.
Alongside these alternative pastas, unique pasta dishes are also gaining momentum. Ever heard of breakfast pasta? It's the latest weekend brunch favourite!
Small Axe Kitchen in Melbourne is one of the few local cafes that is tapping into this newest food trend and their unique breakfast pasta is the most popular dish on their menu.
"We all really love pasta and are all obviously pretty obsessed with brunch, so it seems like a perfect marriage of the two," says co-owner Kirstyn Tate.
"The Breakfast Pasta is really our version of bacon and eggs on toast: the guanciale is the bacon, the slow cooked egg and the maccaroni pasta is the carb fix."
"I think it's [popular] because the flavours are familiar to people's palates so, although it is different, it's still comfortable," Kirstyn adds.
"The freshness of the mint and the peas, along with the theatre of the slow-cooked egg, makes it such an enjoyable dish that you really can eat at any time of the day."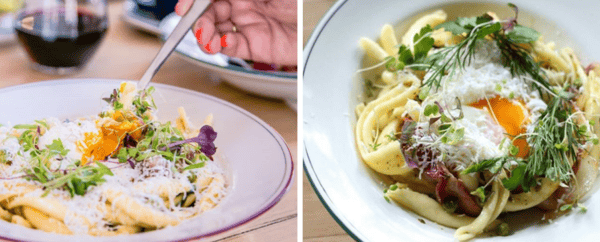 Photo: Small Axe Kitchen's breakfast pasta
Across the border in Brisbane, Morning After is serving it's own delicious breakfast pasta. Their version of the dish is a pappardelle carbonara with Italian cured meat, field mushrooms, pecorino romano cheese, topped with a 63-degree egg.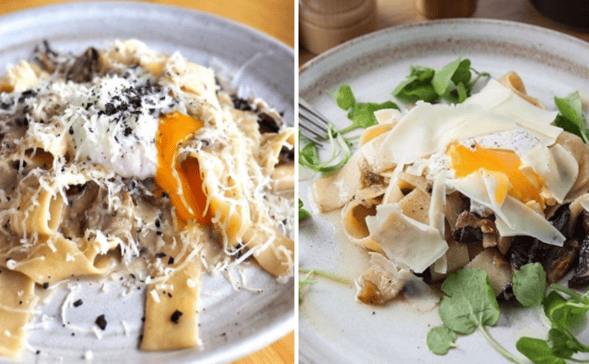 Photo: Morning After's breakfast pasta
It's the same story over in the US. At New York City's Smorgasburg food market, people are going crazy over the goodness (and look) of spaghetti donuts. This creative snack invented by Pop Pasta is pasta that's mixed with cheese and egg before being baked in to the shape of a donut and is the ultimate "on the go" lunch.
"I've been cooking since I was 15 years old," says Pop Pasta founder Luigi Fiorentino. "I've always liked to take a tradition and part with it in order to create something innovative. I went with something that's very traditional, the spaghetti pie. The doughnut is like something you love already, but done in a different way."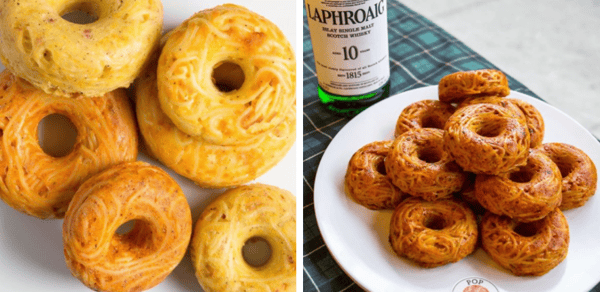 Photo: Pop Pasta's Spaghetti Donuts
Meanwhile vibrant coloured pasta is also catching the eyes and stomachs of foodies. Chefs across the continent are using vegetable dyes to give their pasta a striking hue. Brooklyn's LaRina, Chicago's Daisies, San Francisco's Barzotto, and The Albion Rooms in Ottawa are just some of the restaurants serving these vibrant noodle dishes that taste as good as they look.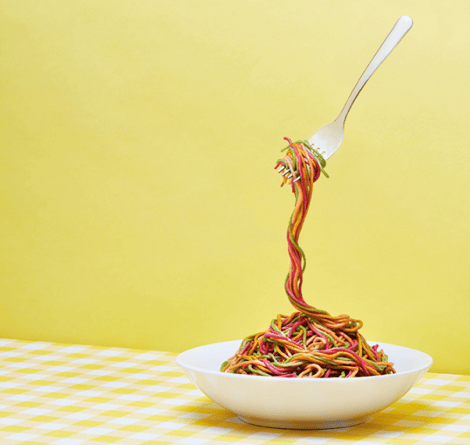 We know that Customers will always be on the hunt for unique foods that suit their healthy lifestyles but are also high on the comfort factor. If you're looking at ways to rejuvenate your product range or menus you could think about cashing in on this trend and start experimenting with how you could incorporate these unique pasta ideas.
Want to read more Food Trends 101 entries like this? Go to our blog.