Seems like the oldest form of cooking is making a comeback!
The popularity of wood-fired or char-grilled foods is showing no signs of slowing down and it is being touted as one of the hottest trends this year. With it's irresistibly unique smoky flavours as well as the entertainment factor we are seeing a rise in this style of food preparation all over the world.
In Missouri, executive chef Adam Wells-Morgan of Flyover - a wood-fired restaurant and cocktail bar - says one of the greatest things about wood-fired cooking is not just the distinct texture and flavour that the high temperature produces, but the fact that the cooking times are way shorter compared to other cooking methods.
"Instead of cooking an inch-and-a-half thick pork chop sous vide ahead of time, we can put it on a cast-iron plate raw and it will cook in four minutes," he says.
Executive chef of Pennsylvania-based The Gables at Chadds Ford, Jose Castillo, also says that chefs like him prefer wood-fired grills than the traditional gas because you get better flavour.
"The smoke from the wood penetrates while the food is cooking for nuanced flavours" explains Castillo. "Even though we use modern cooking techniques at The Gables, having a wood-fired grill is the more Southern-style of grilling that we love."
Right now, there are lots of wood-fired foods and dishes that are popping up on the menus at many local restaurants: pizza, chargrilled vegetables, and wood-fired roast chicken, just to name a few.
WOOD-FIRED PIZZA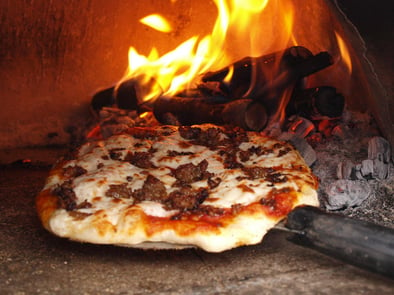 Image from: Minnesota Firewood
Of course the first food that comes to mind when you think of a wood fire is definitely pizza. Wood-fired pizzas boast huge differences to oven cooked pizza not just in terms of size but also in taste. Pizzas cooked in a wood oven have a softer and more delicate texture, and a puffier crust. This is because of the "moist" heat that comes from the wood oven.
Here in Australia, the wood fire pizza craze has definitely taken hold and there are restaurants in every major city and beyond that specialise in them. Amongst them are Maybe Frank in Randwick and Surry Hills NSW, who also have an impressive cocktail menu and Ti Ama in Battery Point Tasmania who serve sourdough traditional wood fire pizza.
CHAR-GRILLED VEGETABLES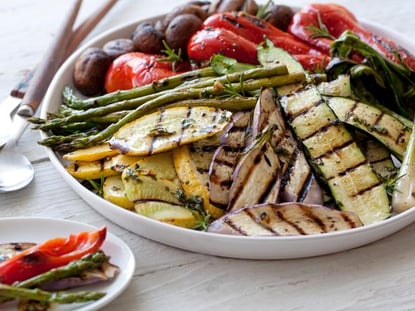 Image from: Food Network
Char-grilled veggies have a delicious smoky flavour and are perfect as a starter, side dish, or even as a simple vegetarian meal. They are also easy to prepare and are healthier for you - especially if you choose to use "good fat" oils.
Osteria Riva in Bondi is one of the local restaurants that serve delicious char-grilled vegetables. This Italian restaurant's 'Verdure Alla Griglia' or mix char-grilled vegetables are best when partnered with their mouth-watering tuna and beef steaks.
WOOD-FIRED ROAST CHICKEN AND STEAK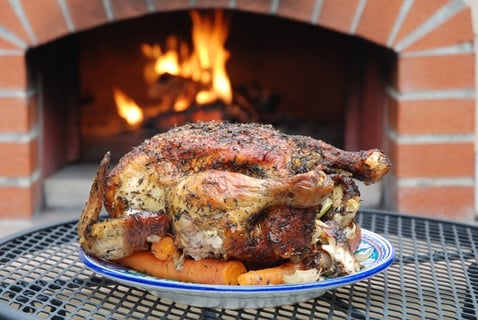 Image from: Woodfired Kitchen
There is also evidence that wood-firing food is a healthier way to cook meat. The unhealthy fat drippings don't stay on the meat but instead drop into the grill. And because they are cooked very quickly using high temperatures, they retain their excellent nutrients and flavours.
Wood-fired meat dishes are common on many restaurant menus. Rockpool Bar and Grill in Sydney, for example, is well known for their excellent beef steaks cooked in a wood-fired rotisserie oven. Their dry aged Wagyu and dry aged, grass fed longhorn are both must-tries!
Chefs and restaurant owners are embracing other wood-fired dishes such as char-grilled seafood, wood-roasted lamb, and wood-fired beef ribs. It's fair to say that the "wood-fired anything" trend is here to stay and with it's unique flavours and cooking method it could be an interesting way to create a distinct product range of baked savoury goods.
For more Food Trends 101 visit our blog!