As the war on waste intensifies especially within the food and beverage industry there are a number of innovative organisations looking at how to repurpose coffee waste into a new sustainable product, and what they are doing is really amazing!
Bio-Bean, is transforming waste coffee grounds into biofuel - which can power transport systems and warm houses. The U.K company has launched what appears to be the first coffee ground recycling centre in the world. Most of the raw materials they store are from caffeine-consuming locations around the country, such as cafes, office blocks, and train stations.
"I liked the idea that in the same way coffee fuels your body, coffee can fuel buildings and transport," says founder Arthur Kay. "My real interest was initially in collection and recycling, not biofuels. I was thinking about how to design sustainable cities, how to fuel the city of the future," he explains.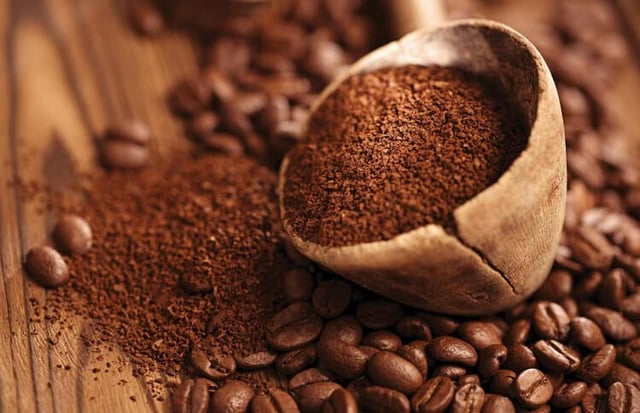 Image from: Next Avenue
At Bio-Bean's recycling centre in Cambridgeshire, the grounds collected go through a sifting and drying process to remove the excess moisture. They are then broken down using a mechanical press and mixed with an organic solvent. The result is biofuel pellets that also serve as sustainable energy sources and which are currently being used as fuel alternatives for London's buses.
"We make the coffee oil, which is then blended and turned into biodiesel by our partner, Argent Energy," explains Kay. "The amount of fuel, specifically, we're producing is enough to power about 365 buses for the day."
The company's biofuel product, B-20 is made with 80% mineral fuel and 20% oil component from coffee ground waste. They say their innovation can be used without adjusting the gas tanks, bus engines, or even the factories where the grounds were processed.
Right now, Bio-Bean recycles roughly 50,000 tonnes of waste coffee grounds every year. They are even working with different coffee chains and cafes in the UK and in 2016, Bio-Bean started collecting waste coffee grounds from 800 Costa stores around the country.
According to Tom Bage, the head of communications at Bio-Bean, "We love that we work with different coffee companies, big and small. Costa have been a fantastic support – we are collecting and recycling 75 million cups of their coffee a year."
"There are so many reasons for companies to recycle their coffee grounds, but the key ones are to save money and to cut carbon. We take it away as cheaply as we can, immediately cutting the carbon footprint."
For Costa this partnership puts their coffee grounds to good use, transforming them from waste into something sustainable and useful.
"With our zero energy Eco Pod and the Grounds for Grounds project, we have worked hard to cut carbon emissions and minimise waste, but it is fantastic to move Bio-Bean forward on their ambition to power cities with coffee. We look forward to developing this partnership in the future," says Oliver Rosevear, the energy and environment manager of Costa Coffee.
Whilst Bio-Bean is the first company to transform coffee grounds into a renewable energy source, they aren't the only one who are experimenting with other ideas for coffee waste.
Here in Australia, there are also companies experimenting with coffee waste. One of them is HuskeeCup which is turning coffee husks (the coat of a coffee bean) into stylish coffee cups that are an alternative to regular ceramic cups. HuskeeCups are comfortable to hold, durable, can keep coffees hotter for longer, and most importantly are made from sustainable materials.

Photo: HuskeeCups
"We wanted to create a closed-loop system, so we thought if we could use waste from farming to create a cup we could solve problems both at the cafe and farm level," says Saxon Wright, the co-founder of HuskeeCup. The company will be going live in June this year but you can already pre-order now.
Meanwhile, in Western Australia, two enterprising mates Ryan Creed and Julian Mitchell are transforming tonnes of coffee grounds from landfill into the perfect soil for growing gourmet oyster mushrooms. Life Cykel are already supplying mushrooms to over 10 restaurants in the area and are looking to expand their operations.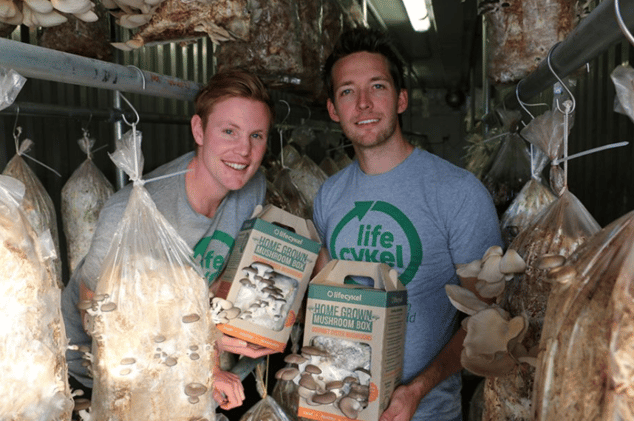 Photo: Ryan Creed and Julian Mitchell (image from ABC)
These incredible and exciting innovations are just some examples of how thinking creatively and sustainably can help lessen the impact that our vibrant coffee culture can have on the environment. As consumers become increasingly mindful of their environmental impact we are sure to see more and more ingenious ways to reuse and repurpose coffee waste. We can't wait to see what's next!
Want to read more industry insights like this? Head on over to our blog!