Are Vertical Farms the Way of the Future?
With vertical farms on the rise, can indoor farming really be the future of food and agriculture?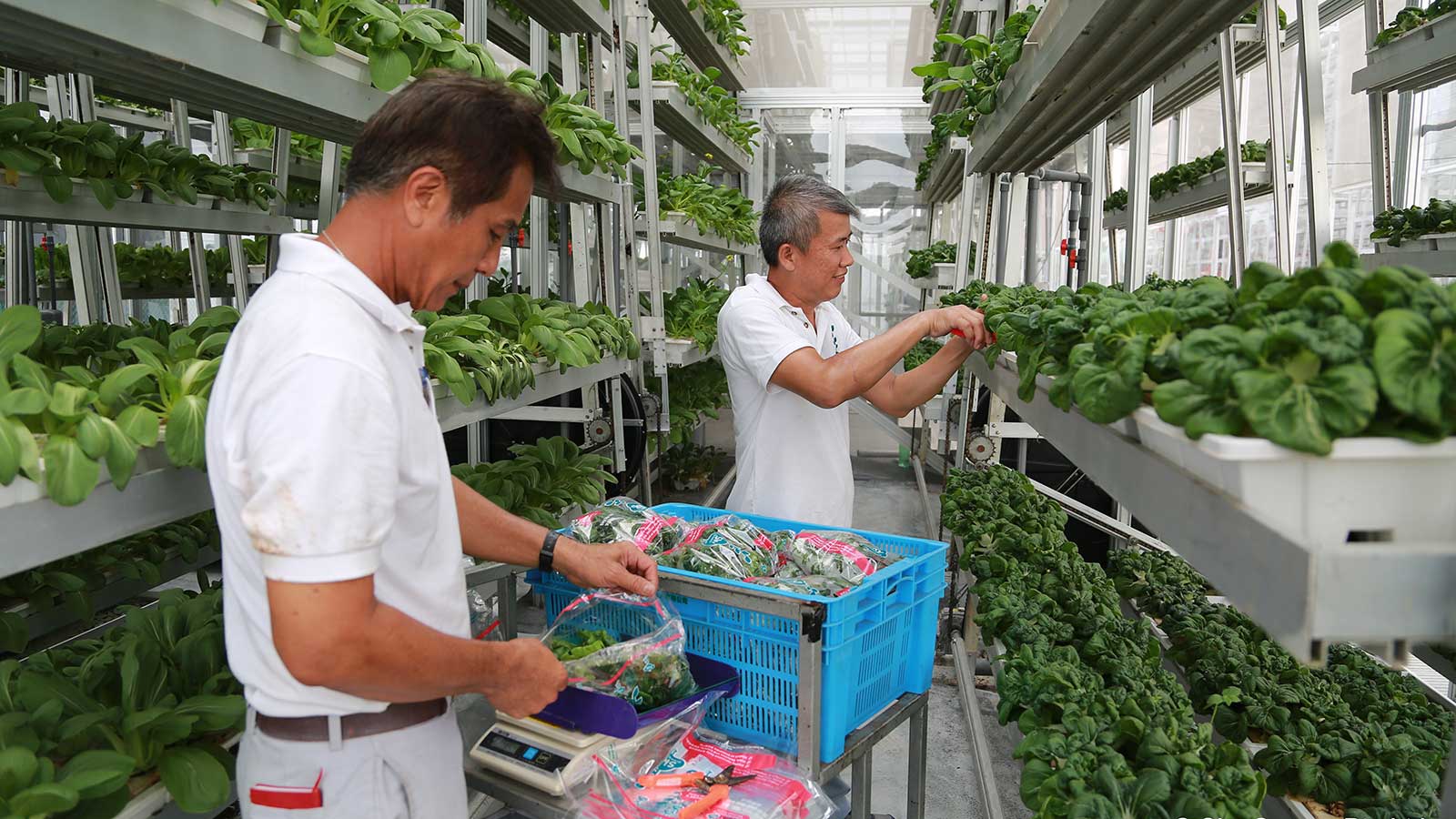 Leafy greens and herbs growing on stacked trays, in a highly-controlled environment like abandoned buildings or used warehouses, with absolutely no sunlight and soil - only LED lamps, a small amount of water, and a little bit of science.
We're talking about vertical farming.
From a simple idea in Dr. Dickson Despommier's medical ecology class back in 1999, this method of producing crops is now slowly transforming the way we grow food and is on track to becoming one of the answers to global food shortages. Vertical farming is far from the traditional approach where crops are being grown in huge fields or greenhouses. It's is all about taking advantage of vertical space and creating production efficiencies. Vertical farming uses 40% less power, 95% less water, and can produce crops as fast as 30 days
WHAT'S SO GOOD ABOUT VERTICAL FARMING?
Vertical farming comes with a long list of benefits, and they're beyond the typical "zero sunlight and soil."
First up, no more seasonal crops. These modern farms are capable of producing traditionally seasonal fruit and vegetables all year-round. There will no longer be a "wrong season" as the crops will be grown inside a facility where environmental factors are completely controlled. Also, there will be less post-harvest spoilage and food waste since most of the produce can be sold in the same building where it is grown. According to estimates, about 30% of harvests are lost each year due to spoilage.
Second, vertical farms are weatherproof. Since the crops are safe and sound in a highly-controlled environment, the entire harvest won't get affected by extreme weather events like hurricanes, droughts or floods, unlike outdoor farming.
Third, they consume less water. Vertical farms use a minimal amount of water compared to normal farms. The methods used are either hydroponic, where plants are grown in a basin of water with nutrients, or aeroponics, where the roots of the crops are sprayed with nutrient-filled water or mist. These two methods use far less water, as all water is taken up directly by the plants - with no wastage as a result of water being spread out in soil. The exact amount of water needed by the plant is the exact amount used. Vertical farming even promotes water recycling. Urban waste, including black water, can be composted and used for farming inside the facility.
Lastly, vertical farms can grow produce twice as fast. This is the main reason it has been touted as the ideal solution to the food crisis some countries are facing. The world's population is expected to balloon to 10.5 billion by 2050. Which means we have to increase our food supplies by at least 60% to be able to meet demand. To make this possible, a food production system that requires low water consumption, less resources, and less land space is critical. Vertical farming ticks these boxes. The method can yield more plants per square metre than outdoor farms or greenhouses simply because the crops can be stacked as high as the building or the facility.
On the whole, there's no question to what vertical farms can do. A lot of advocates and agriculture analysts today are seeing the huge potential of this modern method and there are plenty of examples of it working really well.
VERTICAL FARMS AROUND THE GLOBE
The first low-carbon, hydraulic driven vertical farm in the world was Sky Greens.
Located in Singapore, a small island city with a population of more than 5 million that relies heavily on food imports from other countries, the farm grows veggies in A-shaped aluminum towers about nine meters tall each. Sky Greens calls its technology the "A-Go-Gro". Each tower has 22-26 tiers, which are rotated at a rate of 1mm/second for an equal distribution of natural sunlight and airflow. Sky Greens is capable of growing 800 kilos of Chinese cabbage, kai lan, spinach, and other leafy greens every day. It has been producing these crops commercially since the year 2012.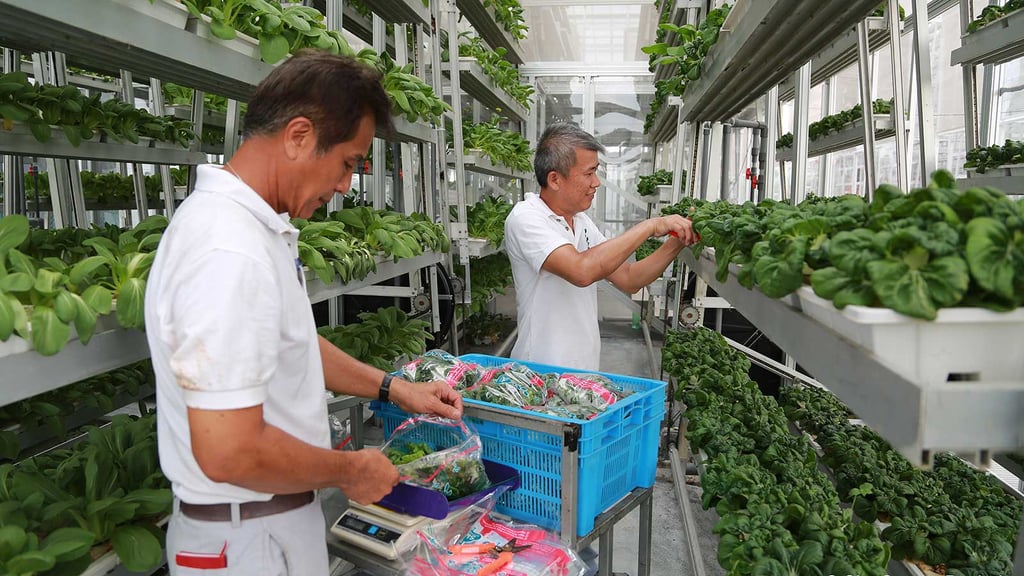 Photo: Sky Greens vertical farm
In Japan lies one of the largest vertical indoor farms in the world, built by the Mirai Corporation, founded by plant physiologist Shigeharu Shimamura. With a 25,000 square feet bacteria-free and pesticide-free space equipped with 17,500 LED lights, the farm can grow up to 10,000 lettuce heads per day.
For other crops apart from lettuce, Shimamura explains: "I believe that, at least technically, we can produce almost any kind of plant in a factory. But what makes most economic sense is to produce fast-growing vegetables that can be sent to the market quickly. That means leaf vegetables for us now. In the future, though, we would like to expand to a wider variety of produce." Currently, Mirai has two additional factories located in Mongolia. It is also planning to expand in Russia and Hong Kong in the near future.
The U.S is home to several vertical farms as well. The biggest ones can be found in New Jersey, operated by the well-known firm, AeroFarms. Its global headquarters (and 9th farm) in Newark is a 69,000-square-foot indoor farm that can harvest up to 2 million pounds of leafy greens and herbs a year. It is currently the largest indoor vertical farm in the world.
By 2018, AeroFarms is expecting to have its 10th farm built in Camden. This will be a 78,000 square feet space and will supply produce to Philadelphia and South Jersey.
Meanwhile, a 900-square meter vertical farm is presently being constructed in Dronten, Netherlands. When finished later this year, it will be the largest commercial vertical farm in Europe. Fruit and vegetable supplier Staay Food Group was involved in the development of the Dronten facility along with Philips, the global leader in lighting who will be providing the facility's GreenPower LED horticultural lighting.
VERTICAL FARMING IN AUSTRALIA
Unlike in Asia and the United States, Australia doesn't have many commercial vertical farms. We have one private facility based in Queensland: Vertical Farm Systems. This firm produces commercial leafy greens like baby spinach and rocket, and has developed its own automated growing system, the XA series, which is being offered to buyers in Malaysia and Canada and to those wanting to grow vegetables and herbs commercially.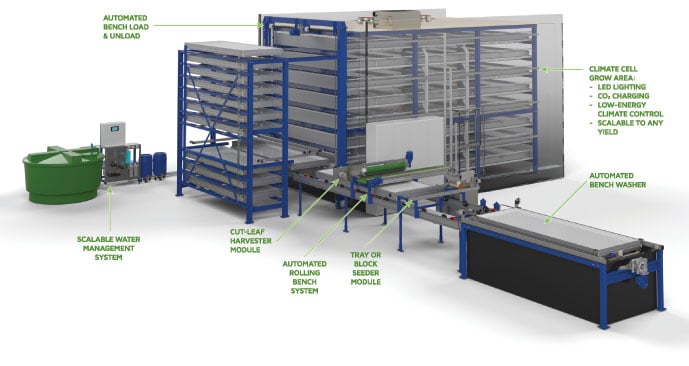 Photo: Vertical Farm Systems XA series automated growing system
Though it was able to successfully enter the commercial market, Vertical Farm Systems thinks it will be challenging for Australia to thrive on vertical farming on a commercial scale. This isn't just because we've got plenty of land space available for farmers to grow what they need to grow (the problem countries like Singapore and Japan are facing), but largely because of our country's expensive real estate. Our high property rates may result in high retail product prices.
"At the end of the day, the market will buy the cheapest food the market can get and you can't charge a premium for lettuce just because it was grown in a vertical farm," Vertical Farm Systems' managing director, Ashley Thomson, pointed out. "A lettuce is a lettuce and it sits on the table and people don't care if it is hydroponic, grown in a paddock or a vertical farm, they ask: 'How much is it?'"
Chris Wilkins of Sydney-based vertical growing systems company PodPlants, however, believes that vertical farming still has a place here in Australia because it can help produce best-quality vegetables.
"Consumers here share the same concerns about food safety and sustainability that have made the practice so popular in the US and parts of Asia," Wilkins said. "Australian cities are not so different – people simply care about where their food comes from and place a higher value on food they know was grown locally."
PodPlants develops portable and lightweight vertical gardens. In 2014, the unique technology won the Australian Innovation Challenge.
As you can see, vertical farming has a plethora of potential benefits and a bright future ahead of it. But, it's not all rainbows and butterflies when it comes to this trendy practice. This modern method of growing food still comes with some downsides.
WHAT'S NOT SO GOOD ABOUT VERTICAL FARMING?
One is it needs a lot of energy. Vertical farming doesn't use natural sunlight to grow plants, it uses artificial lighting which requires high energy. According to a report, it would take about 1,200 kilowatt-hours of electricity to run the LED lights needed to produce 2.25 pounds of crops.
Also, vertical farms cannot yield all types of vegetables. Usually, they can only produce leafy greens, herbs, and tomatoes because these grow quickly. Other crops like potatoes, wheat, and rice have no place in such farms because they weigh more and require a larger space for growing.
Another disadvantage is the greens produced in these vertical farms are (currently) far more expensive than those produced traditionally. This is because they require high setup costs - with all the lighting, technology, and experienced "growers" needed. Let's take Sky Green's produce as an example. A 200-gram pack of Sky Greens bok choy is worth $1.25, while a 250-gram bag of bok choy produced on a traditional farm in Singapore only costs 80 cents.
Given these factors, it's evident that vertical farming is still in its infancy and more research, development and market testing is needed to get a clear picture of how it can be commercially viable in other dense areas and how it can produce a variety of crops beyond the typical lettuce and tomatoes. We'll also need to see first a lot more companies being successful before we can say it will completely change the way food gets to our table. Right now, vertical farming cannot feed the world YET; but with its long list of benefits and its huge potential, there's no doubt it could be the future of agriculture.
Have thoughts about vertical farming you want to share? Leave a comment below.
In the meantime, if you want to read more industry insights from us, you can check out our blog.
---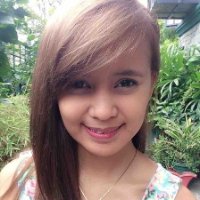 Written by
Avlya Jacob
Avlya Jacob is a content writer at Ordermentum. When not working, she enjoys writing online novels and spending time with her husband.
---