We've seen the demand for all things artisanal and hand-crafted sky rocket over the years and as a heatwave spreads across the country this Christmas period what better time to turn a spotlight on Australia's flourishing craft beer sector than now.
Craft beer is on the rise here in Australia. According to a recent report from IBISWorld, our local craft breweries earn roughly $500 million in annual revenue and this is growing at 10% per year. Some industry experts even predict that craft beer's share of the entire beer market will likely double over the next ten years.
The changing tastes of consumers is one of the main reasons behind this growth. Beer drinkers (and even non-regular beer drinkers) are drawn to the idea of their beverage being "handcrafted" and produced using only high-quality ingredients. The switch to healthy living is also a driving factor. As Australians have begun to moderate their eating and drinking habits, they have started looking for low-carb and gluten-free drink options.
The industry has certainly grown since it's small beginnings. It was in 1983 when Phil Sexton together with a group of university friends launched what is believed to be the first craft brewery in Australia. The Matilda Bay brand was born, then Little Creatures, and that's when we began to see small breweries popping up all over the country. Today there are over 400 craft beer specialists, with an average of one small brewery launching every week.
TOP CRAFT BREWERIES IN AUSTRALIA
Ballistic Beer Co is one of the most popular names in Brisbane's new wave of craft breweries. The independent business was established in 2015 by David Kitchen a former accountant/banker. Kitchen left his old career to venture into the craft beer industry and set up his own chain of home breweries.
"When I started them, I had no knowledge of beer and drank commercial light beers to save money," he says. "14 years down the track, I have experienced some amazing beers, both commercial and brewed at home. Now I really like beer. When the opportunity arose to establish a brewery of my own to create great beers, I leapt at it – what sane person wouldn't!"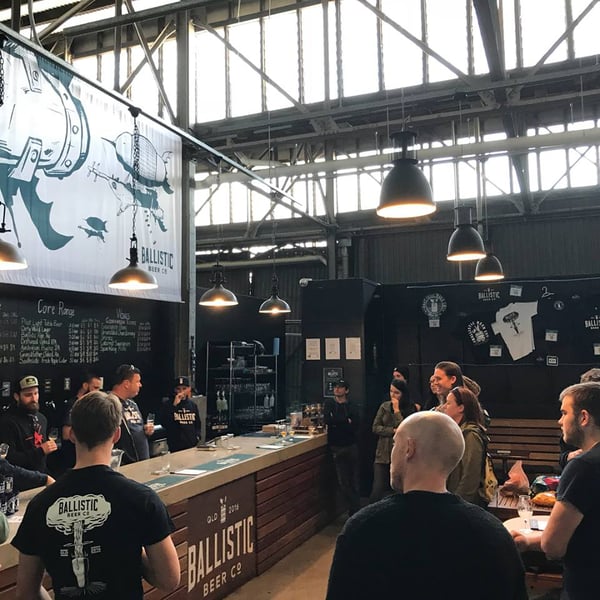 Ballistic Beer has invested heavily in quality and is committed to producing the fullest flavoured and most delicious tasting beer. Every day, they taste and test their beers to make sure they are of the highest quality.
South of the border you will find Grainfed Brewing Company which was founded in the year 2012. Nestled in the city of beautiful beaches and live music - Newcastle - Grainfed Brewing Company creates draught beers with balance, flavour, and drinkability. In fact it is said to be the home of the best Pale Ale in Newcastle. Their founder, Lachlan MacBean is a long-time home brewer who then decided to turn professional and begin supplying bars and pubs in Newcastle with delicious craft beers.
"I did a course in brewing science at the University of Ballarat then talked my way into a job as a brewer at Bluetongue Brewery," MacBean says.
"I'm doing well enough, but to have a long-term sustainable business you need your own brewery and brewpub," he says. "I'm in the process of partnering with others to finance those facilities. But I don't have any big ambitions to conquer the world. I'd be happy to be the craft beer of choice for Newcastle and Hunter residents," he adds.
Then for our Victorian friends there is the Moon Dog Craft Brewery which has to be one of the most unconventional small breweries here in Australia. They are famous for their unique beer flavours, such as the Cold Drip War, a coffee and chicory porter, the Selvmordstokt, a 100% wheat porter with sour cherry wine, and the Curtly Ambrosia which is a pineapple pale ale made with habanero and honey.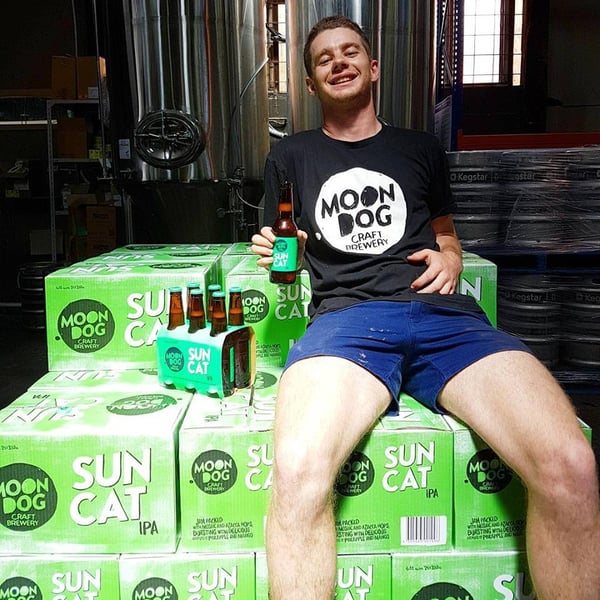 Also in Victoria is Broo Brewery established by partners Kent Grogan and Kelly Davidson. All their beers are crafted from the finest natural ingredients and with no added preservatives.
"With a lot of effort, faith, and sacrifice along with unwavering support from beer drinkers around the country, Broo now stands as a proud Australia's "greenest brewery". Our commitment is to craft the finest quality beer in Australia," founder Kent Grogan writes on their website. "Broo is unique and we will always do it the Broo way, innovative, daring, loud and always passionate about the beer."
It's clear that Australia has a rising thirst for premium, craft beers and it doesn't look like it will be quenched any time soon. The good news is that this means there will be lots of exciting and new wave brews to choose from and if you're thinking of a career change now just might be the time to do it. Just a sobering word though from Lachlan MacBean of Grainfed Brewing Company: "Craft brewing is fulfilling and fun, but the reality is it also involves some rejection and frustration and lots of hard work. Few people get seriously rich from it."
More industry insights like this when you visit our blog!