"We spend a lot of money on butter": why French is best for the perfect croissant
"Made with passion, eaten with joy" is Prove Patisserie's motto, and their pastries and bread are truly happy-making. We find out the little details that make their products so special.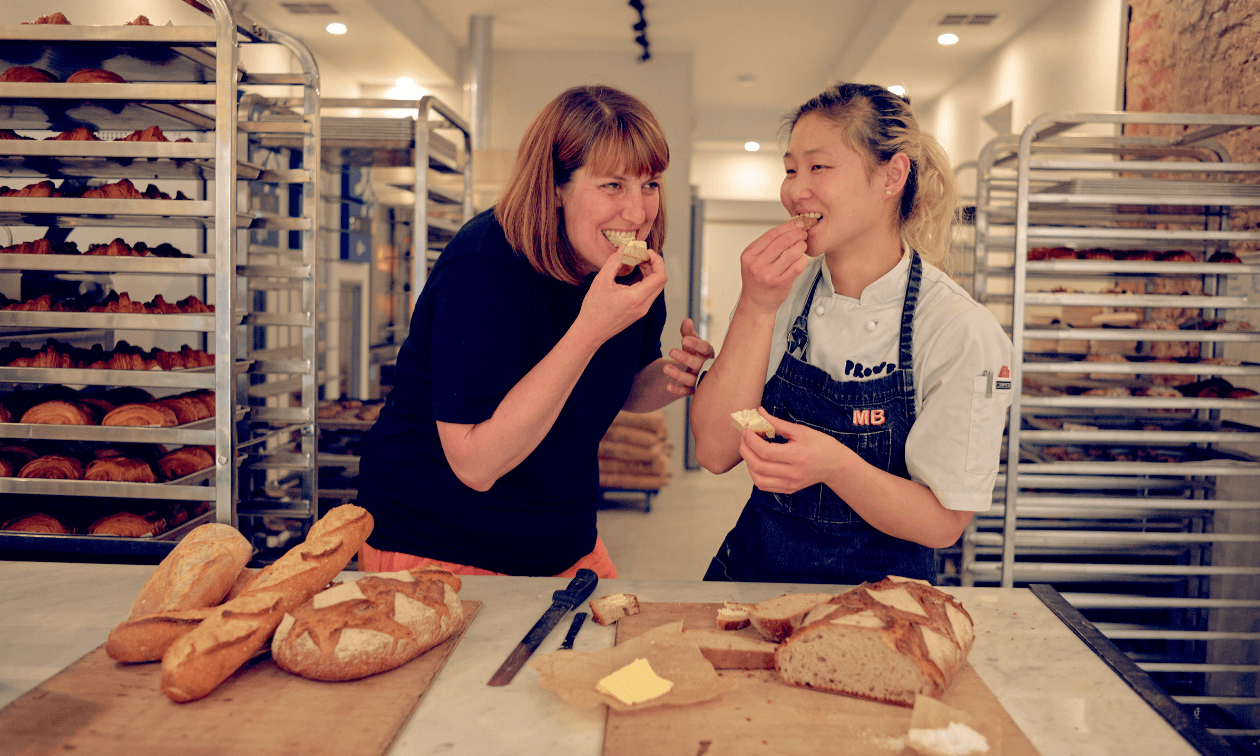 Prove Patisserie is an Adelaide bakery and patisserie that's gained a loyal retail and wholesale following in just a few short years. Founded by Anna Rogers who manages the business, and Megan Bowditch who is the talented pastry chef, they pride themselves on using as much local produce as possible to create their delectable pastries and bread. Except, of course - the butter, which must be French.
We speak to Anna Rogers about the origins of Prove, and the secrets to the perfect croissant and true sourdough bread.
How did you and Megan meet?
We met playing hockey in Adelaide in 2016. Megs kept missing hockey games as she was competing at Bake Skills Australia. and had to keep travelling interstate. I told her "you better bloody win this baking thing, because this might cost us being in finals."
Like all things Megs turns her hand to, she does them extremely well! She of course ended up winning Bake Skills Australia which included a trip to France and she still managed to make enough games to qualify for hockey finals and we won the premiership for hockey that year.
What were you doing before starting Prove?
I was working as a lawyer at a national law firm prior to having children. It was pretty long hours with lots of interstate travel, as I primarily worked on matters based in Melbourne and Sydney. After a year of maternity leave I was planning to go back to the law, when it came time to go back it meant I'd need a nanny to make it work and I didn't want to be paying someone else to look after my child when I knew that's what I wanted to be doing. That was when I realised I needed something else and my partner and I had always talked about a more entrepreneurial career.


And how did Megan find her passion for pastry?
Megs actually started her career in HR but it was never her passion. She'd always loved baking but didn't know whether or not she could make a career of it. And then once she started doing it, it became clear. She's quite literally second to none. Her skill and ability is quite phenomenal. Pastry chefs are very methodical and have a laser eye for detail.
Another type of chef can tweak and improvise, but with baking it's super precise. Even a subtle change can make a huge difference. Megan is fastidious with every aspect of the process of making pastry or how we make our sourdoughs.
How did you come together to start Prove?
Megan had moved to Sydney to further hone her pastry skills. She had been working at the Shangri La with Anna Polyviou [well-known Australian chef] when COVID struck. Like most of Australia, the hotel was shut down, so Megs came back to Adelaide and was looking to start her own thing. It was now or never!
I had been talking to Megs about different options available and she was toying with buying an existing business or starting her own. We discussed what it would take to get started and then decided to just do something together. We found a space in Port Adelaide sharing with SOIBOII, bought some equipment and just got cracking.
>> See how Ordermentum helped double Prove's growth in just two years.
What makes the two of you work as a team?
We're both pretty hardworking, and like to do things well. We have an attention to detail I think that is our commonality. We also both really care about our product, our customers and our staff and have very similar values. We really care about what we're creating and the sustainability of it all.
We're a small business so we obviously work "in" our business. However, we regularly make time to work "on" our business and ensure we're constantly improving.
We also have clearly defined roles. I do everything outside of the kitchen, from customer service, to logistics, to marketing, accounts, employment contracts, and pays, which then frees Megs up to make the magic happen inside the kitchen.
How did you first drum up business?
Originally I would go out and do all of the introductions, and take around taste testers.
We did a few markets, and a few places picked us up after realising, 'wow, they're pretty good!"
Now more often than not, for pastries, people are coming to us. So we've got a waitlist for our wholesale pastry customers.
We've only added sourdough at the start of 2023, after we relocated to Stepney in Adelaide. We had outgrown our old premises in Pt Adelaide and the move allowed us to add a 4-deck oven and retail. So initially for our bread it was showcasing our new wares to existing customers. And now we're in the privileged position of prioritising any customers that want both bread and pastries on our waitlist.
Where do you source all your ingredients?
Given we are aiming to produce a consistently high quality product, we need high quality inputs.
We try to source locally as much as possible. For example, one of our employees is from the Adelaide Hills and her family are a commercial grower of strawberries, cherries, apples and rhubarb, so she brings them straight from the farm down the hill. So it doesn't get much fresher than that!
We use high quality locally sourced:
eggs from Rohde's,
milk from Fleurieu Milk; and
flour from Lauke, Flinders Ranges Premium Grain; and
Small World Bakery.
The only thing we don't source locally is our butter. Given the volume of pastry we're currently supplying we buy in butter sheets. The butter sheets need to be pliable and have a certain water quality, so it can be malleable but not melt while you're rolling it. The best butter with all those qualities is French.
Which products are you most proud of?
We are super excited about our bread. Our sourdough is 100% sourdough and it is pretty difficult to top a fresh slice of bread straight out of the oven!
Our team has worked exceptionally hard to develop our bread to where it is today. We love making consistently great bread. Bread sets the scene if you're at a restaurant and you have bread served before your courses come out. Likewise, it's the first thing you see, touch and smell if you order a fresh sandwich or a toastie. Life's too short for anything less than amazing bread!
I also think our pastry is recognisable. We've got quite a few friends that will be out and about and ask, "is that Prove?"
That's why our focus is having a really high quality product that people are willing to pay for because they know it's really good. And I think that's what has set us apart from other places.
What are your most popular products?
To date we have been known for our pastries especially our choc raspberry almond croissant. However our bread is definitely gaining traction. Its like that hook that people are coming back for week after week in our retail store.
In terms of the pastries, I think our almond croissants would be one of our biggest sellers as well as our plain croissants. People might buy a ham and cheese croissant to fill a hungry tummy, but people CRAVE our plain croissants. We get that feedback all the time.
What are some things that you've learned about pastry and baked goods?
I think you pay for what you get. There's nowhere to hide with high quality pastry. Its as simple and as difficult as that! The pastry that Megs makes is second to none - and that's not just her skill but also because of the high quality inputs we use.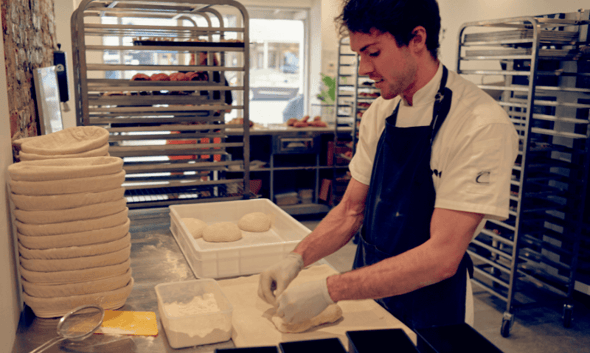 What's the technique behind your pastry?
Croissants take 72 hours to make from start to finish! You begin with mixing the dough. It then needs to rest, before sheeting in the butter. Its subsequently cut and rolled into shape, then placed in the prover before its baked.
Sheeting the pastry is a very specialised skill that has to be done just right! This is where Megs' attention to detail comes to the fore! Megs makes it look easy, but its anything but.
Similarly rolling croissants is truly an artform. Megs makes it genuinely look effortless. I'll start rolling, and I realise that is a very difficult skill that she's mastered.
It's also very precise and everything can effect it. Temperature is a massive thing. At our previous site, there was so much fluctuation in the weather that it would have a really big impact on what was coming out. It tasted fine…but it we don't' want it to just be 'fine.' So having more control in our new home is great as it has allowed us to dial up the consistency even more.
What are some unique twists you make on particular products?
Eatability is a very important feature of all our products. There are people doing all sorts of amazing things with pastry and the explosion of social media and information sharing. However, these can be really quite hard to eat. We've consciously made products to ensure they are easy to eat.
Take our rectangular danish as an example. When we first started, not not many people were making rectangular pastries , and now more and more people are doing it because it's so much easier to eat.
How do you develop new products or flavours?
Right now I've got about five kilos of quinces that are sitting in the corner of my house that my neighbour gave me. We'll probably use them in something.
I know that she doesn't use any chemicals in her garden, so it's all 100% organic. It's really important to us that we try and use stuff that's seasonal.
We have a great community of food businesses around us and as they share their food with us the team constantly thinks about how we can incorporate those amazing flavours in our pastries.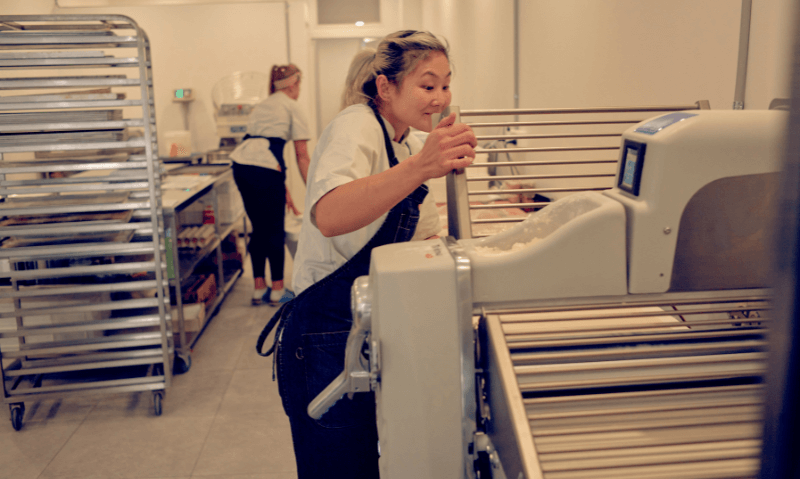 Why is sourdough bread not always sourdough?
We're at capacity with the pastry side of our business, but we're still working on our bread and educating people about what sourdough bread is, exactly. That's because you can put a small amount of sourdough in a dough - and then call the bread 'sourdough.' But 90% of it may not actually be sourdough.
We put the same care into our bread that we do our pastries, and we can already see how well people are responding to that.
What do you love about your business?
One of our mottos is "made with love, eaten with joy." I've done deliveries, if a driver hasn't been able to do it. And it's so nice to see people are genuinely happy to see you when you're bringing them bread or a box of pastries, it's a really joyful exchange.
---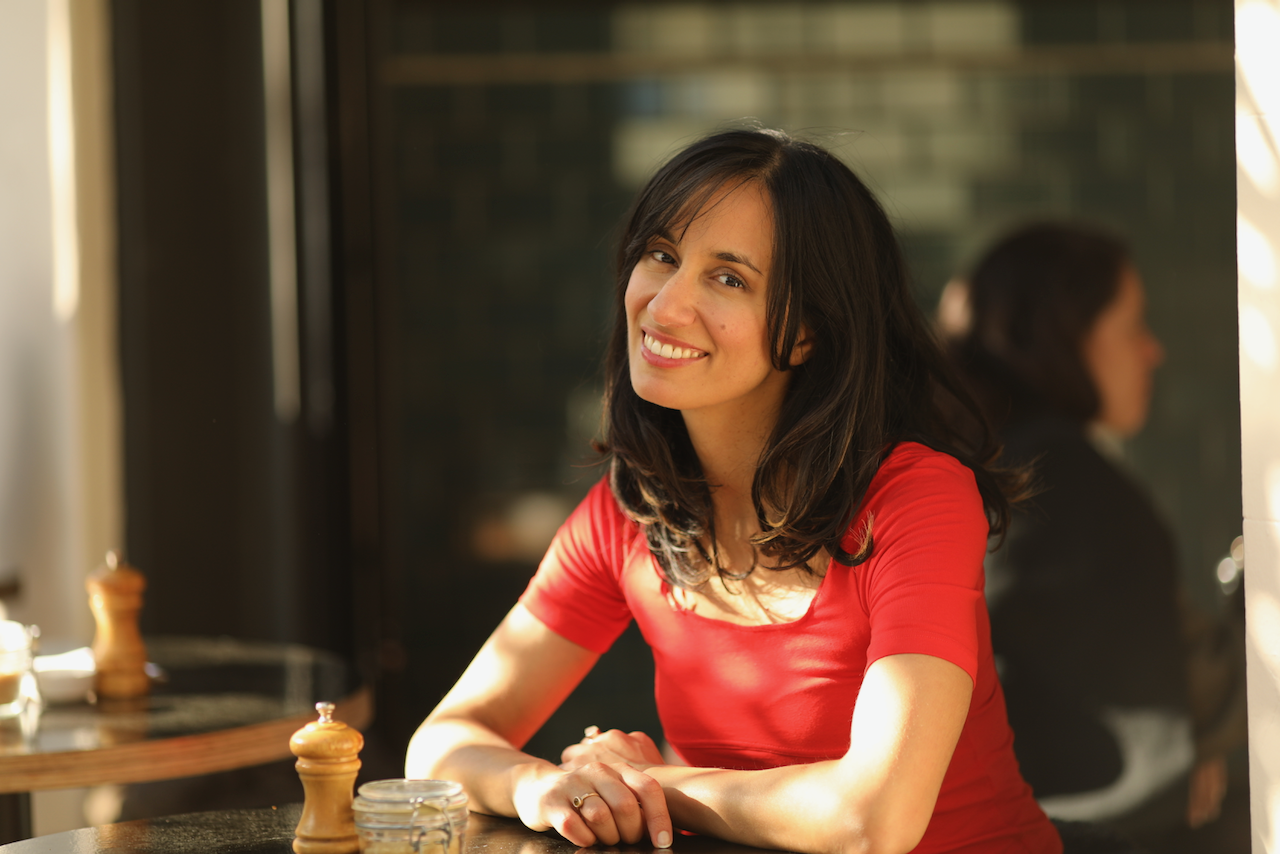 Written by
Esha Thaper
Hospitality lover, food researcher, amateur chef, budding barista, and writer of content at Ordermentum.
---