Last year, Manly Daily columnist Ed Halmagyi predicted salad bowls with zesty dressings and unique ingredients to be one of the biggest food trends for 2017. And it seems like this fad is staying with us again this year.
Following a serious obsession with healthy salads and Buddha bowls, we're now seeing more and more Australians turning to salads filled with delicious Asian ingredients. Asian-style salads offer fresh, punchy flavours and vibrant colors. The local ingredients used to prepare these nourishing meals are so aesthetically pleasing that they can turn a simple plate of vegetables into something extraordinary.
So what are some of the Asian-style salads that are trending around the country right now?
THAI BANANA BLOSSOM SALAD

An edible flower that's also common in Indian dishes, it's the Banana Blossom that gives this Thai salad it's unique texture. The crunchy, fleshy core on the inside of the blossom take on the flavours of the dish and the salad can be created with chicken or prawns and is mixed with loads of fresh herbs and lashings of spicy dressing.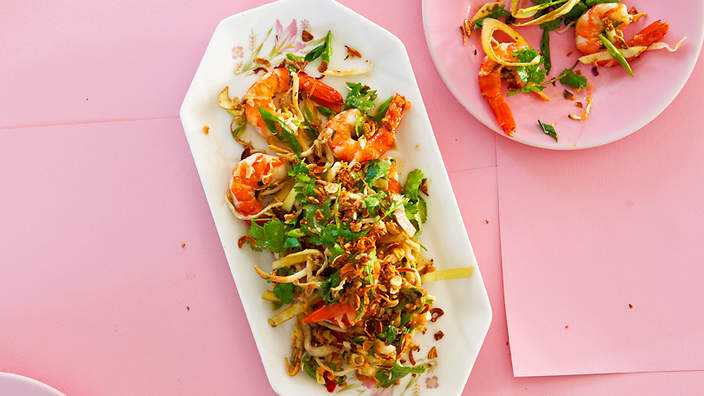 Photo from: SBS
POKÈ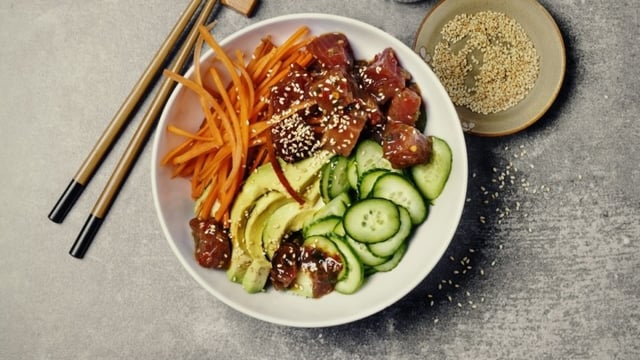 Photo from: The New Daily
Pronounced "po-kay", this Japanese-Hawaiian food arrived on our shores in 2016 and is still incredibly popular. It's a salad of sashimi-grade fish (raw fish) with a mouth-watering marinade, served in a bowl of rice with loads of delicious vegetables.
Right now, there are different versions of the Pokè salad popping up on menus at several Australian restaurants. There are even stores that are dedicated to this type of Asian salad with Poked in Melbourne and Love Poke in Coogee.
KIMCHI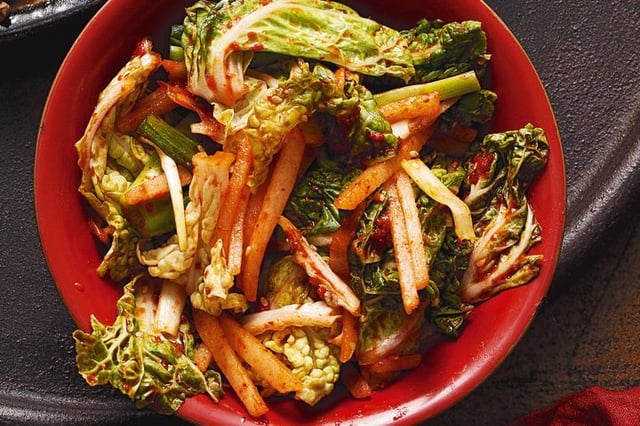 Photo from: Taste Australia
As fermented foods continue to enjoy a huge following, many of us are adding Kimchi to our meals. It's a Korean side dish made from fermented cabbage and tastes great when paired with roasted meats, fried rice or added to salads for a spicy kick.
A TWIST ON THE USUAL LUNCH TIME SALAD
One well-known shop that has capitalised on this trend is aptly named Banana Blossom. This eatery offers a variety of healthy Asian-style salad bowls. Their bestseller is the Tokyo Classic - Green tea-infused soba noodles mixed with cucumber, avocado, and cherry tomatoes. They also serve the Buddha's Delight, crispy egg noodles with green papaya, pineapples, and sweet tamarind dressing. Banana Blossom has become so popular that it has opened several outlets across Sydney, their most recent being Westfield Warringah Mall.
Greenhouse Asian Salads in Lane Cove, New South Wales is another restaurant satisfying the local cravings. They serve Wonton Salad, Pokè, and the Asian Queen - which comes with either chicken or tofu.
It's fair to say that the Asian-style salad trend has a long way to go before it slows down and with its use of fresh, healthy ingredients we can totally understand why. So whether you're tempted to traipse across town in search of the best bowl-food or you're considering adding these style salads to your range now is probably the best time to do so!
More Food Trends 101 posts like this when you visit our blog!