This Year's Trends in The Food Delivery Industry
Check out the newest food delivery companies in Australia and the latest technologies that make dining more convenient.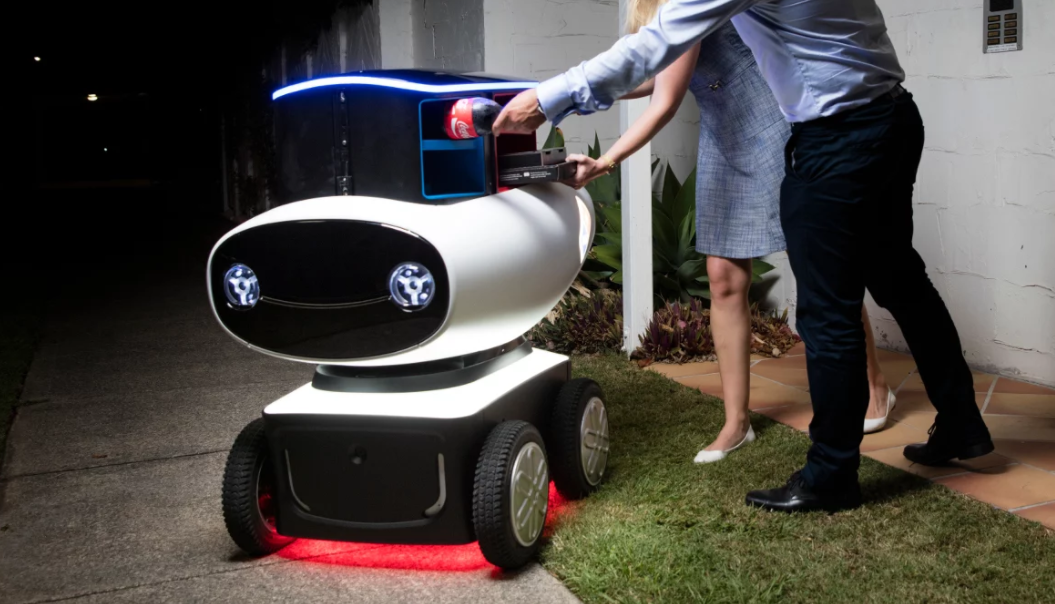 The food and beverage sector is developing at a very impressive rate, especially the technology that is powering the industry. We have already seen a coffee shop where cappuccinos and lattes are prepared by "robo-baristas", organic coating solutions that can extend the shelf life of fruit, and an incredible smartphone case that lets you make a delicious hot espresso in minutes.
So, what's next for the industry?
In Australia, there has been a stunning explosion of food delivery and online ordering services as we deal with busier lives and seek new ways to eat gourmet food, without necessarily having to dine out. It's become a real fad in our major cities. Based on research from Statista, "Online Takeaway" is the largest segment in the food delivery market, with a volume of US$1,253m (AU $1,614) in 2017. This isn't much of a surprise, seeing how many restaurants are joining fast-food operators in providing home delivery by teaming up with third-party services. Major pizza chains are even offering digital ordering through mobile apps and social media sites.
The opportunity for consumers to expand their home delivery options from cheap fast food joints to include all kinds of restaurants has seen a number of new startups and technologies emerge that are shaking up the entire sector, in a bid to get a piece of the country's billion-dollar takeaway industry.
The rise of third-party delivery services
Though some say third-party delivery services can hurt a food and beverage brand, many believe they actually support full-service restaurants and make dining out more convenient for consumers. Locally, more and more delivery companies are popping up, partnering with a number of food businesses that don't have the infrastructure to provide home delivery.
Deliveroo is one of them. Founded in 2013, the premium food-delivery service originally started in Europe, and it was only in the year 2015 when it landed here. Deliveroo lets you order food from premium and five-star Australian restaurants that don't usually offer takeaway services, and have it delivered straight to your home or office. The service handles all stages in the delivery process, from the collection of customer orders through its system to the hiring of drivers who'll deliver the orders.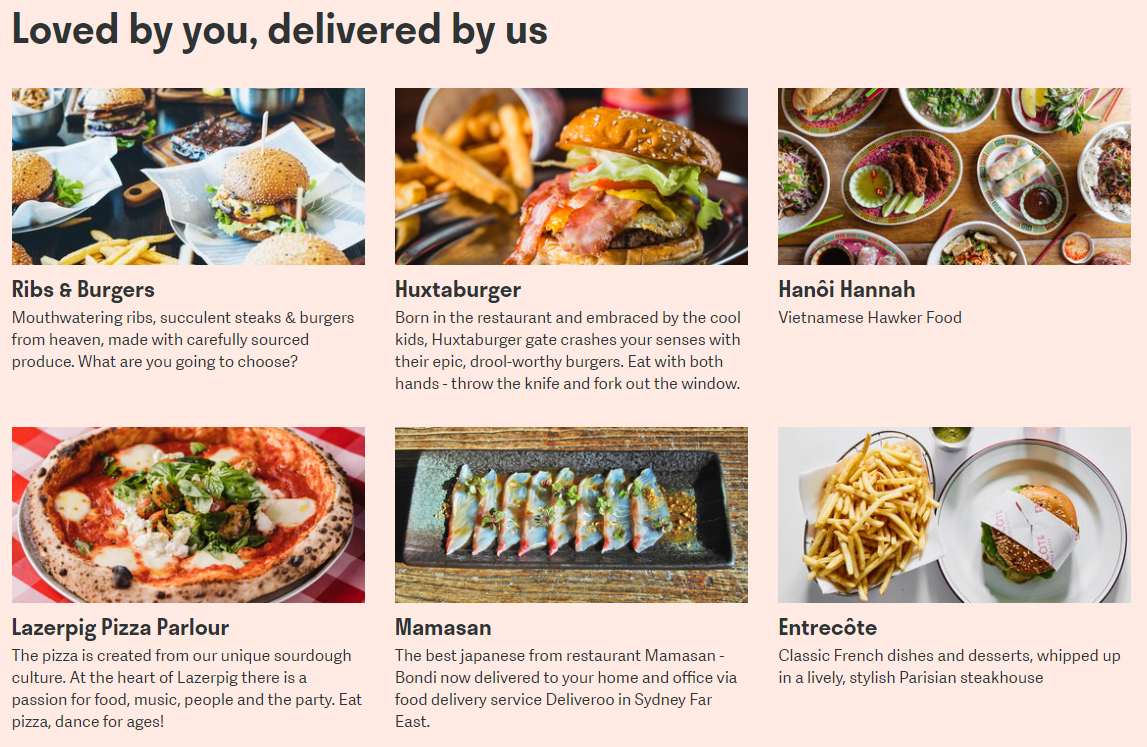 Photo: Deliveroo site
Right now, Deliveroo has signed on numerous local restaurants in cities across Australia, including Huxtaburger, Spice Room, Sugarcane, and The Roosevelt.
Another company aiming to get a slice of the market is Foodora, formerly known as Suppertime. The service is pretty similar to Deliveroo - it delivers food from only the better-known restaurants in the country. The difference? It has a greater delivery area yet offers fewer menu options. Foodora delivers food to residences and offices in Sydney, Melbourne, and Brisbane.
Then, we have UberEats.
This delivery service is tech giant Uber's way to crack into the takeaway market. It started operating outside the U.S last year and launched on our shores, with Melbourne being its first stop. UberEats lets customers order food and have it delivered by "Uber partners" riding motorbikes, pushbikes, or driving cars.
"We're looking at delivering restaurant-quality food, and moving away from traditional takeaway-style food," UberEats Australia General Manager, Susan Anderson, said. "You can have everything from your breakfast foods – your smashed avocado on toast – your ice cream watching the Game of Thrones final, to your family meals."
UberEats is already servicing 12 cities across Australia.
Meanwhile, in Sydney, we have HowAboutEat. The startup's way of collecting orders is quite different from the ones we've previously mentioned, in an effort to make lunch incredibly simple. On top of its usual SMS and email options, it also allows busy office workers to order lunch through Facebook Messenger. Yes, social media. The platform, powered by the Facebook bot, is capable of sending automated structured messages that can include links, images, and call to action buttons.
"Via the Facebook bot we are able to provide a much richer experience – and the possibilities are much superior compared to the limited capabilities of standard SMS and MMS," expressed Serg Metelin, HowAboutEat's co-founder.
HowAboutEat's customers get a daily message asking if they want the lunch special and reply either yes or no. If yes, the food will then be delivered straight to their offices for a delivery fee of only $1.
WHITE LABELLED DELIVERY SOLUTIONS
While many retailers see the advantages of being able to make more sales without having to increase seats or capacity when they use a food delivery service, there are also branding and cost concerns when partnering with another company. Everyone has to make a cut somewhere! Enter Drive Yello. Drive Yello was a fellow winner of a new product innovation award at Fine Food Australia. Their offering is a white labelled delivery option - giving restaurants the online platform to run their own branded delivery service.
Drive Yello isn't a delivery service itself, but it makes delivery easy and hassle-free for restaurant owners by providing the technology platform to take online deliveries. The app also acts as an online marketplace where restaurants can find and book independent drivers to deliver food to customers. Last year, the startup partnered with Menulog, the no. 1 take away and food delivery website in Australia.
Also based in Sydney is Ordermentum. The food tech B2B startup offers an online ordering app that lets food retailers, like cafes and restaurants, order products from their favourite suppliers and have them shipped to their stores. The placing of orders is very simple - retailers just have to log in to the app through their phones, choose the products they want and the delivery day, and that's it.
They can order anytime and anywhere they want, even outside the business hours. They can even pre-schedule their orders to save time.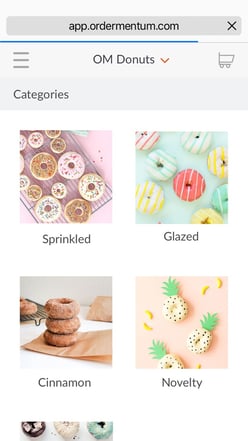 Photo: Ordermentum ordering app
If you want to experience how easy it is to place orders with Ordermentum, click here.
Delivery bots are also on their way
We're still not quite sure what the future holds for these local delivery services. But one thing's clear right now, it is technology that will continue to drive the entire industry forward. In 2017 and in the coming years, we're expecting to see delivery brands not only leveraging mobile apps and social media sites to take customer orders, but also looking into adopting AI solutions and robots to streamline their delivery processes.
Domino's Australia, in fact, is already taking the lead in this innovation.
Early in 2016, they unveiled what's said to be the first commercial autonomous pizza delivery vehicle in the world: the DRU (Domino's Robotic Unit). Developed here on our shores, the robot is capable of transporting pizzas within a 20-mile radius. It stands under three-feet tall and uses a LIDAR sensory system to detect obstacles and change routes. DRU's heated compartment can store up to 10 pizzas and can only be unlocked with a code that's given to the customer upon ordering.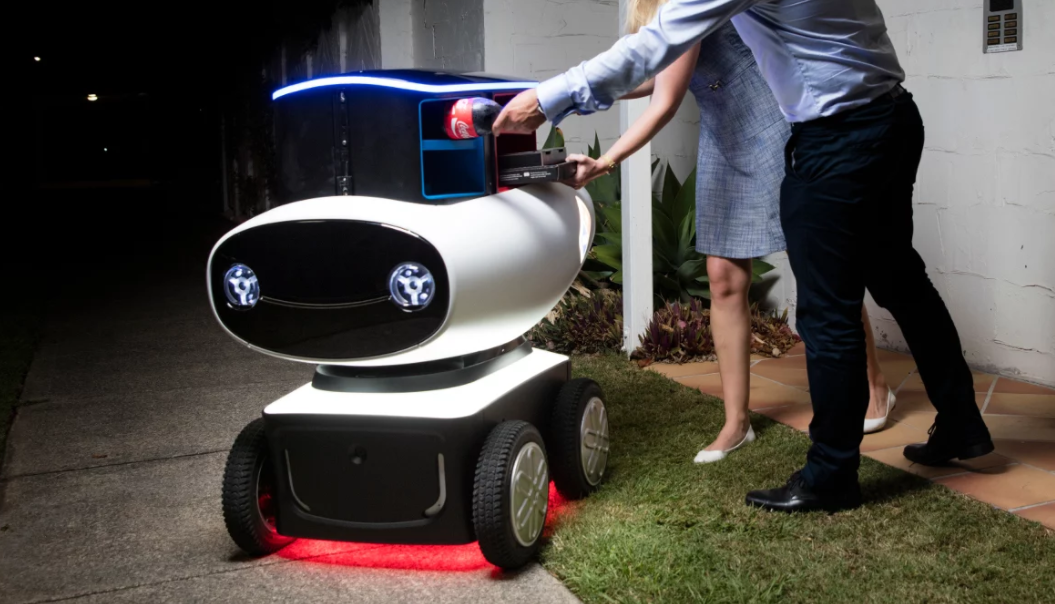 Photo: Domino's Robotic Unit
When can we see this bot on our roads? Well, right now, the unit is only suitable for bridges, bike paths, and footpaths, and not yet for roads and highways. According to Domino's CEO Don Meij, it will take about two years before the DRUs are ready for our roads. "It's a genuinely autonomous robot today, but some of the technology on the AI side still has to lift," Meij explained.
Overseas, Europe's biggest online delivery food company, Just Eat, has also launched the same thing.
The Borehamwood-headquartered firm has partnered with Starship Technologies, the creators of slow-moving pavement droids, to make little six-wheeled sidewalk robots that can deliver takeaway food within the area. Starship's invention can carry up to 10 kilograms or about three shopping bags, and can transport these to consumers in as little as 15 to 30 minutes.
"We are delighted to add robot home delivery to the Just Eat service," said Graham Corfield, the UK managing director at Just Eat. "We have been working closely with Starship Technologies for many months to ensure that we can seamlessly integrate this exciting technology with our restaurant partners, customers and online booking service."
As you can see, the food delivery industry is evolving non-stop. All these advances we've mentioned aren't just transforming the way we eat, they're also changing the way cafes and restaurants operate. These businesses will always make use of technology to succeed and to meet the needs of modern-day consumers who are looking for convenience. The third-party delivery services, the mobile apps, and the ordering systems are just the beginning. A few more innovations will still come to help food delivery brands serve better.
Now, how about you? What do you think the future of food delivery in Australia will look like? Share your thoughts in the comments section below!
In the meantime, if you want to read more industry trends from us, you may visit our blog.
---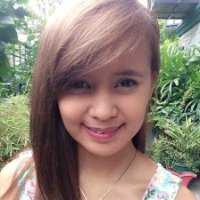 Written by
Avlya Jacob
Avlya Jacob is a content writer at Ordermentum. When not working, she enjoys writing online novels and spending time with her husband.
---