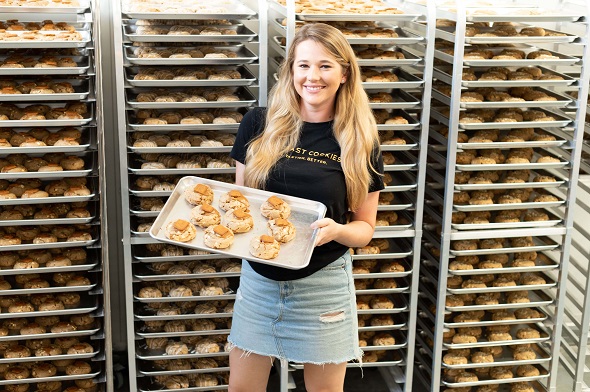 How did Gold Coast Cookies begin?
Growing up in the US, I've always absolutely loved cookies but could never find the perfect American style cookie in Australia. I've always baked my own cookies anyway, but started to bake with fervour in February 2020 from my small apartment kitchen.
I tried and tested so many recipes before landing on the perfect one with an addictive and indulgent taste that I couldn't get enough of. That's when I decided to take that recipe to the world…The cookie I had in my hands was too good to not be tasted by the world.
Starting with a cookie stall in a Coolangatta shopping centre on the Gold Coast, I sold out almost every day. It's an amazing feeling when people resonate with what you're putting out there in the world.
But then Covid happened and shopping centres closed. It was a pretty stressful time, but I really wanted to continue the business. So, to bring happiness to people in lockdown, I delivered cookie boxes to people's doors with free delivery.
Before I knew it, everyone was sharing it on their social media and I had my first cafe messaging Gold Coast Cookies to stock them in their cafe!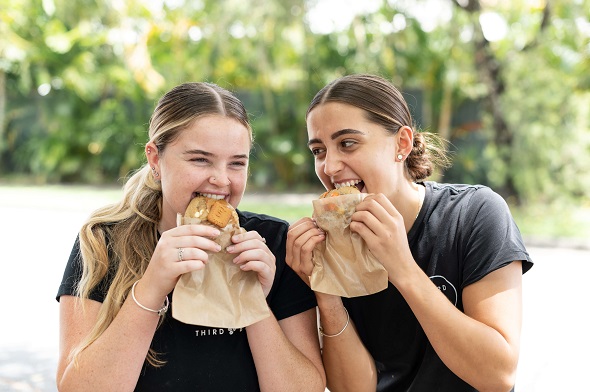 Why do you think Gold Coast Cookies resonates with customers?
I think the expectation for cookies and sweet treats worldwide has changed in recent years with the rise of Instagram. Gold Coast Cookies has been our interpretation and platform to bring better cookies in Australia. Once people try our cookies, it's hard for them to go back to the old cookie cutter products of the past.
Many of our stockists and fans recognize our cookies as the best handmade, filled and loaded cookies in Australia.
Our cookies only use the highest quality ingredients and are all handmade from Australian suppliers across the country, and we won't ever compromise on this, even as we scale. This is something that's super important to me.
The stockists that sell hundreds of our cookies each week love to sell our cookies in beautiful rows using our attractive display cards. Cafe owners love that we supply them with marketing materials and display cards to match the high quality feel of their cafe.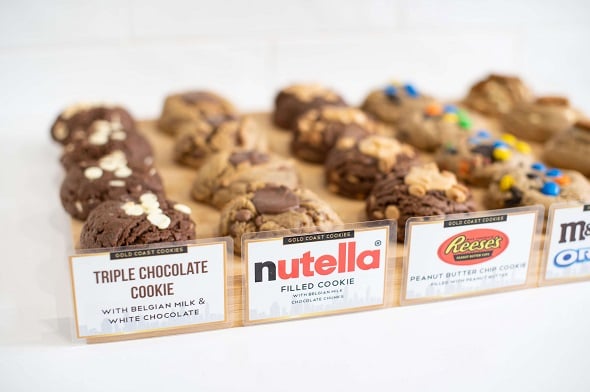 Despite the challenges of shipping around Australia, our customers always appreciate our efforts to deliver 10/10 customer service through reliable weekly deliveries, the fastest and safest delivery options and friendly phone service to assist with any issues.
When did you first start using Ordermentum?
We first started using Ordermentum fairly early on in 2020. From the second we saw the platform, we knew it was the perfect place to showcase our brand. We believed it could help match us with the other high quality customers that would enable us to grow.
What's your favourite Ordermentum feature?
Growth Engine x 100! I love meeting new cafés through Ordermentum.
Why are you such a fan of Growth Engine?
Growth Engine has helped us partner with the right customers.
It helps customers find unique products that can't easily be found on Google or Instagram. It has been an immensely good time saver and amazing for our growth.
Besides finding customers, what are the other challenges you've had with growing and scaling your business?
A huge challenge involves not eating so many of my cookies!
Besides that, it is always challenging to constantly keep up with demand for our cookies and grow our capacity accordingly. Always a fine balance to the right amount for each season of growth.
That's why we always invest in technology and better systems to help our customers get their cookies on time and as smoothly as possible. This has been invaluable because keeping up with growth and logistics is a constant battle.
How has Ordermentum helped you with growing demand?
Cashflow can be a real problem, and that's why being paid upfront on Ordermentum is invaluable for a small business such as ours.
Not having a large amount of money owed was particularly important in the early stages of the business so we could invest in ingredients and other start up costs.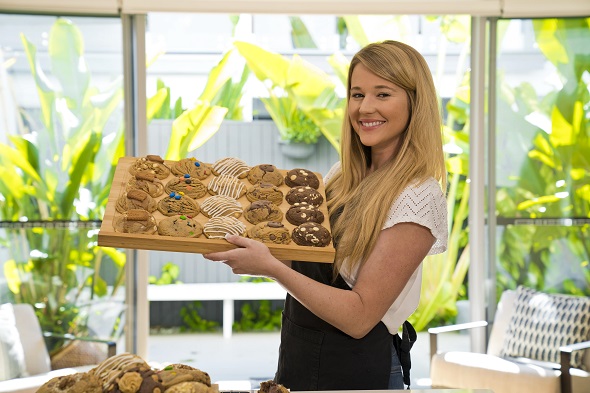 What about Inbox/Chat function? Do you use this feature and what do you think of it?
It's handy to reply to somebody in your own time and it's a good alternative for somebody that doesn't want to talk to us over the phone.
How does Ordermentum prevent delivery mistakes?
It helps to remove the chance of human error and communication mistakes that can occur over phone or wrongly worded product via email/text. Everyone will know exactly what much they ordered, with a clear price and have a clear record of it available forever.
Was there anything that surprised you about Ordermentum?
I love how you can personalise the digital catalogue so that you can make individual edits to each customer. This means that you can change what each customer sees. This is important because we don't deliver all cookies to all locations, so it's important that each customer only sees what can be delivered to them. It helps avoid any disappointment or awkward conversations.
What really surprised me though was how easy and simple the product is to learn and use - it was easy to use from day one.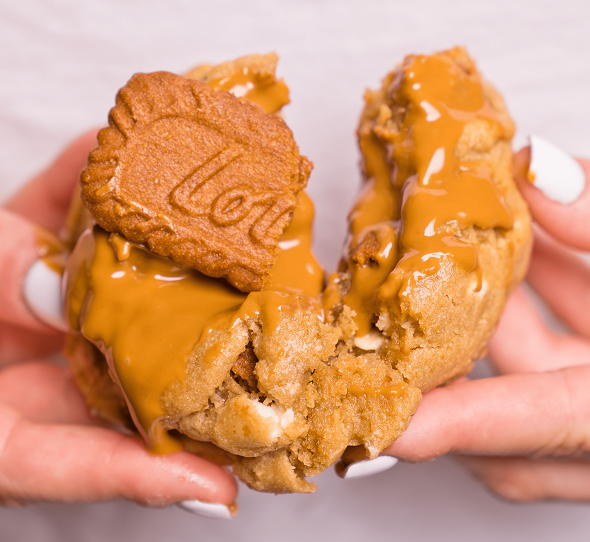 What's next for Gold Coast Cookies?
We are excited to say that in 2023 we will be supplying around 1000 venue sites in total (and counting), almost doubling from our 500 venues in 2022!.
This is an unbelievable number of fantastic partnerships with other small and large Australian businesses alike, and I'm so excited to see what comes next and who we supply to nex.
It has been quite a ride to fulfill the demand, but we are very excited to offer a new flavour and even product under the Gold Coast Cookies brand. Stay tuned.
What would you say to anyone considering using Ordermentum?
Do it, it's a no brainer. The platform helps us get paid upfront, find suppliers and communicate what we are about. It's a fantastic platform that has solved a lot of problems.
Want to see how Ordermentum can transform your business? It's so easy - just request a demo now!
---
At a glance
VENUE

Gold Coast Cookies

LOCATION

Gold Coast, QLD

INDUSTRY

Sweet Treats/Cookies