4 Technologies that are Shaping the Future of Grocery Shopping
What's next for the grocery sector? No doubt, technology will continue to rock the way we shop as companies here and overseas look for brilliant ways to provide us with greater convenience.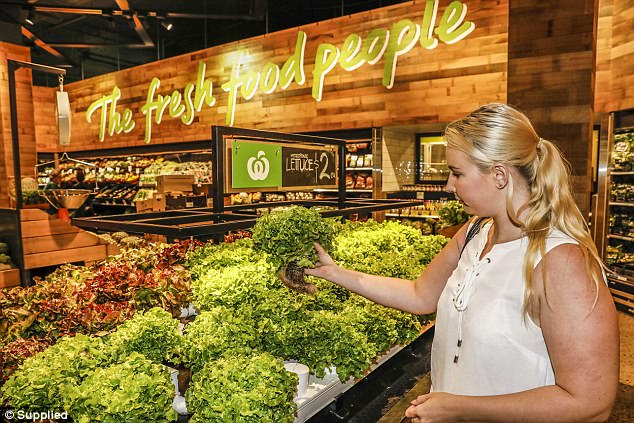 The supermarket and grocery sector is one of the most competitive in the Australian food and beverage industry. As a matter of fact, it was described by IBISWorld's 'Supermarkets and Grocery Stores in Australia' report as fiercely competitive and highly concentrated. Indeed, we have seen it flourish over the years - with more low-cost retailers popping up everywhere and with unique technologies being introduced.
But what's next for the grocery sector? No doubt, technology will continue to transform the way we shop as companies here and overseas look for clever ways to provide us with greater convenience.
ARTIFICIAL INTELLIGENCE
If there's one technology that has the potential to completely transform the supermarket and grocery sector, it's AI. Some people think that Artificial Intelligence is only limited to robots and voice assistants - but it's more than that. In New Zealand, for example, supermarket group Foodstuffs is experimenting with a new AI that can help read what is placed inside a shopping trolley so customers no longer need to wait in a checkout line.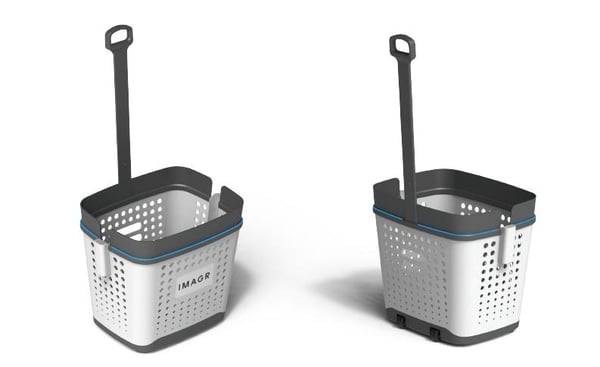 Foodstuff's SMARTCART
The technology is called the "SMARTCART". Every time a shopper puts a grocery item in the trolley, it will be automatically scanned and charged to their account. According to Foodstuffs North Island Chief information Officer, Peter Muggleston, brick and mortar retailers must learn how to tap in to artificial intelligent technologies so they can lead the way in customer experience.
"We're committed to giving Kiwi shoppers the best service, experiences and innovation," Muggleston said. "This technology will give consumers more options, reduced wait times and variety during their store visits, giving our staff more time to offer their advice and help in other ways."
CHECKOUT-FREE CONCEPTS
Can you imagine how convenient grocery shopping would be if you could just grab the items you wanted and leave without physically paying? Cashier-less grocery stores are the supermarkets of the future, and it won't take too long 'til we see this concept here. In fact, retail giant Amazon rolled out their version in the US last January.
Their newest Amazon Go in downtown Seattle has no checkout stands or checkout clerks. What it has instead are hundreds of cameras and sensors on the ceiling as well as computer-vision algorithms that track what shoppers are picking up from the shelves and then charging them through their credit card after leaving the store.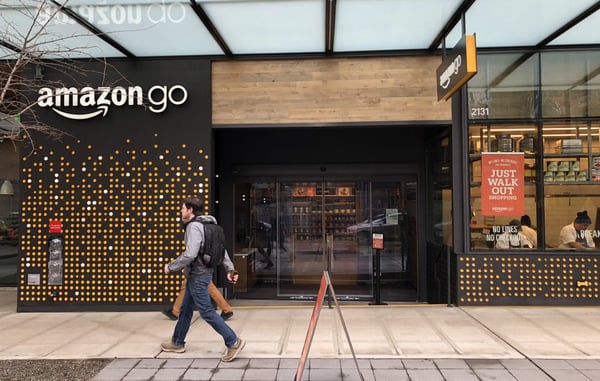 Amazon Go Store
"People can come in and regardless of how crowded or less crowded it is, you control the amount of time that you're actually spending at the store. You're no longer subject to the vagaries of how long it takes you to shop," explains Dilip Kumar, the vice president of technology for Amazon Go.
He also adds that the company is hoping to launch more stores across the country like this flagship.
VOICE ORDERING
According to the global firm OC&C Strategy Consultants, voice shopping is expected to soar from $2 billion today to $40 billion in 2022. Their research also revealed that groceries are the most commonly shopped category via voice. In fact, the number of people who use voice-ordering technology to order grocery items has already reached 20%.
We know that convenience is king and more and more grocery stores are answering this consumer demand. Coles supermarket, for instance, has already been experimenting with a device called 'Hiku' which allows shoppers to simply say what they want and have it delivered to them directly.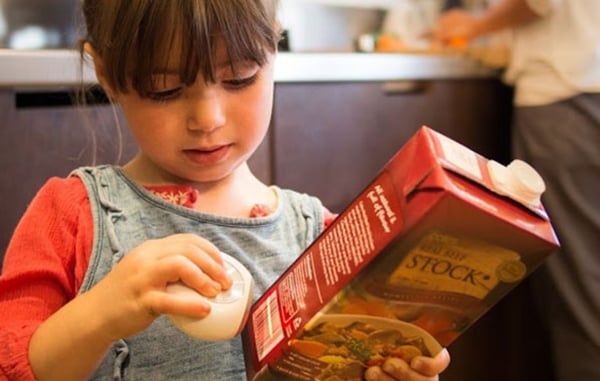 Coles' Hiku device
The Hiku is a WiFi-enabled device that attaches to your fridge. It can listen to your words and add required products such as milk and bread to an online shopping list. The small smart device also acts as a barcode reader that can scan products that you are likely to buy.
"At Coles, we love to involve our customers in our innovations and developments," Mark Cripsey, the General Manager of Coles Online, says. "We'll be working closely with our trial shoppers to develop an experience that will make shopping simpler and quicker for families across Australia."
HYDROPONIC PRODUCE
Hydroponics is the method of growing plants not in soil but in a basin of water filled with nutrients. Vertical farming follows the same concept and this idea is also being explored by several supermarkets, which could eventually transform the way we shop for veggies. The Metro supermarket in Berlin is one of the first to embrace this kind of technology. Their greens and herbs are growing inside their store itself, in glowing modular boxes.
Here in Australia, supermarket giant Woolworths has also tapped in to the concept. Their new flagship store in Sydney boasts a hydroponic 'living lettuce' fresh food section, where 'jets of mist' spray the vegetables until a customer picks them out of the water.
"We set out three objectives nearly 11 months ago," says Woolworths managing director Claire Peters. "Customers told us that they wanted a more convenient offer that was good for them and easy to shop, we wanted to put fresh food and health at the heart of the store, and the third was how can we bring neighbourhood greengrocers and local products into the store."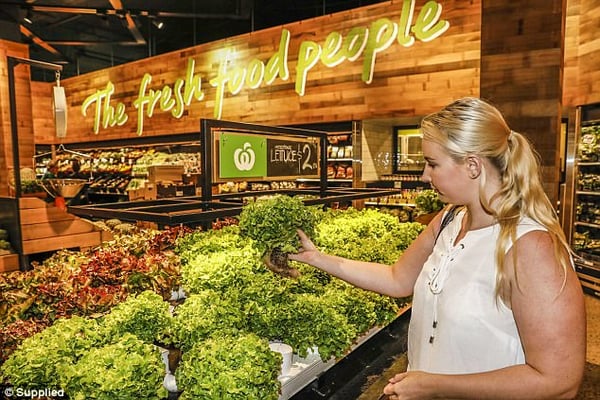 Woolworths' hydroponic 'living lettuce'
The future is here! Trolleys that can read what's placed inside it, supermarkets without cashiers and check-outs, in-store greenhouses, and voice ordering. The evolution of bricks and mortar stores has arrived and technology will continuously shape the way people shop. It's a really exciting time as big business embrace big technology. But innovative tech doesn't just need to be left to the realm of the big guys there is lots of technology out there that can be transformative for small and medium enterprises as well - so be open to innovation and watch how it can transform your business!
Have you experienced other technologies out there that are transforming how you do your grocery shopping? Feel free to share them in the comments below. Meanwhile, if you want to read more stories like this, visit our blog.
---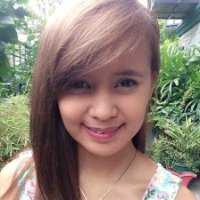 Written by
Avlya Jacob
Avlya Jacob is a content writer at Ordermentum. When not working, she enjoys writing online novels and spending time with her husband.
---